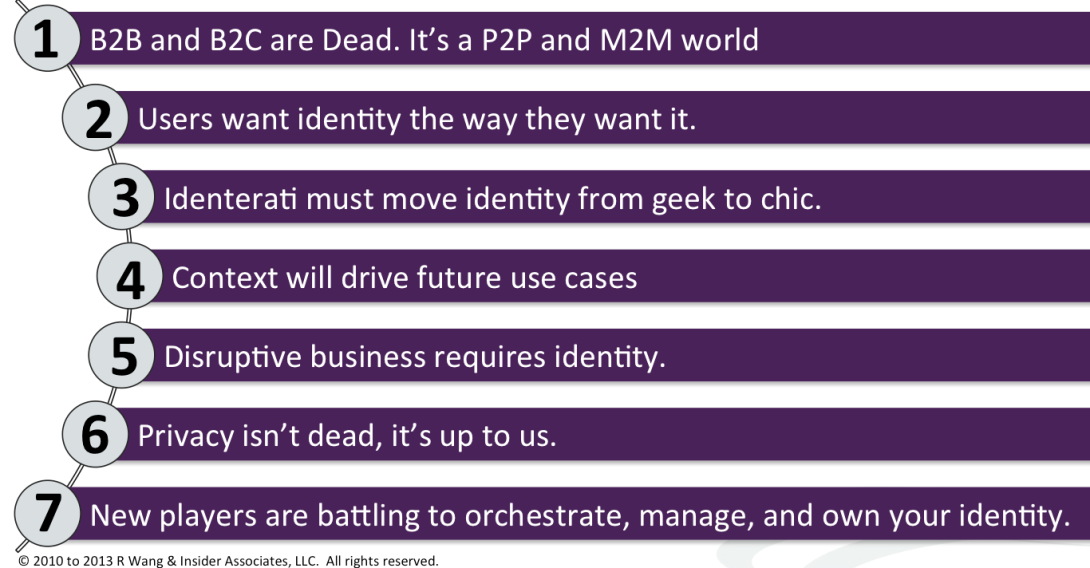 Research Summary And Speaker Notes: The Identity Manifesto - Why Identity Is At The Heart of Digital Business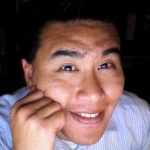 Forward And Commentary
Constellation Research keynoted at Ping Identity's Cloud Identity Summit 2013 in July.  Gathered in front of the Identerati,  an Identity Manifesto was presented.  The research behind that manifesto has been summarized here in this summary.  The final big idea research report will offer insight into four of Constellation's primary research themes, the Next-Generation Customer Experience, The Future of Work,  Matrix Commerce, and the Consumerization of IT and the new C-Suite.
A. Introduction
Identity often means many things to many people for good reasons. Traditional definitions of identity for the identity and access management professional have revolved around standards for authentication, access, authorization, and management.
B. Research Findings - Identity Expands Beyond Enterprise Despite Stuck in Massive Standards Hell
While standards such as SAML, Open ID, OAuth 2.0 address the technical side, the rise of consumer and enterprise social networks has spawned a consumer identity that reflects a digital ubiquity of the individual. Facebook, Google, and Twitter now dominate most social logins. Users expect their identity to be transportable from personal to work environments.
However, a limitation exists between personal and work worlds. In fact, the facets of one's identity remain isolated and separated by not only our digital and analog presence, but also by our inability to deliver context across our worlds. Why? The lack of context separates our personal life from our work life and creates artificial barriers by role, relationship, and a host of other factors.
The reality - identity plays a multi-faceted role for each individual. The business implications of identity after authentication, authorization, access, and availability touch on commerce, work lives, personal lives, and engagement with each other. Without a more comprehensive view of identity, organization and individuals will continue to undermine the strategic role of identity in the context of business. Identity is a unifying factor in the current transformation to a digital world.
The Identity Manifesto Relates Identity To Work, Life, And Society
Identity plays a central role in the future of business and is a unifying point. The seven points in the identity manifesto set the stage on the future of identity (see Figure 1).
Figure 1. Seven Point in The Future of Identity - The Identity Manifesto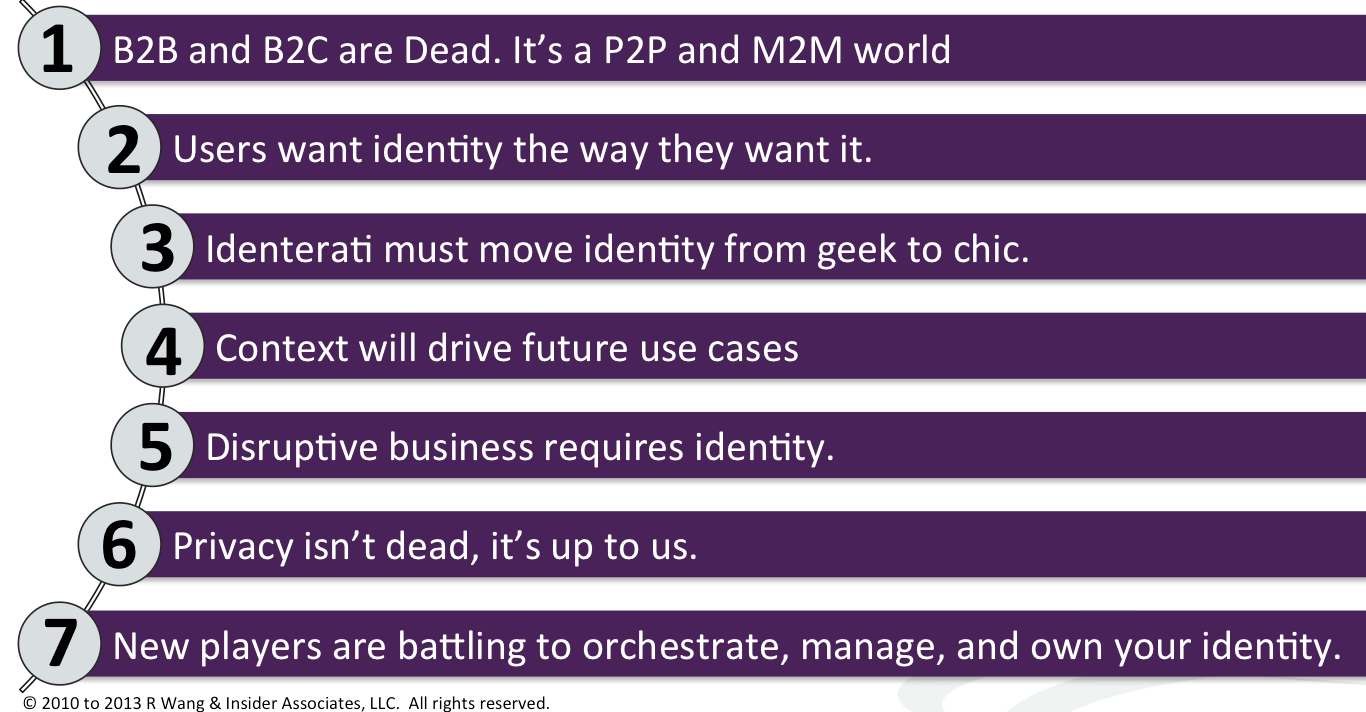 The Bottom Line: Herald The Reputation Economy - Identity All Comes Down To Trust and Transparency
Identities inside an organization may come more from external sources and vice versa. Is a Twitter ID enough? Could one's corporate identity allow access to stores or allow credit for mass transit fare? Will employees trust their B2B world more? Will a third party emerge so employees will not have to worry about their employer encroaching into one's private lives? Would you use your corporate identity for access to your hotel loyalty program?
As the individuals and organizations face a convergence of identity, trust is the currency. Transparency is the requirement. The reputation economy foreshadows a world of authentic commerce or business. However this world will require a trust, but verify approach because perfect transparency is impossible.
C. Report Links
The report is in it's final stages of editing and will be available on the Constellation Research website in the next few weeks.
Your POV.
Where do you see identity playing a role for you in Matrix Commerce, Future of Work, Next Generation Customer Experience?  Add your comments to the blog or send us a comment at R (at) SoftwareInsider (dot) org or R (at) ConstellationR (dot) com
Please let us know if you need help with your Social Business efforts.  Sign up for a Constellation Academy Workshop or let us assist with:
Assessing readiness
Developing your social business strategy
Vendor selection
Implementation partner selection
Connecting with other pioneers
Reprints
Reprints can be purchased through Constellation Research, Inc. To request official reprints in PDF format, please contact sales (at) ConstellationRG (dot) com.
Related Research:
Disclosure
Although we work closely with many mega software vendors, we want you to trust us. For the full disclosure policy, stay tuned for the full client list on the Constellation Research website.
Copyright © 2001 – 2013 R Wang and Insider Associates, LLC All rights reserved.