News Analysis: Infor's Cloud Strategy Goes Azure With Infor24



On July 12th, 2010, Infor announced its Infor24 initiative at the Microsoft Worldwide Partner Conference (WPC).  Infor24 represents the Alpharetta, GA software titan's foray to deliver its solution offerings in the cloud and a continued bet on Microsoft for key technologies.  Here's the first take on the news and from exclusive conversations with Soma Somasundaram, SVP of Development and James Willey, Senior Director of Solutions Management:
Three "on-demand" cloud solutions available today. Infor offers Expense Management, Asset Management, and ERP.  ERP SyteLine represents the first cloud based ERP offering from Infor.  These solutions will move to the cloud powered by Windows Azure, Infor ION, and a future portal product by 2011.  InforION provides key hybrid on-premises and cloud integration.

Point of View (POV): Delivery of expense management (Infor XM) and asset management (Infor EAM) as a cloud solution allows Infor to expand out to non-Infor base.  Existing customers can take advantage of the solution and integrate back through InforION.  To become a true software-as-a-service (SaaS) solution, multi-tenancy will have to occur not only at the app server tier but also at the database level.  Infor will most likely make the move to SQL Azure to achieve this.  Customers should look forward to seeing how these solutions take advantage of the full Azure stack.
Next generation solutions in 2011 based on Microsoft Windows Azure. Infor's future solutions will be powered by the Windows Azure development environment (see Figure 1).  Infor's cloud strategy includes Microsoft Reporting via Infor Ion, Microsoft Analysis Services powering Infor Business Intelligence, and Microsoft Portal powering a future product.  Next generation solutions will run on Microsoft Azure data centers.

POV: As Infor makes the shift to Azure, customers can expect other areas such as public sector solutions to be delivered by the second half of 2011.  Infor customers on IBM i-Series based products should seek a roadmap for their product lines onto Azure.
Figure 1. Infor 24 Bets On Microsoft Windows Azure For Current And Future Roadmap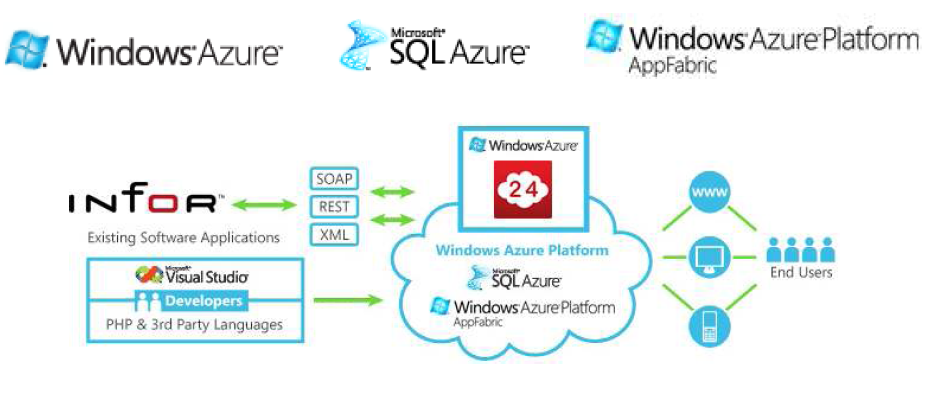 Source: Infor

The Bottom Line For Buyers (Customers And Prospects) - Infor24 Demonstrates Reinvestment Of The Maintenance Dollar
Infor's customers have seen the $2.2B revenue vendor make significant efforts over the past 24 months to showcase improved value for the maintenance dollar.  Programs such as InforFlex, the move to a Microsoft Platform, and now Infor24 demonstrate a willingness to improve the ownership experience.  As the cloud evolves into a mainstream deployment option, prospects and customers can expect Infor to have a foundation to not only bring its customers forward, but also reach out to new customer bases.
Your POV
Are you an existing Infor customer?   Prospects, will this move make you consider Infor?  Do you come form the legacy Microsoft or IBM heritage?  Will you be more compelled to stick with Infor in the long run?  Add your comments to the discussion or send on to rwang0 at gmail dot com or r at softwareinsider dot org and we'll keep your anonymity.
Please let us know if you need help with your next gen apps strategy, overall apps strategy, and contract negotiations projects.  Here's how we can help:
Designing a next gen apps strategy
Providing contract negotiations and software licensing support
Demystifying software licensing
Assessing SaaS and cloud
Evaluating Cloud integration strategies
Assisting with legacy ERP migration
Planning upgrades and migration
Performing vendor selection
Renegotiating maintenance
Resources And Related Research:
20106025 A Software Insider's POV – R "Ray" Wang "News Analysis: Infor Bets On Microsoft"
20100623 The Enterprise System Spectator – Frank Scavo "Infor casts its lot with Microsoft"
20100623 IDG News Service – Chris Kanaracus "Infor buddies up with Microsoft"
20106010 A Software Insider's POV – R "Ray" Wang "Event Report: Top 10 Questions To Ask At The Microsoft TechEd/STB Analyst Summit"
20091208 A Software Insider's POV – R "Ray" Wang "Tuesday's Tip: 2010 Apps Strategies Should Start With Business Value"
20090622 A Software Insider's POV – R "Ray" Wang "News Analysis: Infor Flex Reflects Proactive Maintenance Policy"
Reprints
Reprints can be purchased through the Software Insider brand or Altimeter Group.  To request official reprints in PDF format, please contact [email protected].
Disclosure
Although we work closely with many mega software vendors, we want you to trust us.  Infor and Microsoft are currently retainer clients of Altimeter Group but not a client of Insider Associates, LLC.  For the full disclosure policy please refer here.
Copyright © 2010 R Wang and Insider Associates, LLC. All rights reserved.