Event Report: Sapphire 2010 Brings Customers Back To A Sense Of Normalcy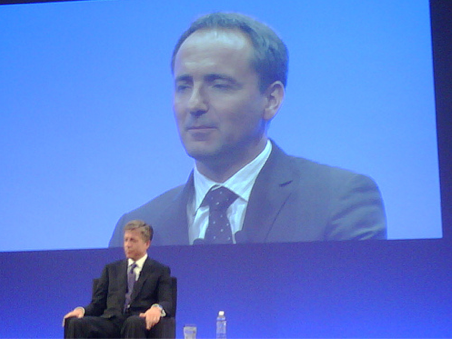 (Credit: R "Ray" Wang, Insider Associates, LLC)
Co CEO's Stabilize The Company
Both SAP Co-CEO's Bill McDermott (Orlando) and Jim Hagemann Snabe (Frankfurt) took stage on May 18, 2010, in a simulcasted keynote.  While Bill highlighted SAP's future vision and commitment to customers, Jim focused on communicating the SAP product strategy to match the corporate vision.  Customers, partners, and influencers sought an understanding of their road map 100 days into their jobs.  The two leaders demonstrated good synergy and gained confidence among the attendees.  In addition, CTO, Vishal Sikka took stage throughout many sessions and asserted his role as the key technologist.  Some of the main messages from the keynote include:
Articulating acquisition strategy in key themes.  Bill McDermott discussed three key themes for SAP: real time, unwired, and sustainable.  Each of the themes tied back to a changing shift in industry trends on business requirements and shifts in customer adoption.  Each of the themes reflected a revenue stream for SAP.  A global energy concern CIO expressed, "We've been waiting for SAP to get mobility to work.  We can't wait to see mobile field service become a reality in our sustainability initiatives"

Point of View (POV): While the themes accurately describe SAP's direction, the crafting of this strategy seems reactive.  In fact, it appears that this strategy builds on past acquisition decisions not concerted proactive strategy.  The good news - each of these trends represents the hot issues of the day and have finally been articulated together.   For example, real time addresses Business Objects, unwired ties back to Sybase, and sustainable supports Clear Standards.  Despite whether the strategy makes sense reactively or proactively, it does set the future direction for SAP.
Providing choice in deployment options.  SAP plans to offer customers choice in on-premise, on-demand, and on-device.  On-premise remains the same with new enhancement packs (EhP) adding additional capabilities.  On-demand offers both a suite offering in Business By Design (ByD) and point solutions in the On-demand offerings.  On-device will include the Sybase capabilities such as mobile CRM.  The ERP director of a large high tech manufacturer noted, "We'll be deploying a two-tier ERP strategy for subsidiaries and SAP now makes the short-list with ByD"
POV: Jim Hagemann Snabe's demonstration of Sales On Demand through the iPad highlights the convergence customers face going forward.  Choices in deployment options and platforms will guide customers on what to buy from SAP.   Users may face SAP to SAP scenarios, SAP to heterogeneous SaaS environments and complex hybrid deployments. For SAP on-premise to SAP on-demand scenarios, users will find a dependency requiring an upgrade to EhP 5 for more seamless integrations.  Others will turn to SaaS integration players such as Boomi, Informatica, SnapLogic, and Pervasive.
Communicating cloud strategies. Jim Hagemann Snabe announced delivery of the latest version of Business by Design (ByD) in July 2010.  Feature pack 2.5 includes additional features.  More importantly, ByD FP2.5 provides multi-tenancy, enabling cost effective provisioning features.  Conversations with key executives hint at point solution On Demand offerings to include include expense management, procurement, people management, and sales in 2011.  The Director of Consulting Services at an EMEA regional professional services firm noted, "We're waiting for ByD FP 2.5 because we need a project accounting and professional services solution but required a multi-tenant option."

POV: With OnDemand, SAP can now take a SaaS offensive and offer a solution that could compete with best of breed point solutions.  At some point, SaaS solutions will be bundled into suites and customers will seek a core SaaS suite offering and additional point solutions.  SAP customers will need more details on this road map before pursuing such a strategy.  SaaS integration will play a key role.
Battling Oracle with ecosystem strengths. Both Co-CEO's made inferences to their view that Oracle has a closed ecosystem.  They also tried to position SAP as partner friendly in working with technology platforms and technology stacks.  Hence, SAP reemphasized the importance of key partnerships such as RIM, Sybase, Syclo, Intel, Cisco, VM Ware, and EMC.  The Partner Alliance Manager for a high tech partner noted, "We have to work more closely with SAP because we need a counter-weight to Oracle"

POV: Oracle's acquisition of Sun has shown other competitors the importance in partnering to compete against Oracle.  Those who seek a large apps partner will turn to SAP for access to a large base of apps users and potentially a large base of mobile customers.  Expect more alliances to emerge by industry and by value chain.
Figure 1.  Flickr Photostream From Sapphire 2010
Credit: R "Ray" Wang, Insider Associates, LLC
The Bottom Line For Users - First 100 Days Show Signs Of Progress, Customers Still Need More Details
SapphireNow (2010) raised overall confidence among customers, prospects, partners, and influencers.  SAP articulated the why, the what, and the where.  However, SAP must now highlight how they will deliver and execute and when they will meet expectations.  Open questions still remain including:
Could $5.8B have been spent to deliver on the functional requests customers have sought over the past 5 years?
How Sybase will be integrated with SAP technologies?
What time frame will NetWeaver be ready to support social business?
What will the on demand Go To Market strategy look like?
When will SAP resolve its master data management strategy?
Customers and partners will await the next 180 days with much interest.
Your POV.
Are you a SAP customer?  How do you feel about SapphireNOW?  Will you have more confidence in SAP's ability to innovate?  Do you feel more confident about SAP's ability to execute?  Take the poll here.  You can post or send on to rwang0 at gmail dot com or r at softwaresinsider dot org and we'll keep your anonymity.
Please let us know if you need help with your apps strategy efforts.  Here's how we can help:
Assessing apps strategies (e.g. single instance, two-tier ERP, upgrade, custom dev, packaged deployements"
Evaluating SaaS/Cloud integration strategies
Assisting with legacy ERP migration
Planning upgrades and migration
Performing vendor selection
Providing contract negotiations and software licensing support
Related resources and links
Disclosure
Although we work closely with many mega software vendors, we want you to trust us more.  SAP is currently a non-retainer client of Altimeter Group and not a client of Insider Associates, LLC.  Oracle Corporation is a retainer client for Altimeter Group but not Insider Associates, LLC.  For the full disclosure policy please refer here.
Copyright © 2010 R Wang and Insider Associates, LLC. All rights reserved.