Thursday's Disruptive Tech Showcase: SnapLogic Tackles Cloud/SaaS Integration Challenges



Demand For Complex Cloud/SaaS Based Integration Continues To Increase

Organizations face a deluge of data from more and more new sources, especially in the Cloud.  Existing integration solutions often require expensive custom coding that's purpose built; but rigid and disposable.  A change in business objects or swap out of new solutions often require brand new investments in integration.  SnapLogic solves a key piece of the Cloud integration problem with modern, pluggable, and reusable pieces of code called Snaps.
Snaps represent an integration task or subtask frameworks of light weight services (a.k.a. SnAPI's).   SnapFlows orchestrate Snaps to solve the end to end integration that maps back to end to end business process flows.  Through the DataFlow Platform's open API's, enterprises can connect a wide variety data sources including (see Figure 1):
Enterprise vendor API's and ODBC
Web based REST and http
Cloud SOAP and WS*
Social Media RSS and atoms
Figure 1. SnapLogic DataFlow Server Provides A Data Integration Platform Through Open-Component APIs and RESTful ARchitecture.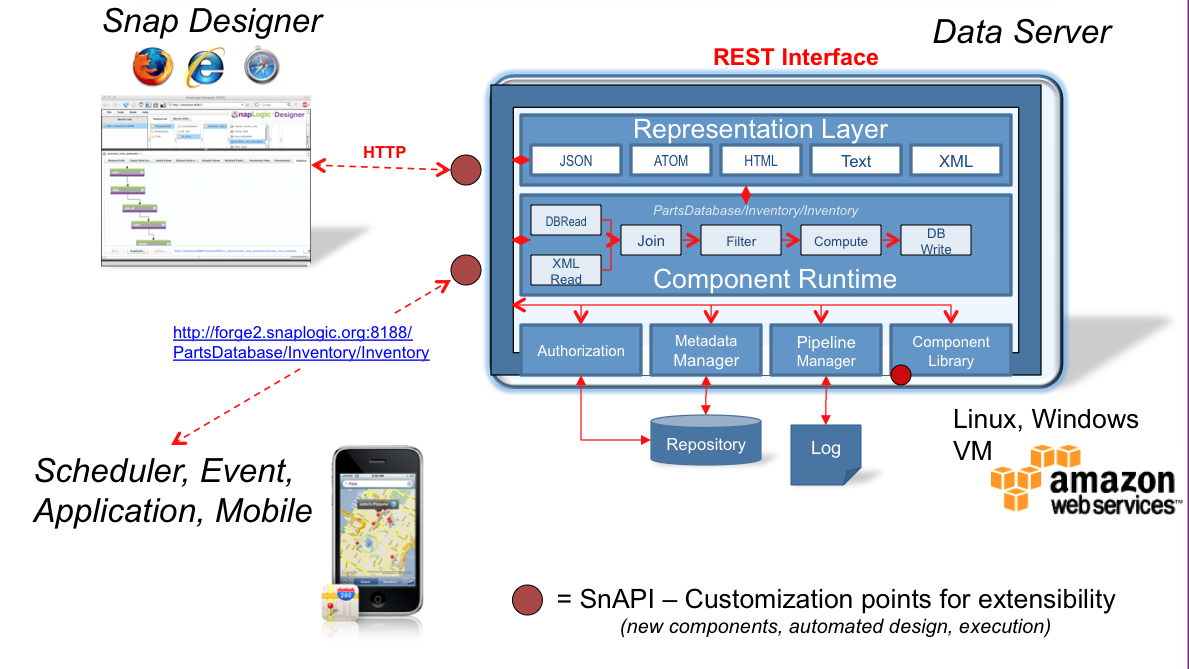 (Source: SnapLogic)

SnapStore Provides An Online Marketplace
Organizations seeking Snaps for popular Enterprise, SaaS, Web, and Social software solutions can access these solutions in the SnapStore (see Figure 2).  Meanwhile, ISV's, system integrators, and developers can create and monetize Snap connectors and data pipelines.  Over 40 Snaps have been created for solutions such as ADP Employease, OpenAir, Intacct, Oracle PeopleSoft Enterprise, SugarCRM, QuickBooks, and Box.net
Figure 2. Snap Store's Offerings Range from Enterprise to Social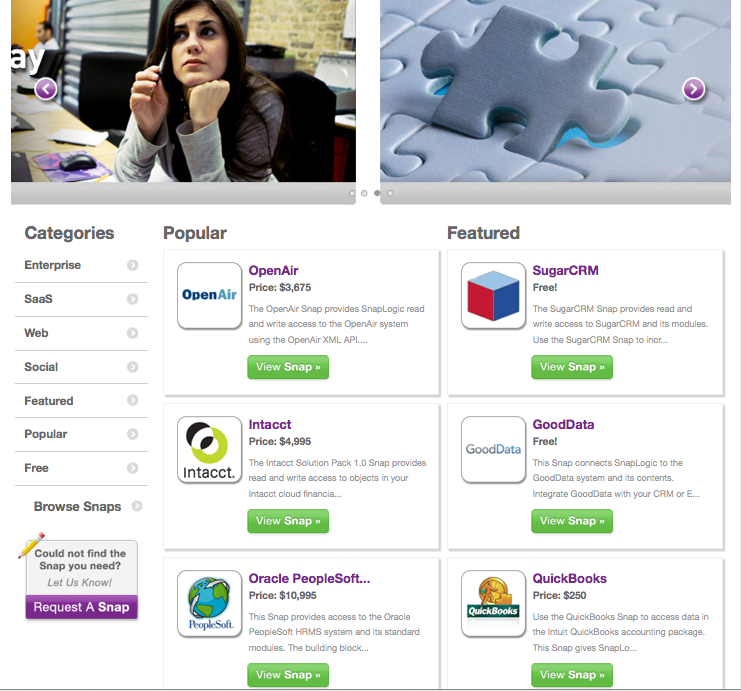 (Source: SnapLogic Website)
Founders Come From A Web 2.0 And Integration Pedigree
Gaurav Dhillon, the former Founder and CEO of Informatica, founded SnapLogic with Eyal Shavit, previously of Mevio, Macrovision, and Yahoo! Game Store in 2006.   It appears he could reinvent the integration market for this next generation of software.  To date, SnapLogic has raised $4.8M in funding from Andreessen Horowitz, Maples Investments, Google Vice President Brian MClendon, Epinions co-founder Naval Ravikant, and Gaurav Dhillon himself.

The Bottom Line For Users - Proliferation Of SaaS Deployments Requires A Cloud/SaaS Integration Strategy

Successful adoption of SaaS solutions have transformed usage from purpose built point solutions to integration into mission critical processes.  Increased SaaS and Cloud adoption in the enterprise does not mean architectural standards go away. In fact, organizations must re-prioritize their overall enterprise architecture strategy and include Cloud/SaaS integration as a key enabler.  The goal - move beyond one-off solutions and embrace a more agile and longer term solution.
Your POV
Are you challenged trying to manage your integration?  Have you tried SnapLogic?  As a prospect or customer, what limitations do you see?  Have you tried Boomi, CastIron Systems, Informatica, or Pervasive Software?  How do they compare?  Add your comments to the discussion or send on to rwang0 at gmail dot com or r at softwaresinsider dot org and we'll keep your anonymity.
Please let us know if you need help with your overall apps strategy.  Here's how we can help:
Assessing SaaS and cloud
Evaluating Cloud integration strategies
Assisting with legacy ERP migration
Planning upgrades and migration
Performing vendor selection
Providing contract negotiations and software licensing support
Related resources and links
20100416 ReadWriteWeb - Alex Williams "SnapLogic Opens Store For Third Party App Integration"
20091029 Venture Beat - Anthony Ha "Data integration company SnapLogic raises another $2.3M"
20081028 A Software Insider's Point Of View - R "Ray" Wang "Tuesday's Tip: SaaS Integration Advice"
Submit Your Solution For Consideration
To submit your Thursday's Disruptive Tech Showcase for consideration, check out the guidelines in the Policy section.
Copyright © 2010 R Wang and Insider Associates, LLC. All rights reserved.