News Analysis: Lawson Puts Its Full ERP Suite In The Cloud


Lawson External Cloud Services Represents A Big Step In On Demand ERP Options

On March 31, 2010, Lawson Software (Nasdaq: LWSN) announced the Lawson External Cloud Services offering.  The venerable St. Paul, Minnesota vendor plans to deliver the full ERP Suite including Lawson S3, Lawson M3, and Lawson Talent Management via Amazon's Elastic Compute Cloud (EC2) infrastructure by May 2010.  Key highlights of the announcement include:
Full feature ERP offering. Lawson will include its full suite of products from both M3 (i.e. Intentia heritage), S3 (Lawson heritage), and new offerings which includes strategic HCM, Finance, enterprise performance management (EPM), supply chain management (SCM), corporate social responsibility, equipment and service & rental, and enterprise asset management.
Point of view (POV): Lawson makes a significant investment in providing a new deployment option for its solutions.  Customers will lower IT costs, reduce time to deployment, and maintain ownership of the software using Amazon EC2 in the back end.  The result is a single instance approach to cloud delivery focused on IaaS (see Figure 1).  Virtualization provides the key factor in cost savings.
Focus on mid-size companies looking to reduce time to market. Lawson specifically calls out how mid-market organizations can gain scale with security, computing capacity, and lower cost infrastructure.  Organizations pay for only the infrastructure they need.
POV: Mid-size organizations gain the benefits of large enterprise solutions without the costly overhead of installation and deployment.  Prospects and customers can expect the hosted software to include centralized admin, faster installations, single technology stack, scalability, and faster time to value.   Mid-size customers can free up funds to focus on process design and business transformation.  However, there's no reason why a large enterprise wouldn't want the same advantages.
Introduction of Lawson Test Drive. Lawson Test Drive gives customers the ability to try before buying Lawson products for up to 14 days.  Customers can try out two of  Lawson's latest products, S3 directed Smart Office and Lawson Enterprise Search.
POV: Lawson Smart Office and Lawson Enterprise Search take advantage of Enterprise 2.0 UI/UX prinicples and really change the user experience for customers.  A 14 day trial may be too short for customers.  Prospects should push for 30 to see how powerful and pervasive these solutions can impact user productivity.
Flexible pricing options. Lawson offers customers the ability to start out with subscription pricing and convert to perpetual at the end of the subscription contract.  Customers retain flexibility in choosing their deployment models.
POV: Choice and flexibility to the procurement process deliver the strongest argument for Lawson's External Cloud Services.  Customers can start with annual subscription, rent to own, and then convert to a perpetual license with a traditional one-time payment.
Figure 1.  Lawson's Cloud Offering Reduces Infrastructure Costs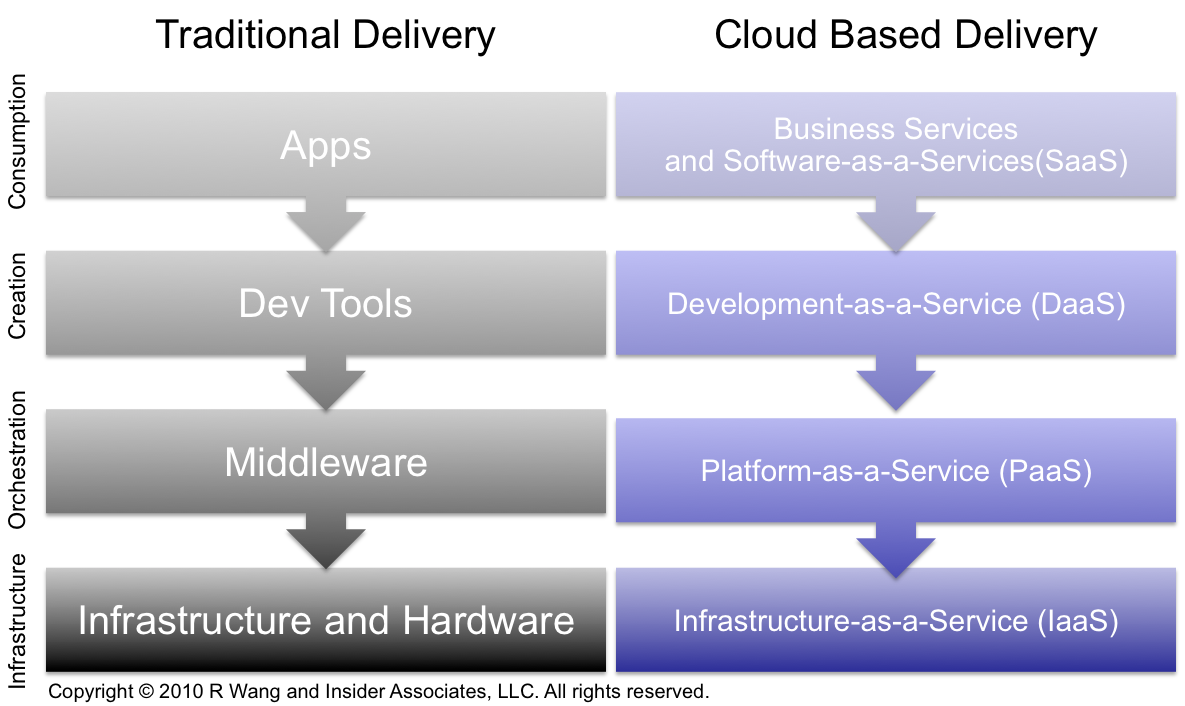 The Bottom Line For Customers - Check Out The New Cloud Deployment Option But Don't Confuse This For SaaS
Given that a good majority of Lawson's customers already take a cautious view to SaaS and OnDemand, the Lawson External Cloud may be the safe bet for customers looking to try OnDemand because the are not:
Convinced that a multi-tenant one-size fits all True SaaS model works for them. Despite the success at so many companies,  SaaS deployment options may scare clients who feel their business is unique and need to customize and determine their own upgrade timing.  Though constraints in configuration are not completely true here, its a reality that some customers have unwarranted fears.
Ready to give up software ownership. While the cost structures provide upfront advantages in the first 5 years, costs will even out over a 10 year period.  Some customers still prefer outright perpetual license rights over perpetual payments obligations.  Subscription pricing with the right to own provides a key selling point.
Lawson's offering is clearly not SaaS, but nor is it a reincarnation of hosting.  The offering takes full advantage of the virtualization services in Amazon EC2 and seems best suited for Lawson's existing customers.  However, new prospects will most likely push hard for multi-tenancy and private clouds in the future.  When will Lawson create private clouds?   Will they finally go multi-tenant?  Maybe we'll find out more at Lawson's CUE event from April 25 - 28 in San Antonio, TX.
Your POV
Are you a Lawson customer?  What do you think?  Will you go cloud?  Would you prefer this to a True SaaS solution?  Do you even care if its hosted or SaaS?  See you at CUE 2010 from Monday the 26th to Wednesday the 28th!
Add your comments to the discussion or send on to rwang0 at gmail dot com or r at softwaresinsider dot org and we'll keep your anonymity.
Please let us know if you need help with your overall apps strategy.  Here's how we can help:
Assessing SaaS and cloud
Determining custom vs package
Assisting with legacy ERP migration
Evaluating middleware platforms
Planning upgrades and migration
Considering third party maintenance
Assisting with cost optimization
Performing vendor selection
Providing contract negotiations and software licensing support
Related resources and links
20100409 Intelligent Enterprise - Doug Henschen "Lawson Cloud Plan Taps Amazon EC2"
20100402 ChannelWeb - CRN - Andrew R. Hickey "Lawson Looks To Cloud To Woo ERP Customers"
20100331 ZDNet: Irregular Enterprise - Dennis Howlett "Lawson teams with Amazon for cloud ERP -ahem"
20100331 Enterprise System Spectator - Frank Scavo "Lawson cloud services: good start but no SaaS"
20100331 Deal Architect - Vinnie Mirchandani "Lawson: I'm OK, you're not ok"
20090425 A Software Insider's Point of View - R "Ray" Wang " Event Report: Lawson Cue09"
20090313 A Software Insider's Point of View - R "Ray" Wang "Friday's Feature: Snapshots in Enterprise 2.0 UI/UX - Lawson Smart Office
Copyright © 2010 R Wang and Insider Associates, LLC. All rights reserved.