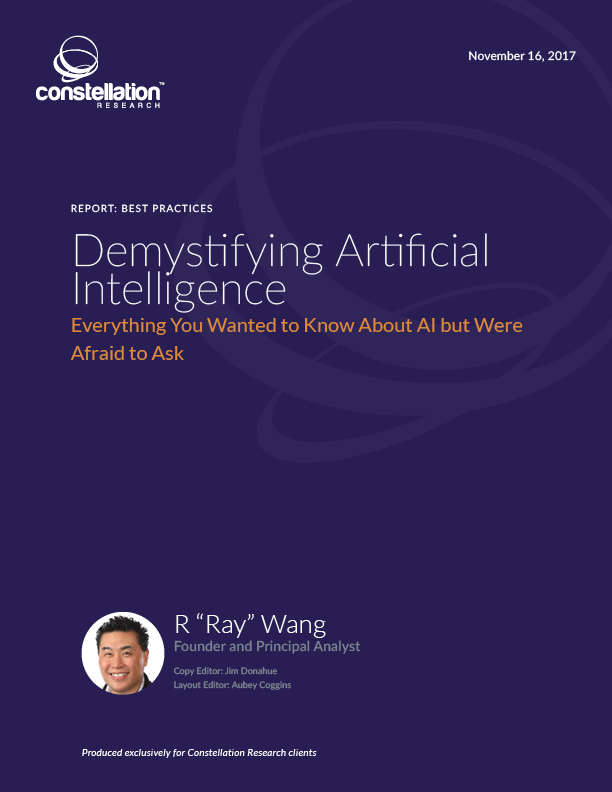 Research Report: Demystifying Artificial Intelligence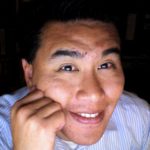 Everything You Wanted To Know About AI But Were Afraid To Ask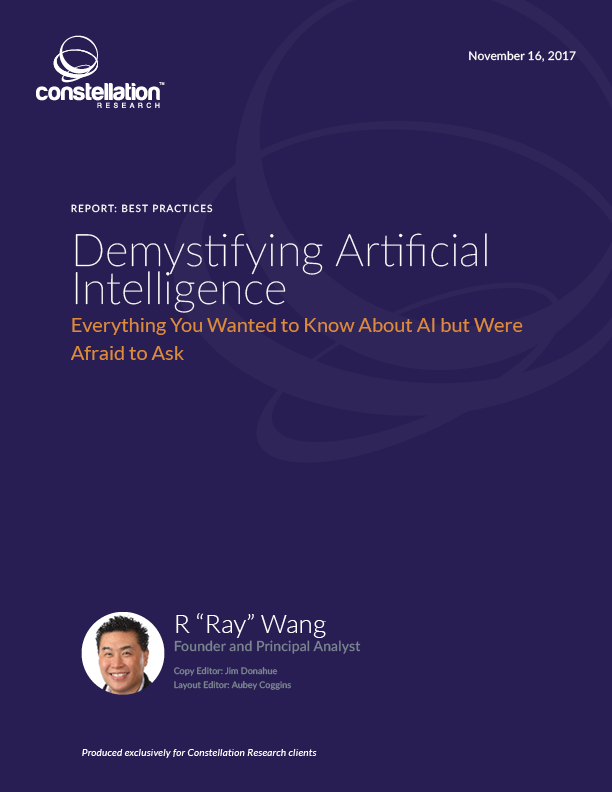 Executive Summary
The rush to exponential technologies in new business models has placed artificial intelligence (AI) in the forefront of boardroom priorities for 2018. As leaders move beyond the AI hype, the journey toward AI requires both a business mindset and the institutional fortitude to invest in the building blocks for success
This report provides a framework on how to realize the path to full AI, design for infinite ambient orchestration, build any AI-driven smart service and identify when to automate with AI.
Behind the Hype of Artificial Intelligence
Scientists have long aspired to recreate humans in machine form. While early attempts focused on the physical aspects of humanity, today's computer scientists have aspired to recreate the intelligence aspects in computer form. From vision to hearing, speech, touch and smell, scientists have come closer to replicating our five senses in the pursuit of artificial intelligence (AI).
As with each wave of AI in the 1960s, 1970s, late 1980s and early 1990s, the gap between expectations and reality contributed to a drought in funding and a lack of public support (that is, what's called AI winter). Factors behind AI winters included a lack of higher-education research funding, downturns in economies, droughts in basic research and insufficient compute capability. Consequently, researchers deliberately avoided the AI moniker for projects with AI capabilities, such as informatics, knowledge-based systems, business rules management, intelligent agents, machine learning and cognitive systems.
Now, searching for a competitive advantage and fearful of disruption, boardrooms and CxOs have rushed to AI as the next big thing. The investment in pilots for AI's subsets of machine learning, deep learning, natural language processing and cognitive computing have moved from science projects to new digital business models powered by smart services.
While market leaders and fast followers have not yet achieved artificial intelligence, the investments have heavily focused on AI to augment humanity.
Realize the Path to Full AI
The path to full artificial intelligence requires many phases. Organizations must lay the proper foundation and design for a five-phase layered approach (see Figure 1). The good news: many organizations have made investments in big data and predictive analytics projects. The foundation of ingesting large quantities of structure and unstructured data for the use of solving business problems provides a solid start. The next foundational building block requires strong data governance programs and master data management skills.
As one can imagine, these programs require each foundational layer to be in place. Time is of the essence. In fact, market leaders have mastered several levels of neural networks and machine learning. Fast followers have just begun machine learning pilots. Cautious adopters have just realized the need for big data. Laggards have not even begun a data lake. The gap between the early adopters and everyone else will be exponential.
Figure 1. The Path To AI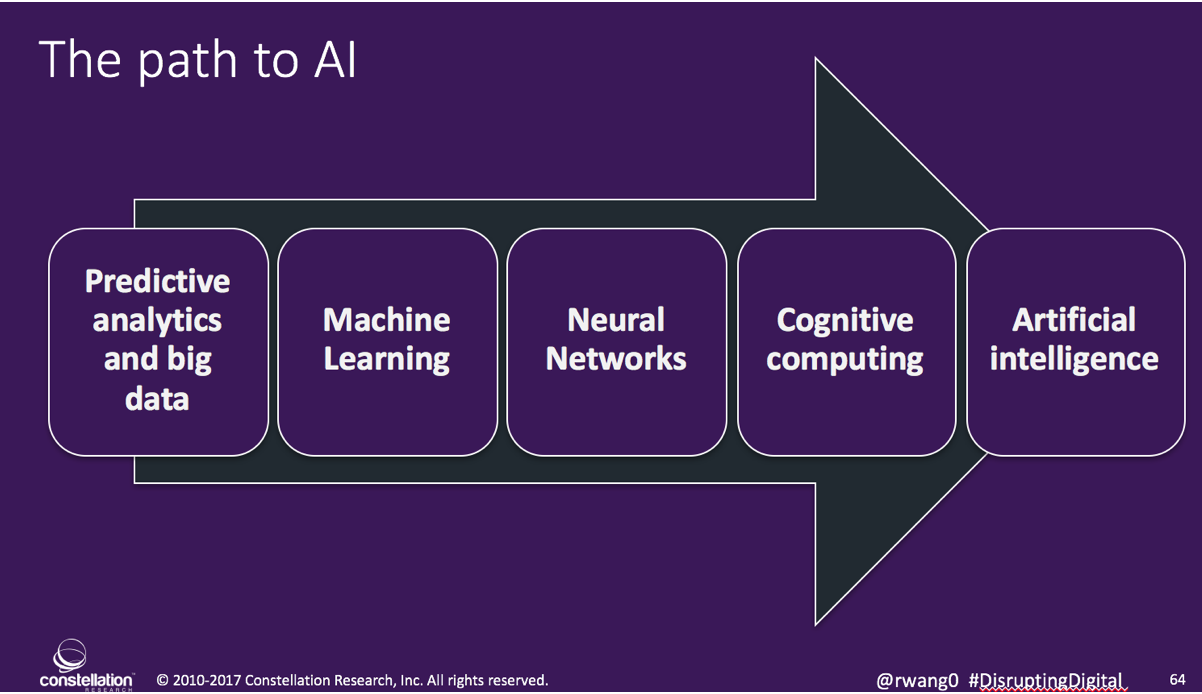 The Bottom Line.  Artificial Intelligence Augments Humanity
Fears of robots taking over the world have been overblown. Successful AI-driven smart services will augment human intelligence just as machines augmented physical capabilities. By enabling reduction of errors, improving speed of decisions, identifying demand signals, predicting outcomes and preventing disasters, AI-driven smart services play a key role in defining business models for blockchain technologies, IoT, customer experience and the future of work.
Buy The Report Now
Purchase the report now or login to the Constellation website for access.
Your POV.
Ready to roll out your plans for AI?  Do you understand the business model implications?  Who will you partner with for AI?  Add your comments to the blog or reach me via email: R (at) ConstellationR (dot) com or R (at) SoftwareInsider (dot) org.
Please let us know if you need help with your Digital Business transformation efforts. Here's how we can assist:
Developing your digital business strategy
Connecting with other pioneers
Sharing best practices
Vendor selection
Implementation partner selection
Providing contract negotiations and software licensing support
Demystifying software licensing
Reprints can be purchased through Constellation Research, Inc. To request official reprints in PDF format, please contact Sales .
Resources And Related Research
Disclosure
Although we work closely with many mega software vendors, we want you to trust us. For the full disclosure policy,stay tuned for the full client list on the Constellation Research website. * Not responsible for any factual errors or omissions.  However, happy to correct any errors upon email receipt.
Copyright © 2001 – 2017 R Wang and Insider Associates, LLC All rights reserved.
Contact the Sales team to purchase this report on a a la carte basis or join the Constellation Executive Network