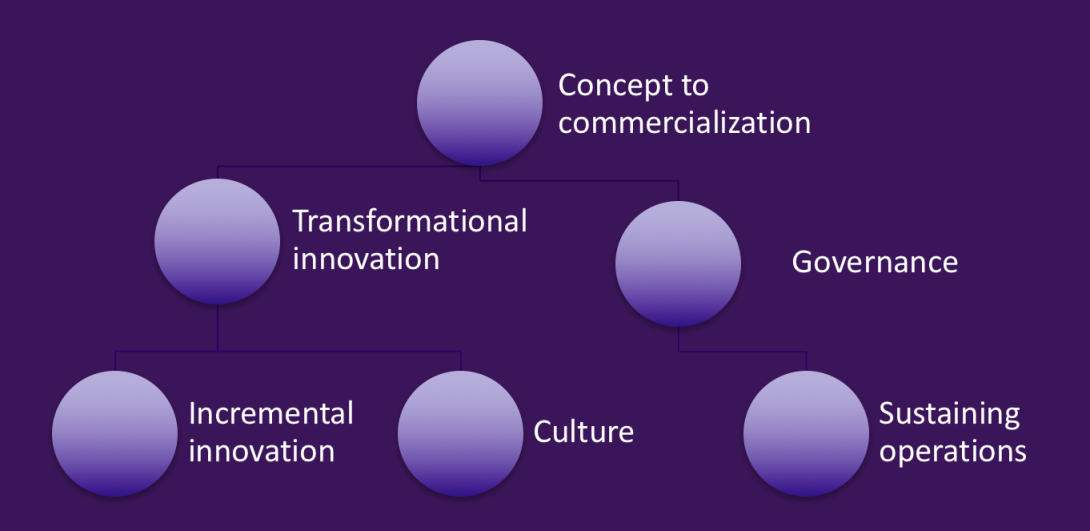 Monday's Musings: Why A Bi-Modal Approach to Digital Transformation Is Just Stupid
Multi-Modal Approach Key to Successful Digital Transformation
Like fake news, the over hyped, bi-modal approach to IT and digital transformation is a flawed fallacy perpetuated by ivory tower, non-pragmatic legacy research firms.  Lessons learned from successful digital transformation projects emphasize an organizational design comprised of six key virtual or physical teams (see Figure 1):
Figure 1.  The Six Components To Successful Digital Transformation Governance
Sustaining operations keep the lights on.  The bulk of an organization focuses on keeping the lights on.  This team's goal is to deliver operational efficiency, rock-solid reliability, and massive economies of scale.  Key team traits include an attention to detail, strong work ethic, adherence to standards and rules.
Incremental innovation teams improve existing business models.  These teams have a mandate of innovating faster, better, and cheaper capabilities to existing business models.  Key team traits include domain expertise, a passion for improvement, an understanding of existing constraints, and spirit of innovation.
Transformational innovation teams innovate with new business models.  Often seen as the tiger team, these folks explore additional business models for pilot inside the organizations.  Key team traits include a pension for disruption, disregard for existing rules, passion for innovation, and ability to deal with abstract concepts.
Concept to commercialization team enables monetization.  This team must figure out how to take a proven concept from the transformational innovation team and incorporate the new business model in existing systems.  This team often comprises a multi-disciplinary group of sustaining operations, incremental innovation, and transformational innovation members.  Key traits include massive creativity, disruptive thinking, political savvyness, and understanding of human behavior and rewards.
Culture team infuses harmony among the teams.  This team sets the cultural norms among each of the teams.  The team must not only highlight the differences of the teams, but also find bridges among the differences to inspire innovation.  Constellation defines design thinking as unlocking solutions to questions that have not been asked.  This requires a diversity of thought across multiple disciplines.  In fact, an artist, architect, author, and accountant have different points of view that unlock innovation in problem solving and design.
Governance ensures overall organizational alignment and success.  This team must provide the ground rules and framework to ensure successful coordination among a variety of business objectives.  In some cases, this team sets up the partnership ecosystems for co-innovation and co-creation.  Key traits include policy making experience, program management, compensation design, and
The Bottom Line: Digital Transformation Is An Ongoing Journey, Not A One-Off Project

Digital transformation rocketed to the top of mind for brands, enterprises and organizations in 2016.  The fear of being disrupted by non-traditional competitors, margin pressure from competitors, and realization that digital was more than just technologies, gave boardrooms and CXO's the political capital to invest in digital transformation projects.  As investment increased in digital transformation, leaders realized that these projects were more than just one time initiatives. In fact, organizations learned that digital transformation projects were continuous efforts that required more than a tiger team and bi-modal approach for success.  Be on the look out for Constellation's latest report that shares insights from 2016 from clients, advisory work, and research, so that leaders can succeed in 2017.
Your POV.
Are you ready to begin your digital transformation journey?  Do you have the right governance?  Would you like to join a network of other early adopters?  Learn how non-digital organizations can disrupt digital businesses in the best-selling Harvard Business Review Press book Disrupting Digital. 
Add your comments to the blog or reach me via email: R (at) ConstellationR (dot) com or R (at) SoftwareInsider (dot) org.
Please let us know if you need help with your Digital Business transformation efforts. Here's how we can assist:
Developing your digital business strategy
Connecting with other pioneers
Sharing best practices
Vendor selection
Implementation partner selection
Providing contract negotiations and software licensing support
Demystifying software licensing
Resources
The post Monday's Musings: Why A Bi-Modal Approach to Digital Transformation Is Just Stupid appeared first on A Software Insider's Point of View.