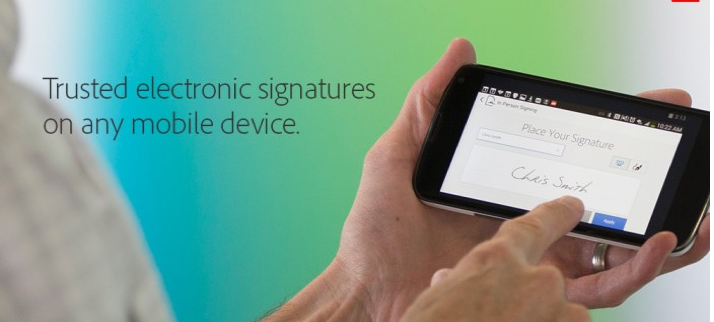 News Analysis: Adobe EchoSign's Electronic Signatures Goes 100% Mobile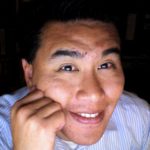 Frictionless Signatures Key To Matrix Commerce Success
On September 16th, 2014, Adobe EchoSign announced native mobile e-signature capability for Android devices.  While EchoSign has been in the cloud for some time, and the iOS app has been out since December 2011,  the native capability in mobile allows over 37 million users to send documents for signature, receive e-signatures, e-sign documents, and track documents.

Source: Adobe
The analysis from the product announcement shows how Adobe EchoSign:
Natively addresses document workflow management in a mobile environment. Adobe EchoSign's solution includes the ability to sign by finger or stylus, sign or click to approve a document, and delegate signing to another person or reject a signing request.  The mobile experience works with both iOS and Android devices.  Responsive design elements show optimization for Android tablets with 7" and 10" screens.  For Apple, responsive design adjusts for iPhone and iPad.

Point of View (POV): The battle for mobile in document workflow management heats up.  The latest solutions attempts to one up competitors Docusign and eSign Live with native capabilities in iOS and Android.  Customers should take advantage of these platforms to enable the incorporation of digital signatures into mobile experiences.
Delivers a legally binding and enterprise class secure solution.  The native mobile solution is compliant with UETA, Electronic Commerce Directive in the EU, and the US Federal ESIGN Act.  Documents are also encrypted and saved as certified PDFs.  As with the cloud based system, the mobile capability includes an audit trail and also meets SSAE16 compliance.

(POV): Constellation estimates that an average customer will save at least 73 percent in contract signage times.  Moreover, the native support for standards and enterprise class secure solutions enables customers to embed the solution without having to worry about security and compliance requirements.
Brings its ecosystem together to deliver on the promise of frictionless experiences. While the solution allows users to send documents for signature from any device or the native EchoSign library, the integration with Google Drive, Box, Evernote, or Acrobat.com cloud storage provides a significant advantage for customers leveraging cloud security options. Users also benefit with the ability to choose a language for the signer.

(POV): Adobe EchoSign's alliances team has done a good job bringing together a larger ecosystem to enable the promise of digital transaction management and frictionless commerce experiences.  Customers can take advantage of certified integrations to Apptus, Ariba, Adobe products, Big Machines, Box, Conga Compressor, Drawloop, E-Fax, Emptoris, Exaris, IRIS, Microsoft Dynamics CRM, Microsoft SharePoint, Netsuite, OneLogin, Rocket Lawyer, Salesforce.com, SAP, SciQuest, Selectica, ShareMethods, SpringCM, SugarCRM, and Xobni.
The Bottom Line
The latest Adobe EchoSign release reflects the demand for mobile first in Matrix Commerce.  Customers and prospects can build out end to end processes and incorporate mobile e-signatures into the commerce journey.  As a key component of the matrix commerce journey, customers can expect these friction free experiences to improve contract signing times, improve customer satisfaction, and reduce overall contract management and commerce process times.  Moreover, the ability to extend the solution into the broader ecosystem should help with the campaign to commerce digital experience.
 
Your POV
Ready for matrix commerce?  Are you looking at reducing friction through digital signatures?  Do you see the mobile addition as a key enabler? Add your comments to the blog or reach me via email: R (at) ConstellationR (dot) com or R (at) SoftwareInsider (dot) org.
Please let us know if you need help with your Digital Business transformation efforts. Here's how we can assist:
Developing your digital business strategy
Building a Digital ARTISAN program
Connecting with other pioneers
Sharing best practices
Vendor selection
Implementation partner selection
Providing contract negotiations and software licensing support
Demystifying software licensing
Resources
Reprints
Reprints can be purchased through Constellation Research, Inc. To request official reprints in PDF format, please contact Sales .
Disclosure
Although we work closely with many mega software vendors, we want you to trust us. For the full disclosure policy,stay tuned for the full client list on the Constellation Research website.
* Not responsible for any factual errors or omissions.  However, happy to correct any errors upon email receipt.
Copyright © 2001 -2014 R Wang and Insider Associates, LLC All rights reserved.
Contact the Sales team to purchase this report on an a la carte basis or join the Constellation Customer Experience.