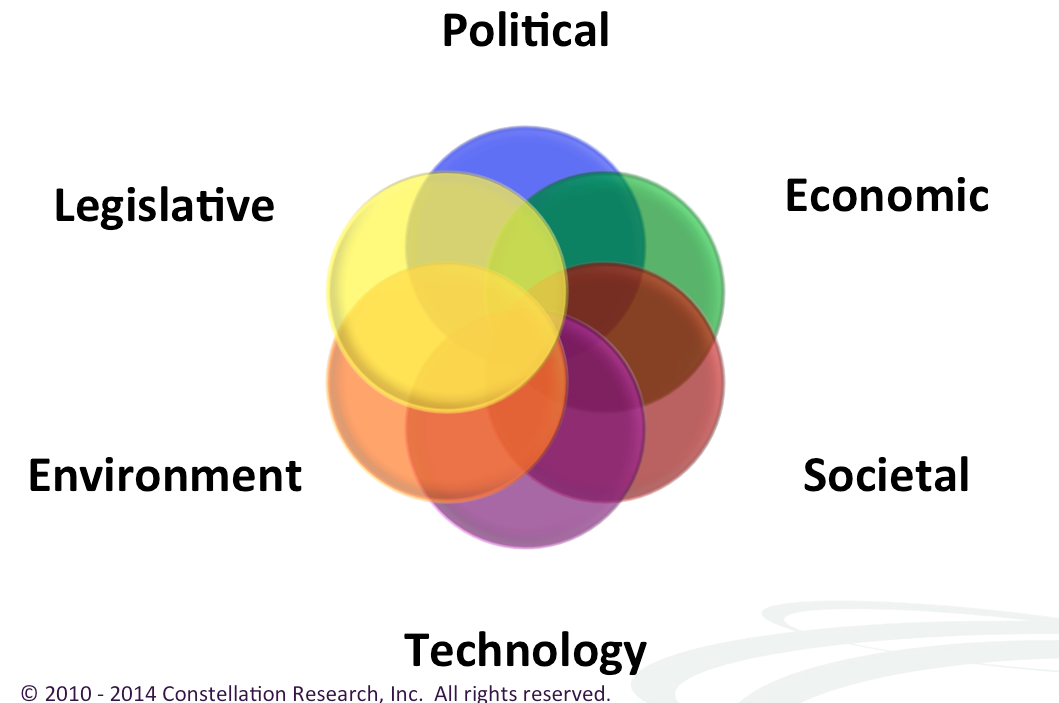 Research Summary: Sneak Peaks From Constellation's Futurist Framework And 2014 Outlook On Digital Disruption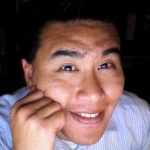 Accelerated Pace of Change Creates the Perfect Storm for Dominating Digital Disruption
The 2014 trends are out. The big predictions have been made.  Yet what does it all mean as most organizations anticipate another unpredictable year?  Since 2000, 52 percent of the companies in the Fortune 500 have either gone bankrupt, been acquired or ceased to exist (Figure 1).  The pace of change has increased, competition has intensified and business models have been disrupted.  The only certainty is that change will accelerate.
Figure 1. Digital Disruption Has Demolished 52% of the Fortune 500 Since 2000



In fact, the digitalization of business is a key factor in this accelerated pace of change.  Information flows faster.  Most parties enjoy greater transparency, yet the digital divide makes transparency patchy.  Every node reacts more quickly.  The speed of execution as a differentiator has resulted in agility in delivering disrupting business models. Market leaders shift from selling products and services to promising outcomes and experiences.
Market leaders and fast followers want to know what trends will affect customer demand. How will these trends affect hiring decisions?  Are there new and emerging technologies that will power disruptive business models?  What factors will help organizations dominate digital disruption?  How does one stay safe in a world of digital exhaust?  What networks matter?  Who are my competitors, collaborators and co-innovators? How does one make sense of the disparate and often contradictory trends pointed out by experts, pundits and analysts?
Constellation Applies A Futurist Framework To Guide 2014 Outlook and Beyond
Constellation's research team uses a tried and true futurist framework that looks at the political, economic, societal, technological, environmental and legislative (PESTEL) shifts ahead (see Figure 2). The PESTEL model is used to synthesize the major trends and provides guidance on how Constellation approaches its seven key business themes over the next 2 to 3 years in:
Consumerization of Technology and the New C-Suite
Data to Decisions
Digital Marketing Transformation
Future of Work
Matrix Commerce
Next-Generation Customer Experience
Technology Optimization and Innovation
The strategic assumptions from Constellation's 2014 PESTEL framework form the basis for the business theme-led research.  Over the next 36 months, research from each business theme will factor these trends into the overall research agenda.  The goal in 2014 is to help clients not only navigate, but also dominate digital disruption.
Download the report snapshot
Register for the Webinar February 27, 2014
Figure 2. PESTEL Approach Provides a Futurist Framework For Business Themes and Planning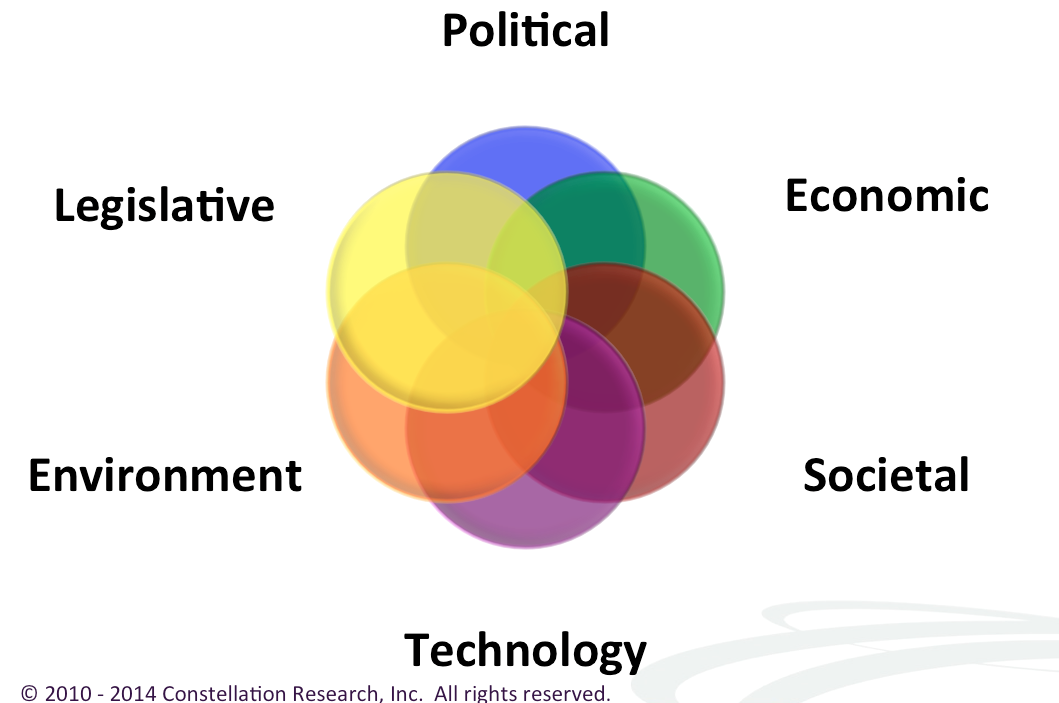 Three Technological Trends Boost Digital Business Disruption in 2014 and Beyond

Important pillars of digital disruption begin with social, mobile, cloud, big data and analytics, and unified communications.  The convergence of these pillars provides the key to future innovations.  The technology shifts that present opportunities to create new business models are also the same opportunities that disrupt existing systems.  While advanced materials, clean energy and personal genomics are key disruptive areas, Constellation identifies three technological shifts powering digital business disruption (see Figure 3):
Figure 3.  Technology Trends Move Beyond Social, Mobile, Analytics (Big Data), Cloud, And Unified Communications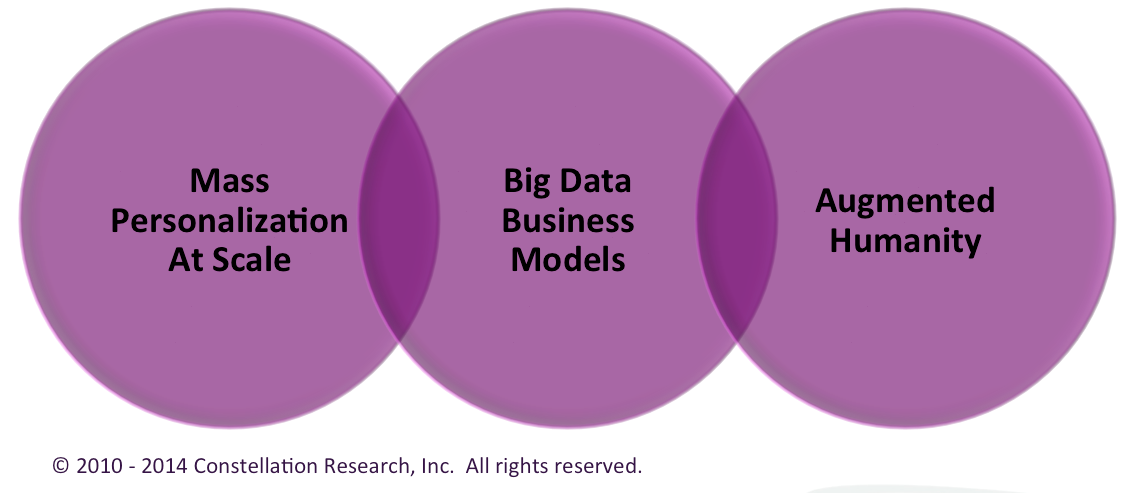 Mass personalization at scale drives relevancy and context. Systems of engagement shift to systems of mass personalization at scale that deliver relevancy. The shift from analog to transactional systems led to a wave of automation-driven efficiencies in the past century. Today, engagement systems move toward experiential systems that deliver massive contextual relevancy at scale, create role-tailored communication styles, deliver bionic user experiences, and move at the right time and scale.  The shift to systems that deliver mass personalization at scale is now underway (see Figure 7).  These systems start with an outcome-driven design point, solve delivery of massive individual scale, craft personalized conversations, interface with human APIs and enable people-to-people networks.  Key technologies include 3D printers, ad technologies, augmented reality, context engines, crypto currencies, identity systems, facial recognition, payment technologies, digital wallets and personal clouds.
Big data business models built around sensor and analytical ecosystem. Isolated networks shift to a connected world of sensor-based and analytical ecosystems that harness Big Data. In both the consumer and enterprise worlds, smart machines and wearables provide new types of sensors and add to the mix of Big Data available to create new insights.  Constellation estimates that as many as 200 million smart wearables will ship by 2017.  These include bracelets, watches, eyewear and other devices with sensors.  Data from equipment such as automobiles and trucks, medical devices, household appliances as well as power generators and building management systems can provide opportunities to improve operational efficiencies, create new business models and identify new usage patterns. These systems will not only communicate with each other, but also interface with people – overtly and covertly.The Internet of Things moves from abstract concept to a living and breathing machine-to-machine mesh network interfaced with humanity.  By 2020, a global market for a few billion cellphone Subscribe ID Modules (SIMs) swells to 100 billion Machine ID Modules (MIMs).  Technologies include 100 gigabyte optical networks, advanced robotics and manufacturing, building management systems, MIMS, geo-location drones, self-driving cars, smart grids and software-defined networks.  There is a quantum jump in the quantity and quality of information coursing through the digital economy. Big Data business models lie before us.
Augmented humanity changes the future of work and customer experience. Powerful yet static systems shift to cognitive systems that augment humanity. Cognitive computing is more than a new category.  Cognitive systems represent a convergence of artificial intelligence, natural language processing, dynamic learning, and hypothesis generation to render vast quantities of data intelligible to help humans make better decisions. The ability to self-learn enables continuously reprogramming.  These advancements represent a new class of technology to enable human and machine-guided decisions.  Cognitive computing drives augmented humanity, where the sum of our collective insights and data can be served up at the right time in the right context.  Technologies include facial recognition, human APIs, machine learning, natural language processing and self-learning algorithms.
The Bottom Line: Technology Trends Alone Are Not Enough To Consider In Dominating Digital Disruption
The premise behind the Constellation Futurist Framework requires the broader perspective of five other areas: political, economic, societal, environment, and legislative. When taken in concert, boards, CEOs, management teams, and strategic advisors will have a set of trends that provide context to the digital disruption ahead.  The framework is just the beginning.  A successful strategy will build on this futurist framework to map out the next 24 to 36 months of business model disruption.

VIDEO: Webinar of the Constellation Outlook on Digital Disruption
Your POV.
Are you still seeing the world through the lens of Social, Mobile, Cloud, Analytics, and UC/Video?  Does this help you take the bigger perspective? Ready for digital disruption?  Add your comments to the blog or reach me via email: R (at) ConstellationR (dot) com or R (at) SoftwareInsider (dot) org.
Please let us know if you need help with your Digital Business transformation efforts.  Here's how we can assist:
Developing your digital business strategy
Connecting with other pioneers
Sharing best practices
Vendor selection
Implementation partner selection
Providing contract negotiations and software licensing support
Demystifying software licensing
Resources
Reprints
Reprints can be purchased through Constellation Research, Inc. To request official reprints in PDF format, please contact Sales .
Disclosure
Although we work closely with many mega software vendors, we want you to trust us. For the full disclosure policy, stay tuned for the full client list on the Constellation Research website.
* Not responsible for any factual errors or omissions.  However, happy to correct any errors upon email receipt.
Copyright © 2001 -2014 R Wang and Insider Associates, LLC All rights reserved.
Contact the Sales team to purchase this report on a a la carte basis or join the Constellation Customer Experience