Event Report: Dell's Annual Analyst Conference INDIA #DAACIndia 2013
This post comes from Sachin Gosavi, our Vice President for South Asia



A First Peek Into Dell's Private Affair
Constellation Research attended the DAACIndia 2013 on 26 and 27 Sept 2013 in Bangalore. Having won the go-private mandate barely a fortnight ago, 'The World's Largest Start-up' message  dominated the conference theme.  Alok Ohrie, President and Managing Director, Dell India, dedicated a sizable chunk of his keynote to sharing Dell's focus and priorities post mandate (see Figure 1).  Moreover, Dell's India customers speaking on the panel expressed a sense of relief that the uncertainty had passed.
Figure 1. Dell Unveils It's World's Largest Startup Messaging to India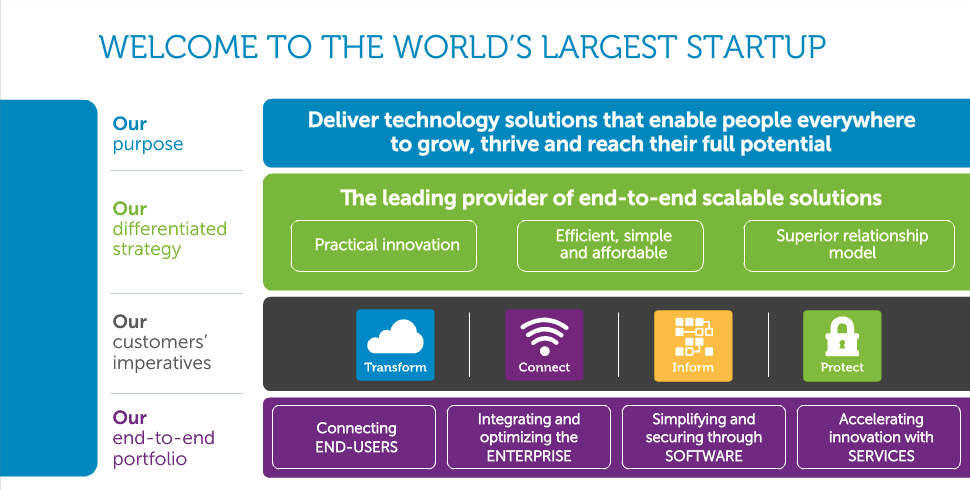 Source: Dell India
Dell's Future Is "Transform, Connect, Inform, Protect"
Dell continues to weave together it's global theme of "Transform-Connect-Inform-Protect" for its customers in India, and is making investments in areas such as delivering new services/solutions,
footprint expansion and widening the sales coverage beyond tier-II cities, superior customer experience, and support. Clients in India will closely watch execution of these investments and strategy, as Dell India witnessed a leadership change earlier this year. The Dell India leadership and many of it's BU leaders attempted a two-front pitch:
Dell's current India business and its roadmap, and
Dell's global play as an end-to-end player
Constellation's Point Of View (India): In a market like India, strong relationships and footprint spanning major industrial/IT hubs play an important role in the enterprise tech space.  Dell has been a key player in the Indian enterprise market, especially in the server and storage space, and Constellation expects them to build further on that position.  Beyond the hardware play, Constellation sees Dell's Services unit gaining traction with a segment of Indian buyers – both existing and net new – with its Business Applications and BPO services. That said, in  Services, Dell needs to focus more on it's Business Innovation Services portfolio addressing disruptive technology trends such as Cloud, Mobility, Social, BigData-Analytics and UC.  For, as with every market, there exists a Market-leader and Fast-follower section of Indian CXOs that are willing to bet on these emerging technologies and newer engagement models.  Dell can benefit by finding organizations looking for innovation partners in their quest.
Constellation's Point Of View (Global): DAACIndia was a reflection of Dell's global plans to shape up into an 'End-to-end' technology player. The economic recession has forced business model shifts at the major technology companies, and Dell is no exception.  Be it hardware vendors, service providers, and software players,  all are vying for the largest share of the business and IT technology budget today. It was this market reality that prompted Dell to explore ways to reinvent itself, which demands taking risks and faster decision making. The Go-private mandate will not only bring in freedom and speed in decision making, it will also help Dell re-deploy the resources, the management bandwidth and focus needed to re-shape its business model.
The Bottom Line: Dell's Privatization Efforts Open Up Opportunities For Buyers
Dell provided many proof points to validate its vision. More importantly, the Indian market can take advantage of the integrated approach Dell is providing across the stack.  Consequently, Constellation's preliminary assessment includes the following advice to prospects and existing customers:
Seek clarity on product road maps. As Dell enters privatization, Constellation expects Dell to re-organise a few of its businesses globally in the near term.  Buyers should seek clarity on key product road maps and investment priorities from Dell so they can adjust spending portfolios as needed.
Explore how "Transform, Connect, Inform, and Protect" can apply to existing budgets. Determine what role Dell plays in the overall technology strategy.  With an end-to-end play in mind, Dell is aggressively pushing for cross-sell opportunities in existing accounts with new products and services. Clients exploring these new products and services of Dell must ask for vertical/domain specific use cases, rather than relying on mere features/benefits.
Remain cautious. While market leaders and fast followers will most likely jump in to co-innovate with Dell, most customers and prospects will take a wait and see approach.  Why? Dell is at the beginning of its journey towards privatization.  Buyers should start with bite-sized entry points and work on expansion as Dell proves out its strategy and capabilities.
 
Your POV.
What's your plan to invest with Dell?  Will Dell succeed as a private company in shoring up it's offerings? Add your comments to the blog or reach me via email: R (at) ConstellationR (dot) com or R (at) SoftwareInsider (dot) com.
Reprints
Reprints can be purchased through Constellation Research, Inc. To request official reprints in PDF format, please contact Sales .
Disclosure
Although we work closely with many mega software vendors, we want you to trust us. For the full disclosure policy, stay tuned for the full client list on the Constellation Research website.
* Not responsible for any factual errors or omissions.  However, happy to correct any errors upon email receipt.
Copyright © 2001 – 2013 R Wang and Insider Associates, LLC All rights reserved.
Contact the Sales team to purchase this report on a a la carte basis or join the Constellation Customer Experience!