News Analysis: Infor Bets On Microsoft




Infor Takes A Bold Stance By Standardizing Their Technology Stack

On June 23rd, 2010,  Infor announced that the Alpharetta, GA, based software solutions provider would align its future tools and technology platform with Microsoft.  Infor intends to use and integrate Microsoft server-based products to improve time to market for future product development.  In addition, Infor announced Infor ION for apps interoperability, data management, and data sharing.  Key takeaways about the new Microsoft based Infor technology stack focus on (see Figure 1):
User experience. Microsoft Sharepoint 2010 plays a key role in the unified graphical user interface for its applications.  Sharepoint 2010 will serve as the key portal.  In areas requiring dynamic graphical interface elements and rich internet applications, Infor plans to use Microsoft Silverlight.

Point of View (POV): Sharepoint gives Infor's product teams and customers more than just portal capabilities.  Some key features include a number of business connectivity services, business performance management (i.e. dashboards, scorecards, and KPI), digital asset management, enterprise search, excel services, health monitoring, managed metadata, records management, and Visio services.  Sharepoint also improves collaboration with social computing services such as blogs, presence, wiki's, and RSS feeds.
Middleware technologies. On the database side, Infor will select Microsoft SQL Server as the preferred database.  Subsequently, Microsoft Reporting Services will play a key role in the long term Business Intelligence (BI) strategy.  Authentication, security, and access control will come from Microsoft Single Sign-On service.  Where possible,  Microsoft Windows Server will serve as the preferred on-premise operating system.

POV: The middleware in the Microsoft Tech stack has substantially improved.  For example, SQL Server 2008 R2 Core Editions comes with dynamic chart integration to Sharepoint 2010, self service BI through Power Pivot and Office Excel 2010 that supports instant sort on 100 million rows of data, backup compression, data compression with UCS-2 Unicode support, and a basic but high-scale complex event processing with SQL Server StreamInsight.   With Windows Workflow Foundation (WWF), Infor and customers gain industry standard tools to deliver user interface page flows, human work flows, business rule-driven workflows, document-centric workflows, composite workflows for service oriented apps, and even system management workflows.
Approach to integration. Infor's investment in OpenSOA results in a simplified approach.  Infor ION intends to connect applications, analyze information, network business collaboration, and organize business processes across the legacy and new Infor portfolio.

Point of View (POV): Infor ION builds on the lessons learned from the original OpenSOA strategy.  Given the diverse portfolio, integration will require interoperability among BizTalk and WebSphere to be successful with existing customers.  If successfully launched by the end of 2010, ION will give Infor a key tool in bringing new functionality to the existing base with minimal migration costs.
Figure 1. Infor Shifts From Proprietary Stack To Microsoft Components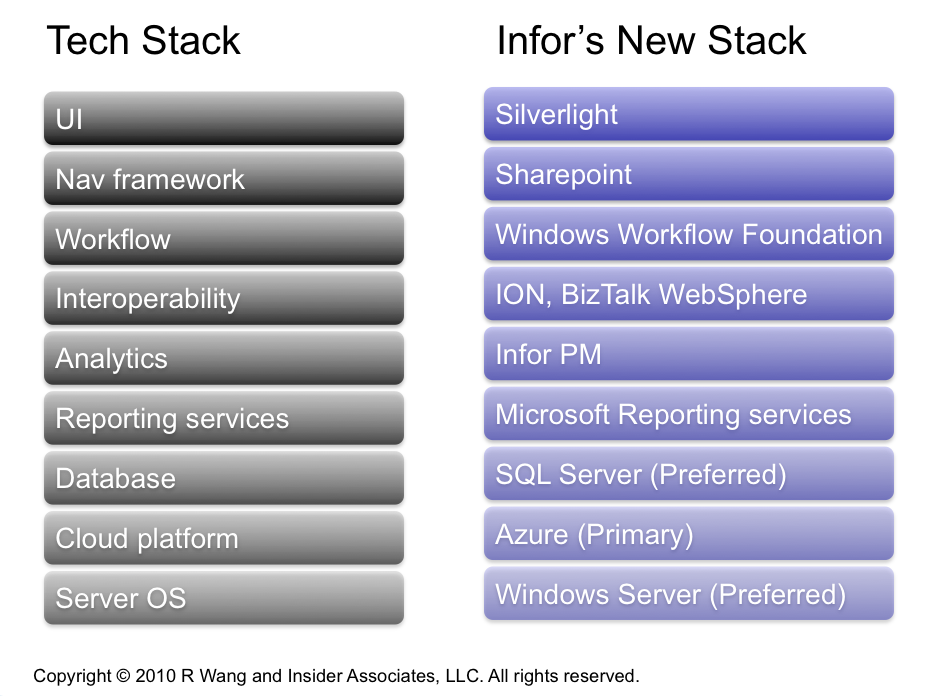 The Bottom Line For Buyers (Users) - Users Benefit From Standardization On Microsoft Tech Stack
Infor's decision to go with Microsoft for the "Rainbow" tech stack over IBM definitively sets the tone for the next decade.  Infor's product teams can reinvest the 25 to 30% of development budgets often focused on proprietary middleware and focus most of their resources on functionality instead of tools and technology.  Prospects and customers gain certainty in the overall technology road map and access to a broader pool of skilled Microsoft trained resources.  In addition, work in .NET will pave the way for use of Microsoft Azure and future cloud based services.  The result - Infor removes a key barrier to vendor selection.
However, existing customers will remain divided given their Microsoft or IBM heritage.  Microsoft technology based customers will rejoice as their skill sets have a path forward.  IBM "Blue Stack" customers seeking lower cost resources and a nudge to modernize infrastructure will see this as a positive development.  Customers not seeking to change their "Blue Stack" investments should be protected as Infor ION will keep their legacy investments in tact, at least for the foreseeable future.  With a certain technology roadmap, Infor can focus on winning new customers while providing a path forward for its legacy heritage and customer base.
The Bottom Line For Sellers (Vendors) - Microsoft's STB Division Dethrones IBM As The Leading Supplier To Packaged Apps Vendors

Microsoft brandishes its arms supplier status to independent software vendors (ISVs) at IBM's expense.  In fact, Infor was the largest IBM "Blue stack" base in packaged apps.  Industry watchers now wonder if IBM will continue to cede its middleware role in packaged apps?  For instance, JD Edwards, PeopleSoft, and Siebel users, traditionally on the "Blue stack" can expect Oracle's long term ambition to convert these customers to Oracle's "Red Stack" (a.k.a. Fusion Middleware).  Meanwhile, Microsoft's recent deals with Lawson for user experience give Microsoft a key toe hold in another "Blue Stack" shop.  Add presence at key competitors such as Agresso, Cincom, Epicor, Exact, Intuit, Lawson, QAD, SAGE, and Syspro, this sets the stage for a new .NET  vs Java tech stack war in packaged apps front.  Only Oracle and SAP remain firm with their own middleware stacks for now.  One possible explanation for IBM's moves - a focus on the higher margin vertical apps, emerging market developers (i.e. BRIC, APAC, Eastern Europe), and cloud based ISV's.  The long term result of this action - Microsoft could eventually pull off a virtual roll-up of all these packaged apps vendors via a Microsoft Azure marketplace three to five years from now.
The Bottom Line For Microsoft Partners - Skill Sets Transfer Across Microsoft's Ecosystem
At first, Microsoft partners, especially the Microsoft Dynamics ERP and CRM partners, may find this announcement to be alarming.  However, in the short term, partners can expect minimal impact as such technology shifts take 12 to 18 months to permeate into the product life cycles.  Mid-term, partners, should be warned that feature parity will be fought by vertical expertise.  However, most partners already win by developing the key last mile industry solutions.  Long term, partners with key vertical intellectual property (IP) and assets will be able to easily sell into the Infor base and any other base where the Microsoft STB team has provided an opening for new markets.  In fact, Infor just opened the door to future partnerships with this shift to the Microsoft tech stack.  The shift comes just in time for Microsoft's World-wide Partner Conference in Washington, D.C. this July 11th to July 15th, 2010.
Your POV
Are you an existing Infor customer?   Prospects, will this move make you consider Infor?  Do you come form the legacy Microsoft or IBM heritage?  Will you be more compelled to stick with Infor in the long run?  As a Microsoft Partner, will you be more inclined to build solutions for Infor customers?  Add your comments to the discussion or send on to rwang0 at gmail dot com or r at softwareinsider dot org and we'll keep your anonymity.
Please let us know if you need help with your next gen apps strategy, overall apps strategy, and contract negotiations projects.  Here's how we can help:
Designing a next gen apps strategy
Providing contract negotiations and software licensing support
Demystifying software licensing
Assessing SaaS and cloud
Evaluating Cloud integration strategies
Assisting with legacy ERP migration
Planning upgrades and migration
Performing vendor selection
Renegotiating maintenance
Resources And Related Research:
20100623 The Enterprise System Spectator - Frank Scavo "Infor casts its lot with Microsoft"
20100623 IDG News Service - Chris Kanaracus "Infor buddies up with Microsoft"
20106010 A Software Insider's POV - R "Ray" Wang "Event Report: Top 10 Questions To Ask At The Microsoft TechEd/STB Analyst Summit"
20091208 A Software Insider's POV – R "Ray" Wang "Tuesday's Tip: 2010 Apps Strategies Should Start With Business Value"
20090622 A Software Insider's POV - R "Ray" Wang "News Analysis: Infor Flex Reflects Proactive Maintenance Policy"
Disclosure
Although we work closely with many mega software vendors, we want you to trust us.  IBM, Infor, Microsoft, and Oracle are currently retainer clients of Altimeter Group but  not a client of Insider Associates, LLC.  For the full disclosure policy please refer here.
Copyright © 2010 R Wang and Insider Associates, LLC. All rights reserved.