News Analysis: Oracle Acquires Phase Forward For $685M And Gains A Foothold Into The Lucrative Life Sciences Market




Oracle Adds A Trusted CTMS/EDC Solution To Its Health Sciences Portfolio

On April 16th, Oracle announced its intent to acquire Phase Forward, a Cambridge, Massachusetts based Clinical Trials Management Software (CTMS) vendor and early electronic data capture (EDC) pioneer.  Phase Forward adds 335 life science, medical device, research agency, and contract research organization (CRO) customers to Oracle's portfolio.  The PhaseForward acquisition makes sense for Oracle because:
Life sciences research remains a large market for Oracle. Oracle continues to invest in vertical solutions with significant future opportunity and limited direct competition.  For example, large mega vendor competitors such as SAP lack presence in the CTMS while IBM and SAS Institute focus more on the performance management and information management.  Software Insider estimates the EDC and CTMS market to be well over $1.5B in software and services revenue by 2012.  Add $31B in NIH funding from the Fiscal Year (FY) 2010 Omnibus Appropriation Act (Public Laws 111-171) and the opportunity becomes quite clear.  This is why direct competitors such as Bioclinica (i.e. TranSenda, Phoenix Data Systems), DZS Software Solutions (i.e. ClinPlus), eResearch Technology, IBM Cognos Clincial Trial Management, Lifetree Research, Medidata Solutions Worldwide, Mednet Healthcare Technologies, Merge Healthcare, OmniComm, Perceptive Informatics (TrialWorks), SAS Institute, and Study Manager have all succeeded in this market and have started to roll up the pieces.
Oracle Health Sciences lacks a strong CTMS component. CTMS solutions streamline clinical development operations to manage multiple trials.  As the information and management hub, a CTMS often orchestrates information and processes from EDC, clinical data management system (CDMS), adverse event reporting systems (AERS), interactive voice response systems (IVRS), and other reporting and statistical solutions (see Figure 1).  Oracle's existing solutions focus more on components such as drug discovery, EDC, adverse event reporting system (AERS), and some statistical analysis.  Phase Forward brings together a series of clinical data solutions, randomization and trial supply management, Phase 1 clinic automation, safety solutions, clinical development center, late phase and ePRO solutions, and CDISC standards.
Customers seek an integrated offering. Life science companies face competing pressures to bring solutions to market and to address patent expiration.  With the skyrocketing costs of bringing new products to market, existing Oracle customers and prospects seek the "holy grail" of one integrated offering to reduce costs, manage risk, and provide insight into future innovations. Unfortunately, today's customers must turn to different solutions for drug discovery, pre-clinical testing, Phase 1, Phase 2, Phase 3, FDA Review/approval, post market testing, and safety monitoring and reporting.

Figure 1.  Key Processes For CTMS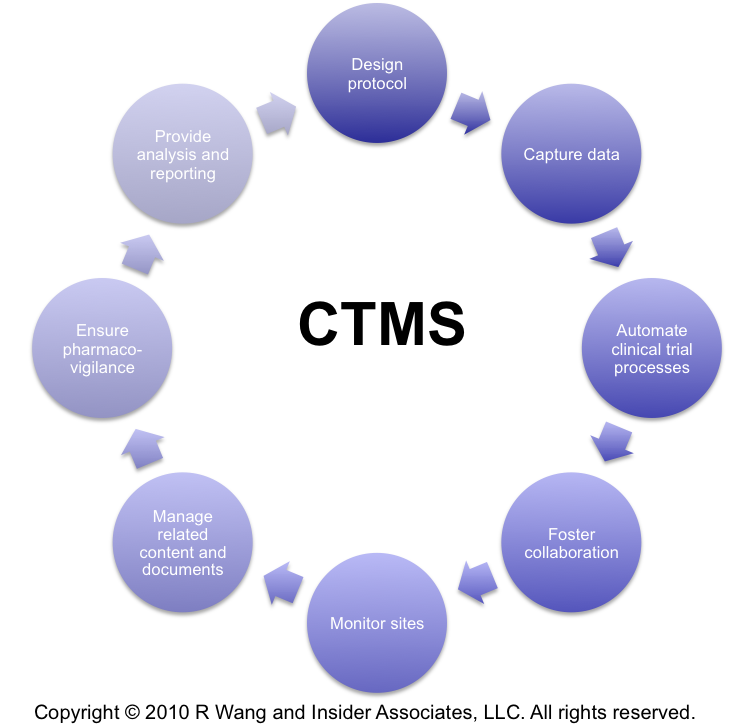 The Bottom Line For Customers - Be Vigilant. Ask Tons Of Questions.

Overall, customers should see long term synergies and benefit from this acquisition.  Oracle has proven itself with a strong track record of organizational integration.  Product integration success has been positive but not fully proven.  Given both Phase Forward and Oracle's myriad of product lines, customers should focus questions to Oracle about:
Integration with existing acquisitions. Understand the existing Oracle and Phase Forward landscape. Determine where you'll benefit from existing acquisitions and understand the solution overlaps.  Determine how other products such as Oracle Thesaurus Management System, Oracle Healthcare Transaction Base, and Argus Safety Suite can play a role in future solution road maps.
Long term product direction. Ask executives for their vision of the future.  Don't be shy and ask where Oracle sees their gaps and ask them how they intend to fill these holes in the solution footprint.  Determine how the Phase Forward SaaS platform will merge with Oracle's.
Future investment levels. Seek commitments on future R&D investment levels.  Ask how service and support staff will be transitioned.  Find out which executives have received golden handcuffs and which have been asked to leave.
Licensing and pricing policies. Oracle traditionally moves maintenance pricing to 22%.  Find out what policies will be changed to meet Oracle's standard policies.  Existing customers should seek longer term guarantees by extending maintenance contracts before the acquisition closes.
The Bottom Line For Vendors - Expect Oracle To Keep Acquiring In Life Sciences And Healthcare
Competitors can expect Oracle to continue its investments in Life Sciences and Healthcare.  The previous acquisition of Relsys International for Drug Safety and Risk Management only provided one component in the overall CTMS and EDC market.  Oracle's acquisition play book often starts with acquiring solutions with the highest value business processes and the largest base of maintenance paying customers in a vertical and micro vertical.  With a strong analytics backbone, CRM, ERP, SCM, middleware, and database offerings, Oracle intends to win with a "one throat to choke" integrated offering.  Vendors competing in this space must forge new partnerships or consolidate in the next 3 to 5 years in order to compete against Oracle (see Figure 2).  Oracle believes it will be the only vendor with an end to end solution and hopes to capture the largest share of the Life Sciences and Healthcare budget.
Figure 2. Selected Competitors In The CTMS And EDC Market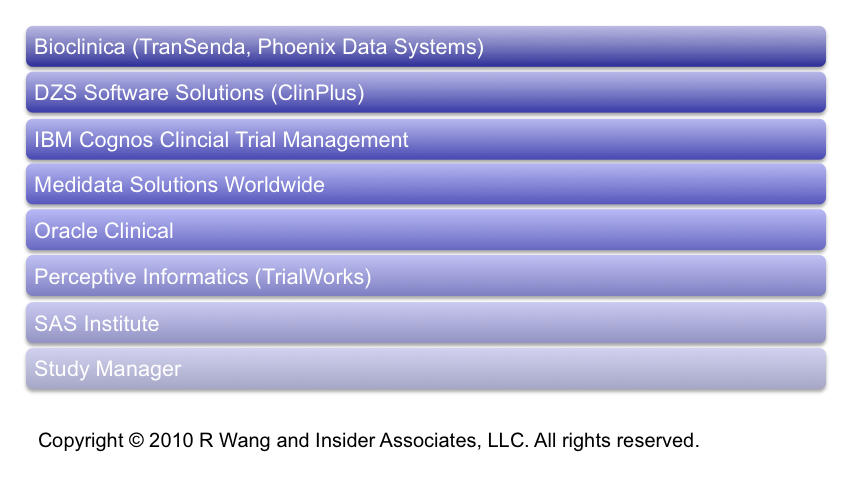 Your POV
What do you think about Oracle's acquisition strategy?  Are you a Phase Forward customer?  Do you have any other Oracle products?  Will you consider competitors or are you already "locked-in"?  Add your comments to the discussion or send on to rwang0 at gmail dot com or r at softwaresinsider dot org and we'll keep your anonymity.
Please let us know if you need help with your overall apps strategy.  Here's how we can help:
Assessing SaaS and cloud
Determining custom vs package
Assisting with legacy ERP migration
Evaluating middleware platforms
Planning upgrades and migration
Considering third party maintenance
Assisting with cost optimization
Performing vendor selection
Providing contract negotiations and software licensing support
Related resources and links
20100416 IDG News Service - Chris Kanaracus "Oracle Buying Drugs Trial Software Maker for $685M"
20100416 Paul Hamerman's Blog - Oracle Puts Another Notch In Its Industry Apps Acquisition Stick
20100416 ZDNet: Between The Lines - Larry Dignan "Oracle Buys Phase Forward"

Copyright © 2010 R Wang and Insider Associates, LLC. All rights reserved.