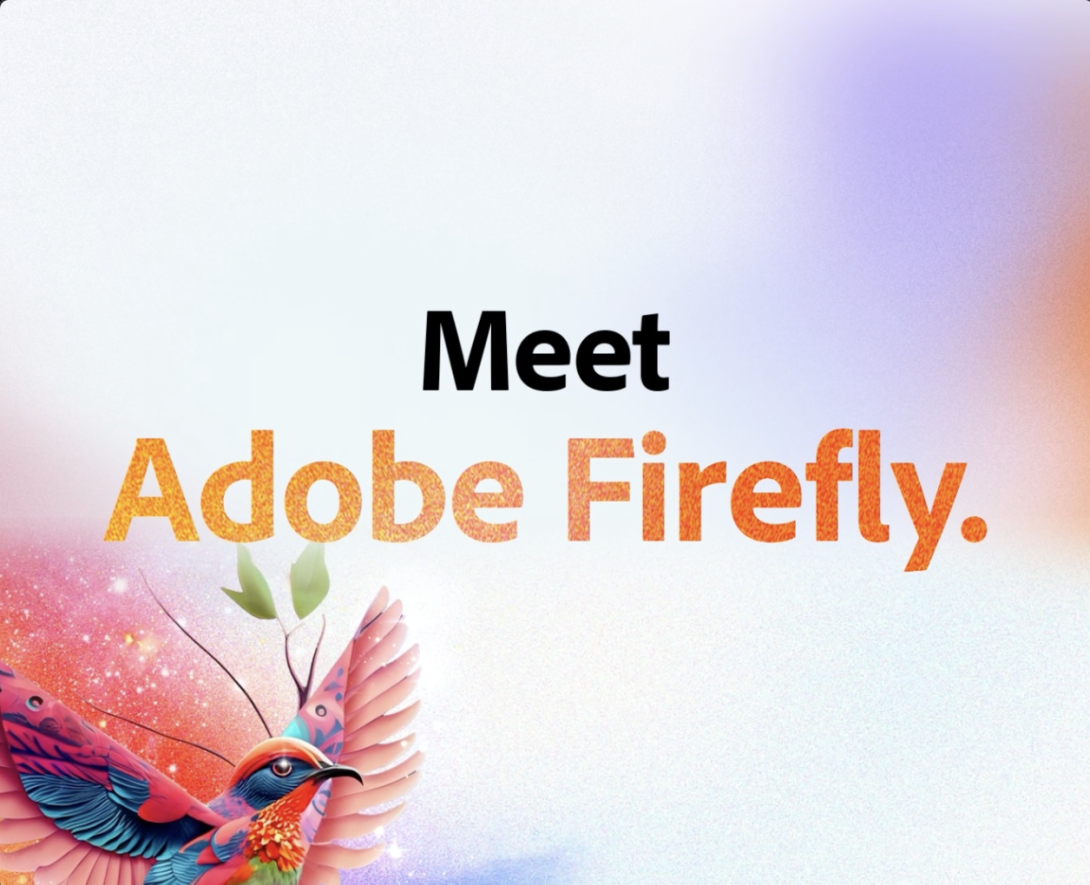 News Analysis: Adobe Firefly - A Generative AI Offering For Creators
Adobe Delivers Generative AI With Adobe Firefly
At Adobe Summit on March 21, 2023, Adobe announced and delivered its generative AI offering known as Adobe Firefly. Adobe Firefly (in Beta), is a collection of generative AI models built for creative applications.  The offering joins the platform's AI services. The first Firefly model will focus on image generation and text effects, trained on the hundreds of millions of Adobe stock images, openly licensed content, and public domain content where copyright has expired. Adobe plans to integrate Firefly into their Creative Cloud, Document Cloud, and Adobe Express product lines.
While Firefly is intended to be made up of multiple models, the first model is trained on Adobe Stock images openly licensed content and public domain content, where copyright has expired, and is designed to generate images safe for commercial use. Future models will target additional use cases and content types, potentially leveraging other technology and training data.
Adobe feels, this approach to training differentiates Firefly models from other stable diffusion models where rights, copyrights, and ethical boundaries of an artist's individual style have come into question. Adobe has also announced new Sensei GenAI services that will continue to expand across Adobe Experience Cloud, deploying multiple LLMs including the Microsoft Azure OpenAI and FLAN-T5 models.
A CRTV Interview With Adobe's Ely Greenfield on Adobe Firefly
Adobe's Takes A Comprehensive Approach To Empowering Creators
What sets Adobe Firefly apart from other offerings is the integration into content workflows such as image creation and text effects.  The goal - deliver generative AI capabilities wherever content is created and modified.  Moreover, the focus on safe for commercial use ensures that Firefly won't generate content based on other individual's or brand's IP.  This eliminates potential legal issues down the road.
In addition, Adobe's Content Authenticity Initiative (CAI)'s provenance technology creates transparency for digital content via Content Credentials. Creators can use Content Credentials to attach important information to a piece of content using meta data to include their name, date, and what tools were used to create it. That information travels with the content wherever it goes so that by the time people see it, they can experience content and context together.  They can also add tags to ensure "Do Not Train" as well.
On the monetization front, Adobe intends to take a compensation-forward approach with Adobe Stock contributors. Creators who contribute content for training will benefit from the revenue Firefly generates once Firefly is out of beta. Creators may be able to license and monetize their own style and design in the future.
Advancements In Generative AI Have Rapidly Improved
While generative AI has been around for some time, ChatGPT  has captured the hearts and minds of the general population in highlighting tangible possibilities of what AI can accomplish both in the consumer and enterprise world.  In fact, Generative AI has the ability to create chat responses, designs, and other new content including deep fakes and synthetic data.  Neural network techniques such as generative adversarial networks (GANs), variational auto encoders (VAEs), and transformers work together to create original content based on prompts.
On the languages side, GPTs or what's known as a generative pre-trained transformer, generate conversational text using deep learning.   The pre-training capability allows the AI to take the model from one machine learning task to train another model.  These models are then pre-trained on large corpus of text.  Transformers, a type of neural network, maps the relationships among all the data sources such as text and sentence patterns.
For images, diffusion models allow images to be created from text prompts. Using random noise applied to a set of training images, the diffusion models allow one to remove noise and create a desired image.  Common approaches include DALL-E also from OpenAI, Dreambooth by Google, , Imagen, Lensa, Midjourney, and Stable Diffusion.
The more organizations interact with these AI systems, the quicker the AI systems will improve their rate of learning.
The Bottom Line: Expect Exponential Improvements In AI Driven Creativity And Productivity
Generative AI will improve content velocity and improve the ability to power content supply chains with improved collaboration in the delivery of precise, high quality content.  Creators can easily expand their capabilities from one medium to another while making variations to their work.  Moreover, the establishment of creator marketplaces for monetization will augment creativity not automate it.
Your POV
Ready for the new world of creativity and AI?  What's your experience to date with generative AI?
Add your comments to the blog or reach me via email: R (at) ConstellationR (dot) com or R (at) SoftwareInsider (dot) org. Please let us know if you need help with your strategy efforts. Here's how we can assist:
Developing your metaverse and digital business strategy
Connecting with other pioneers
Sharing best practices
Vendor selection
Implementation partner selection
Providing contract negotiations and software licensing support
Demystifying software licensing
Reprints can be purchased through Constellation Research, Inc. To request official reprints in PDF format, please contact Sales.
Disclosures
Although we work closely with many mega software vendors, we want you to trust us. For the full disclosure policy,stay tuned for the full client list on the Constellation Research website. * Not responsible for any factual errors or omissions.  However, happy to correct any errors upon email receipt.
Constellation Research recommends that readers consult a stock professional for their investment guidance. Investors should understand the potential conflicts of interest analysts might face. Constellation does not underwrite or own the securities of the companies the analysts cover. Analysts themselves sometimes own stocks in the companies they cover—either directly or indirectly, such as through employee stock-purchase pools in which they and their colleagues participate. As a general matter, investors should not rely solely on an analyst's recommendation when deciding whether to buy, hold, or sell a stock. Instead, they should also do their own research—such as reading the prospectus for new companies or for public companies, the quarterly and annual reports filed with the SEC—to confirm whether a particular investment is appropriate for them in light of their individual financial circumstances.
Copyright © 2001 – 2023 R Wang and Insider Associates, LLC All rights reserved.
Contact the Sales team to purchase this report on a a la carte basis or join the Constellation Executive Network