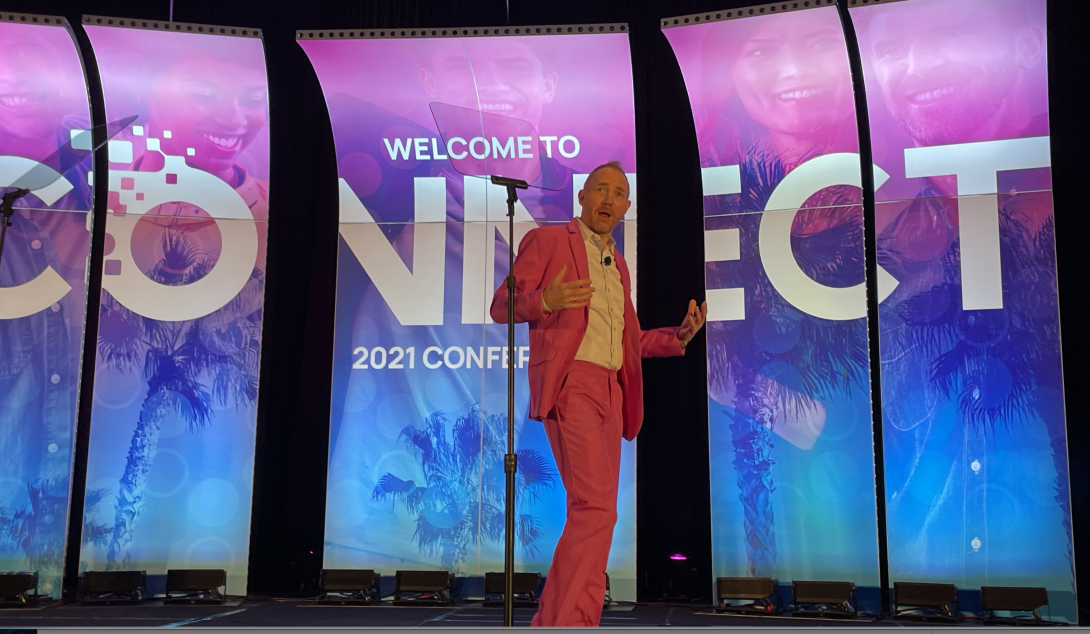 Event Report: isolved Connect 2021
The First Of The In Person HR Tech Vendor Conferences Was A Resounding Success
On September 19th, isolved kicked off its user conference isolved Connect at the Diplomat Hotel in Hollywood, Florida. Amidst a very socially distant and pandemic protocol safe ballroom, more than 900 HR professionals, technologists,and partners gathered to hear the latest announcements and see the latest updates to the software.  CEO Mark Duffell shared introductory comments and Chief Marketing and Strategy Officer, James Norwood, kicked off the event in a very isolved Pink suit. 
isolved is growing and separating itself from other vendors in the space.  In the past 12 months, the vendor saw a 38% growth in their employee population, $200B in payroll and taxes processed annually, and 5 million employees nationally using isolved PeopleCloud.
Key announcements include:
Launch of PeopleCloud

™

Expense Management. The new offering provides integrated expense management that delivers on centralized reporting and tax management.  The goal - take the paper out and reduce manual data entry errors en masse.  Operational efficiencies should lead to faster reimbursement cycles and improved employee satisfaction.

Unveiling of isolved Predictive People Analytics.  The new offering heralds from the acquisition of TrenData HR.  Now as part of the isolved PeopleCloud™, users gain configurable dashboards that answer key questions such as turnover, diversity, pay ranges, and more.  The integrated chat bot feature takes advantage of voice assistants and AI technology to handle HR inquiries in an automated and interactive fashion.

Finding from the Voice of the Workforce survey show location flexibility to be a top hiring factor.  When asked about the biggest motivator for accepting a new job offer, isolved's Voice of the Workforce (VOW) survey of 1000 full time US employees indicated that 58% of respondents expected location flexibility.  The second and third preferences include interest in the role (57%), and work life balance (52%).  Of note, workplace diversity was the least-likely reason to accept a new offer.
In addition, the vendor reiterated its three-year strategic roadmap (see Figure 1)
Figure 1. isolved's Three Year Strategic Roadmap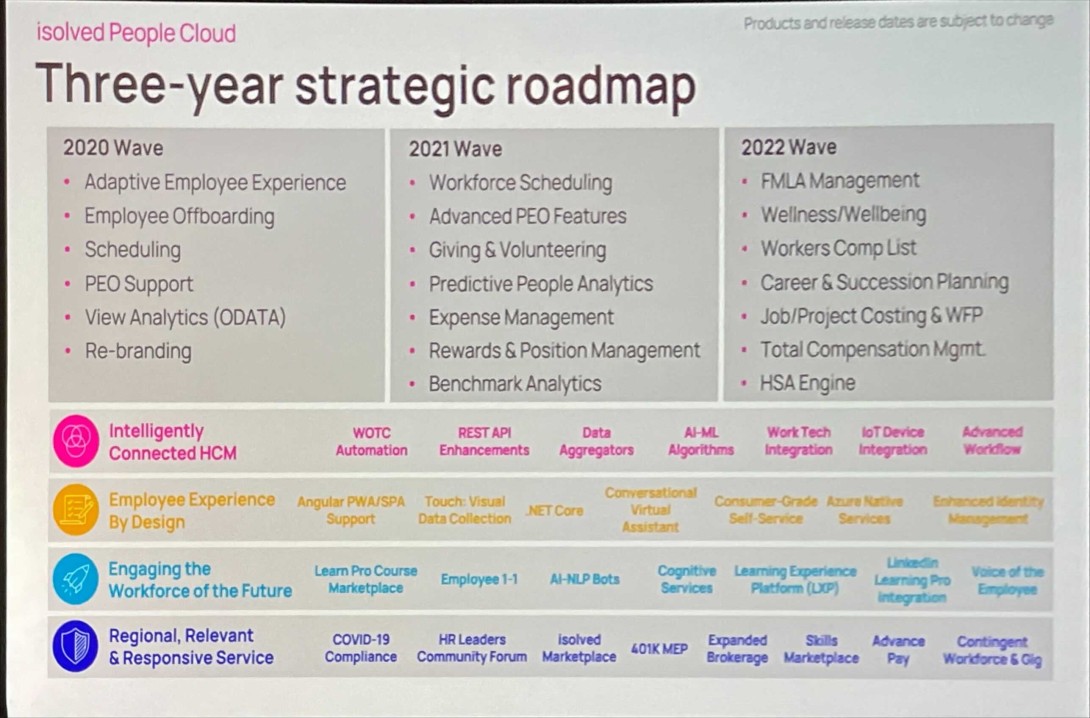 Source: isolved
HR Leaders Face Common Trends In The North American Market
Conversations with over 40 customers reflect the broad trends that other HR leaders have expressed in client conversations:
HR has emerged as a key priority amidst a war for talent and the great resignation.
Customers at the event are mostly satisfied with the current offering and expect more innovations ahead.
Existing customers seek to expand into other modules and have funding to invest.
Prospects see isolved as a one stop shop for the small to medium sized market that has been vastly ignored by the bigger players.
Hires during the past 18 months are the highest flight risks as these employees do not have a strong connection to the company's culture and have not built the required relationships that improve retention.
The Bottom Line: isolved's People Cloud Addresses Key SMB Market Needs
The SMB market for end to end HR suites remains poorly served with few players. isolved's team has made it a goal to grow this market and provide a full suite to meet most needs of the SMB market. Given the current trajectory and roadmap commitments, Constellation believes that SMB customers have good reason to be optimistic. 
Your POV
Facing the great resignation? Having trouble finding the right candidates? Unsure how to find a full suite HR solution?
Add your comments to the blog or reach me via email: R (at) ConstellationR (dot) com or R (at) SoftwareInsider (dot) org. Please let us know if you need help with your AI, Digital Business transformation, and HR Tech efforts. Here's how we can assist:
Developing your digital business strategy
Connecting with other pioneers
Sharing best practices
Vendor selection
Implementation partner selection
Providing contract negotiations and software licensing support
Demystifying software licensing
Reprints can be purchased through Constellation Research, Inc. To request official reprints in PDF format, please contact Sales.
Disclosures
Although we work closely with many mega software vendors, we want you to trust us. For the full disclosure policy,stay tuned for the full client list on the Constellation Research website. * Not responsible for any factual errors or omissions.  However, happy to correct any errors upon email receipt.
Constellation Research recommends that readers consult a stock professional for their investment guidance. Investors should understand the potential conflicts of interest analysts might face. Constellation does not underwrite or own the securities of the companies the analysts cover. Analysts themselves sometimes own stocks in the companies they cover—either directly or indirectly, such as through employee stock-purchase pools in which they and their colleagues participate. As a general matter, investors should not rely solely on an analyst's recommendation when deciding whether to buy, hold, or sell a stock. Instead, they should also do their own research—such as reading the prospectus for new companies or for public companies, the quarterly and annual reports filed with the SEC—to confirm whether a particular investment is appropriate for them in light of their individual financial circumstances.
Copyright © 2001 – 2021 R Wang and Insider Associates, LLC All rights reserved.
Contact the Sales team to purchase this report on a a la carte basis or join the Constellation Executive Network