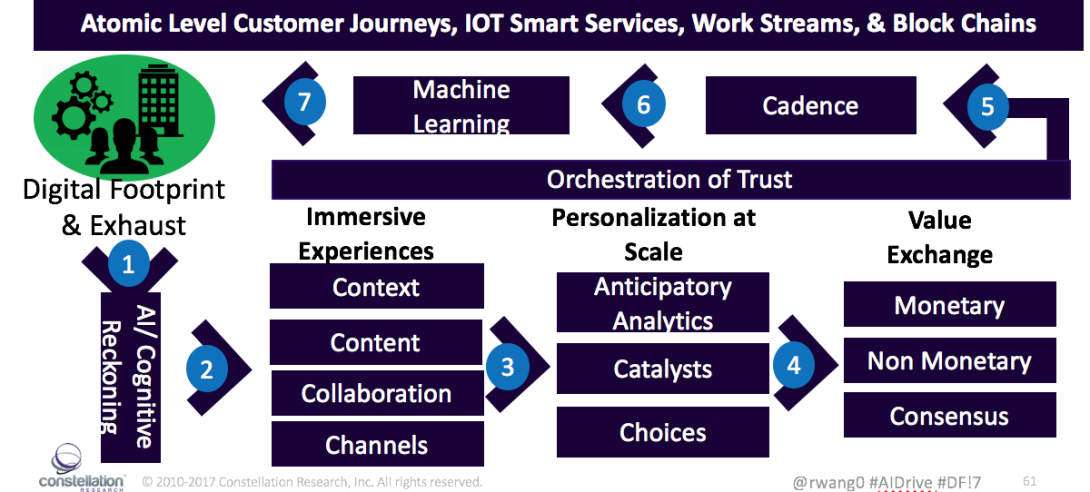 Monday's Musing: Infinite Ambient Orchestration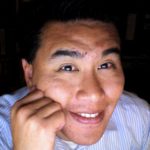 Inside the Design Point For All Future AI Driven Apps
The quest for mass personalization at scale in an era of artificial intelligence (AI) has led to new models of design for the future of applications.  One design point for these new AI driven smart apps is a concept called Infinite Ambient Orchestration.  The three components can be described as:
Infinite.  The design point should consider contextually relevant and relative journey design.  These journeys have no beginning or end.  Journeys deliver both stateful and stateless interactions.
Ambient. Elements of artificial intelligence provide contextual relevancy.  These capabilities make right-time recommendations to augment decision making and in many cases power situational awareness
Orchestration.  In an age of access not ownership, systems must orchestrate across insight, process, platforms, and ecosystems.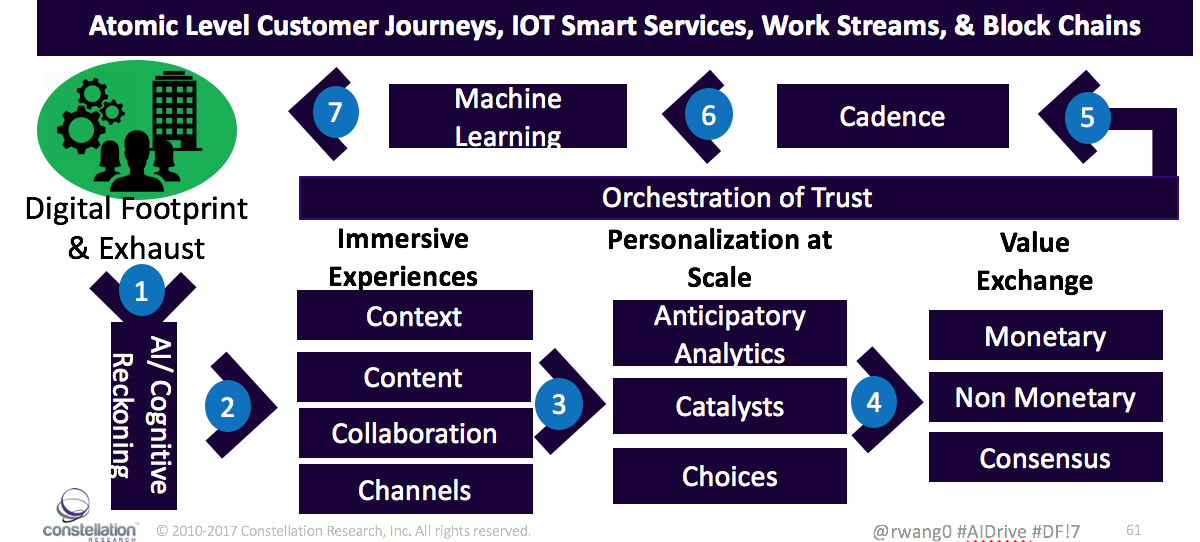 As new systems are created, organizations can expect this design point as a first principal for AI driven systems.
Your POV.
So what will you automate first with AI?  Do you have a digital transformation strategy?  Add your comments to the blog or reach me via email: R (at) ConstellationR (dot) com or R (at) SoftwareInsider (dot) org.
Please let us know if you need help with your Digital Business transformation efforts. Here's how we can assist:
Developing your digital business strategy
Connecting with other pioneers
Sharing best practices
Vendor selection
Implementation partner selection
Providing contract negotiations and software licensing support
Demystifying software licensing
Reprints can be purchased through Constellation Research, Inc. To request official reprints in PDF format, please contact Sales .
Resources And Related Research
Disclosure
Although we work closely with many mega software vendors, we want you to trust us. For the full disclosure policy,stay tuned for the full client list on the Constellation Research website. * Not responsible for any factual errors or omissions.  However, happy to correct any errors upon email receipt.
Copyright © 2001 – 2017 R Wang and Insider Associates, LLC All rights reserved.
Contact the Sales team to purchase this report on a a la carte basis or join the Constellation Executive Network