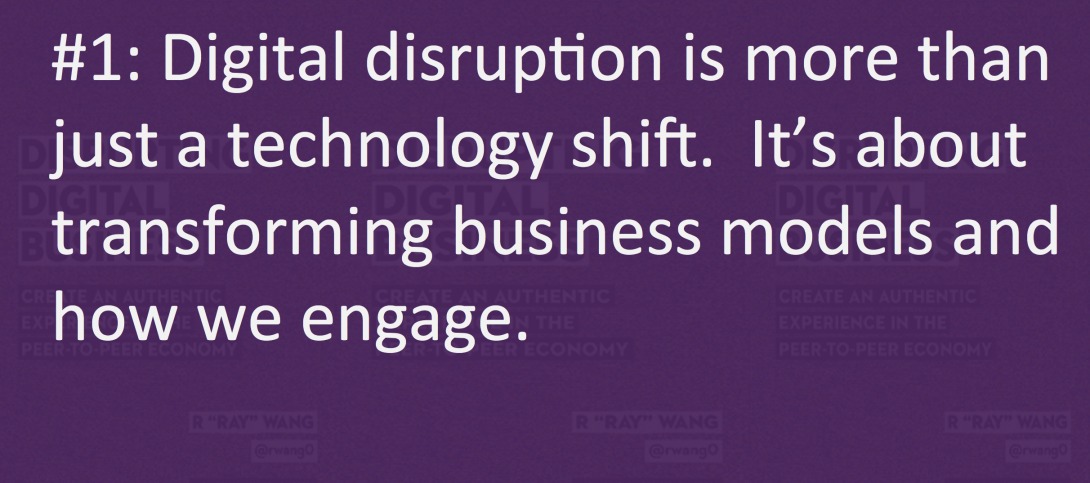 Book Summary: Lesson 1 From Disrupting Digital Business

Kicking Off The Lessons Learned From Disrupting Digital Business
As with the beginning of every revolution, those in the midst of it can feel it, sense it, and realize that something big is happening. Yet it's hard to quantify the shift. The data isn't clear. It's hard to measure. Pace of change is accelerating. Old rules seem not to apply.
Sometimes when you are in the thick of it, it's hard to describe what's happening.  In the case of digital business, these models have progressed over the past 20 years.  However, non-traditional competitors have each exploited a few patterns with massive success. However, as the models evolved, winners realize there are more than a handful of patterns.
Lesson 1 - Transform Business Models And Engagement
Lesson 2 - Keep The Brand Promise
Lesson 3 - Sell The Smallest Unit You Can
Lesson 4 - Know That Data Is The Foundation Of Digital Business
Lesson 5 - Build For Insight Streams
Lesson 6 - Win With Network Economies
Lesson 7 - Humanize Digital With Digital Artisans
Lesson 8 - Democratize Distribution With P2P Networks
Lesson 9 - Deliver Intention Driven, Mass Personalization At Scale
Lesson 10 - Segment by Digital Proficiency Not Age
In fact, the impact is significant and now quantifiable with 52% of the Fortune 500 gone since 2000 and the average age of the S&P 500 company down from 60 years to a little more than 12 since 1960.  That is a 500% compression that has changed the market landscape forever in almost every industry.
Over the course of the next 10 weeks, I'll be sharing one lesson per week.  For traditional businesses to succeed, they will have to apply all 10 lessons from Disrupting Digital Business in order to not only survive, but also relearn how to thrive.
Start By Transforming Business Models And How We Engage

Digital disruption is more than just a technology shift. It's about transforming business models and how we engage.  To succeed, we can't just look at the latest cool set of technologies of the day.  We have to think bolder about transforming business models. This means understanding the one or two key metrics that a business must measure to ensure their success.
For airlines, the key metric is revenue per passenger per kilometer not safety, customer satisfaction, nor on-time performance.  For professional services firms, the key metric is profit per employee, not average deal sizes nor certified professionals.
This shift to understanding the business model is the heart of digital transformation.  However, success requires leaders to move beyond incremental innovation, which is what organizations normally do to push the next set of product improvements.   Transformational business models require out of the box thinking and the creative destruction of multiple business models.  I often use the iPhone as an example of a device that destroyed 27 business models. These are industries that will never recover from $400 digital camera makers, one-hour photo development, record stores, book stores, navigation GPS devices, thermometer manufacturers, watches, and yes, even the flashlight.
Homework
So, your homework for this lesson is to think about your core business model.  What metrics matter the most?  Once you've spent time prioritizing the one or two metrics that matter, focus on transformational innovation.  Keep in mind, the goal is to sketch out transformational business models and then find the supporting technologies.   Technology for technology's sake is just plain stupid.  Now go off and take the time to think.  We'll catch you next week!
The Complete 10 Lessons Learned From Disrupting Digital Business
For those attending the full keynotes and book tours, you'll get the complete session and in many cases a copied of a signed booked.   For those following virtually, I've provided the slimmed down slide share deck for your use.
You now have the 10 lessons learned to disrupt digital business in your hands. You can take this information and change the world in front of you or choose to sit on the knowledge as the world passes you by and digital darwinism consumes your organization.
I trust you will do the right thing. And when you want some company, come join us as a client at Constellation Research where we're not afraid of the future and the art of the possible.
Get The Book Now Before Digital Darwinism Impacts You
Purchase on Amazon
Bulk Orders: contact [email protected]
About Disrupting Digital Business
Join the Digital Disruption Tour. Events in San Francisco, Atlanta, London, and Amsterdam!
Your POV.
Are you ready to disrupt digital business?  Have you ordered the book?
Add your comments to the blog or reach me via email: R (at) ConstellationR (dot) com or R (at) SoftwareInsider (dot) org.
Please let us know if you need help with your Digital Business transformation efforts. Here's how we can assist:
Developing your digital business strategy
Connecting with other pioneers
Sharing best practices
Vendor selection
Implementation partner selection
Providing contract negotiations and software licensing support
Demystifying software licensing
Resources
Reprints
Reprints can be purchased through Constellation Research, Inc. To request official reprints in PDF format, please contact Sales .
Disclosure
Although we work closely with many mega software vendors, we want you to trust us. For the full disclosure policy,stay tuned for the full client list on the Constellation Research website.
* Not responsible for any factual errors or omissions.  However, happy to correct any errors upon email receipt.
Copyright © 2001 -2015 R Wang and Insider Associates, LLC All rights reserved.
Contact the Sales team to purchase this report on a a la carte basis or join the Constellation Customer Experience