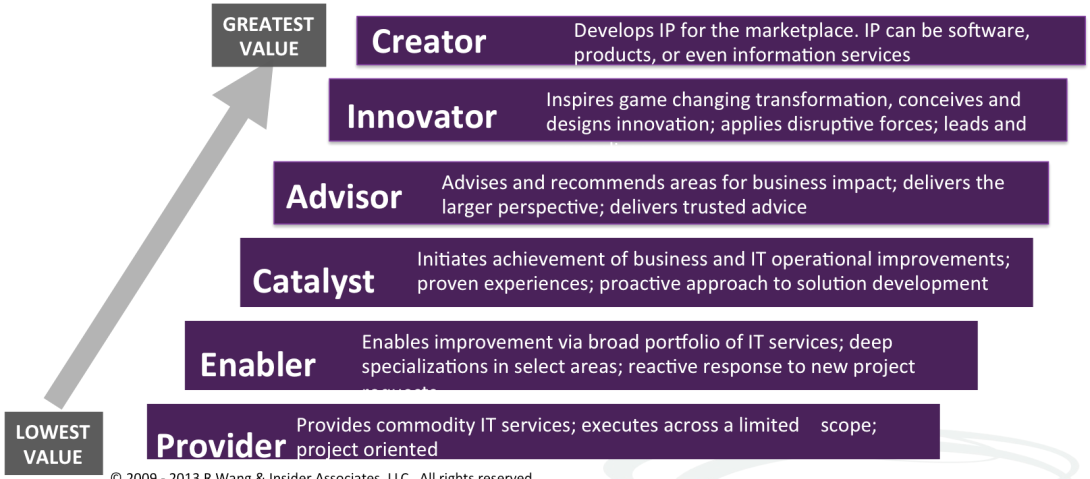 News Analysis: Infosys Lands SAP's Former CTO, Vishal Sikka, As New CEO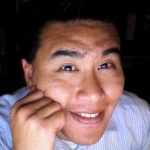 With heavy contributions from Sachin Gosavi, VP of South Asia
Infosys' First Outsider CEO Lands From Silicon Valley



On June 12th, 2014, Infosys announced that Dr. Vishal Sikka as the Chief Executive Officer and Managing Director (CEO & MD) of the company effective August 1, 2014.  Dr. Sikka will be inducted as a whole-time director of the Board and CEO & MD (Designate) on June 14, 2014 (see Figure 1).  The Global IT services firm also announced the following organizational changes:
Departure of N.R. Narayana Murthy. The current Executive Chairman will step down on June 14th 2014.  Murthy will be designated as Chairman Emeritus with effect from October 11, 2014

Point of View (POV): The devolution of the Executive Chairman's office on June 14, 2014 signals that a new era will emerge in leadership.  Any thoughts of family dynasty have been demystified as Dr. Rohan Murty, whose appointment was co-terminus with the Executive Chairman, will leave the company on June 14, 2014.
Departure of Mr. S. D. Shibulal. The current CEO & MD will leave on July 31, 2014.  He will also step down from the Board on July 31, 2014.

(POV): Shibu has completed his mission in stabilizing revenues at Infosys while providing time to identify a successor.  He transitions the company at a critical chapter in Infosys' history.  Elevating 12 leaders to Executive Vice President makes sense as Sikka will need a deep bench and develop a future A-team.
Announcement of U.B. Pravin Rao as COO. As of June 14, 2014, Rao will take on the role as Chief Operating Officer.  Pravin was formerly the President and whole-time director.

(POV): Rao is a 25 year veteran that will provide continuity for Infosys.  Constellation believes that Rao will be important in helping Sikka bridge the future models for services companies in an IP world.
Figure 1. The Tweet Stream Between Vishal and NRN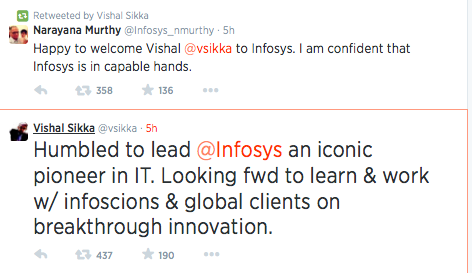 What does it mean for Infosys and its clients?
Most notably, The move signifies Infosys' commitment to something new, and a heavier focus on higher margin IP products and non-linear services. It also shows that the firm is not afraid to try something different. Considering other changes at the top order, Infosys board has clearly given Dr. Sikka a free-hand and a very longer term mandate. Constellation expects Dr. Sikka's selection to re-invigorate Infosys' focus on Products, Platforms, IP and Innovation. His Silicon Valley background and network would also infuse the much-needed acquisition zeal into Infosys growth strategy.
However, when Infosys begins to gear up for a higher margin IP products model, the firm will have to educate and carefully address the stakeholders concerns with respect to financial performance in the shorter term. Building IP, Products, Platforms is not only a longer term game, but also calls for sustained sizable investments. Once rolled out and if accepted by the market, these products, platforms become cash cows, and companies find it easy to fund their research and development of future products. Maneuvering services business to fund this IP quest for future growth is the biggest challenge Dr. Sikka faces. Add to it the pre-requisite change of mindset and re-skilling from services delivery to software development.
Clients of Infosys and other IT Services vendors are today looking for partners to help design and build new products and services, as in most cases, their research and development budgets are slashed and yet they need to access innovation and scale. As more and more clients have begun treading the co-innovation path with vendors, a technology visionary of Dr. Sikka's credentials at the helm of Infosys augurs well for them.
Shifting Blocks of the Industry
As most Indian IT services firms have maxed out their current business models, we see the key players transitioning from services to building IP to remain ahead in the game (see Figure 2). These firms have proven their ability to operate and execute on infrastructure and delivery. The next battle is to offer trusted advice to clients on the path to innovation and IP creation. Dr. Sikka was successful in re-elevating SAP's relevance as an innovator, and his most notable accomplishments at SAP include a design thinking approach to software development, the SAP HANA platform, and the push to cloud and mobile for SAP. Infosys could not have figured a better strategist than him if they were to tap the sizable, but equally tricky from a partner perspective, opportunity in the Third Party Maintenance (TPM) area.
Figure 2: Creators and Innovators Trump "Trusted Advisor" in Next-gen IT services



The Bottom Line: Sikka's Arrival To re-invigorate Infosys
Constellation believes that Vishal can play a significant role in transforming the aging time and materials, body shop model into a more modern one focused on Products, Platforms, IP and Innovation.  Vishal's background in identifying, building, developing, and selling new products and services from his SAP experience will hopefully serve as a catalyst to reinvent new business models within Infosys.  In addition, the hive off of wholly-owned subsidiary, Edgeverve Systems Ltd could play a role in elevating a new Infosys 3.0 strategy or provide the nexus for innovation across Infosys.  For now, customers and prospects can expect Infosys to move from services to building IP.
As noted earlier at the time of Mr. N R Narayana Murthy's Return To Infosys As Executive Chairman of the Board, Constellation believes Infosys has taken a good shot at transformational innovation with Dr. Sikka's selection. For Dr. Sikka, transforming Infosys into an IP-led powerhouse in the next 3 to 5 years will be the real litmus test.
The arrival of a product innovation advocate such as Dr. Sikka to lead the change is an deftly done decision.  Now comes the hard part, transforming the culture.
Your POV.
Do you think Infosys can move from time and material body shop to product and IP company?  Does Infosys have the DNA for the transition?  Will Vishal be enough of a catalyst?  Let us know your experiences.  Add your comments to the blog or reach me via email: R (at) ConstellationR(dot) com or R (at) SoftwareInsider (dot) com.
Related Constellation Research
News Analysis: SAP's CTO Vishal Sikka Resigns, What Does It Mean For SAP Customers?
Event Report: Infosys Global Analyst Summit – Awaiting The Post Infosys 3.0 Emergence
Research Report: Buyers Want Outcomes. Are Indian IT Services Firms Ready?
News Analysis: Mr. N R Narayana Murthy Returns To Infosys As Executive Chairman of the Board
News Analysis: Infosys Buys Lodestone for $350M
Wang, R. "Best Practices – Three Simple Software Maintenance Strategies That Can Save You Millions" Constellation Research, Inc. March 8, 2012
Wang, R. "Best Practices: Why Every CIO Should Consider Third-Party Maintenance." Constellation Research, Inc. August 7, 2012.
Wang, R. "Market Overview: The Market For SAP Optimization Options" Constellation Research, Inc. May 11, 2011.
Wang, R. "Best Practices: The Case for Two-Tier ERP Deployments" Constellation Research, Inc. February 28, 2011.
Reprints
Reprints can be purchased through Constellation Research, Inc. To request official reprints in PDF format, please contact Sales .
Disclosure
Although we work closely with many mega software vendors, we want you to trust us. For the full disclosure policy, stay tuned for the full client list on the Constellation Research website.
* Not responsible for any factual errors or omissions.  However, happy to correct any errors upon email receipt.
Copyright © 2001 – 2014 R Wang and Insider Associates, LLC All rights reserved.
Contact the Sales team to purchase this report on a a la carte basis or join the Constellation Customer Experience!