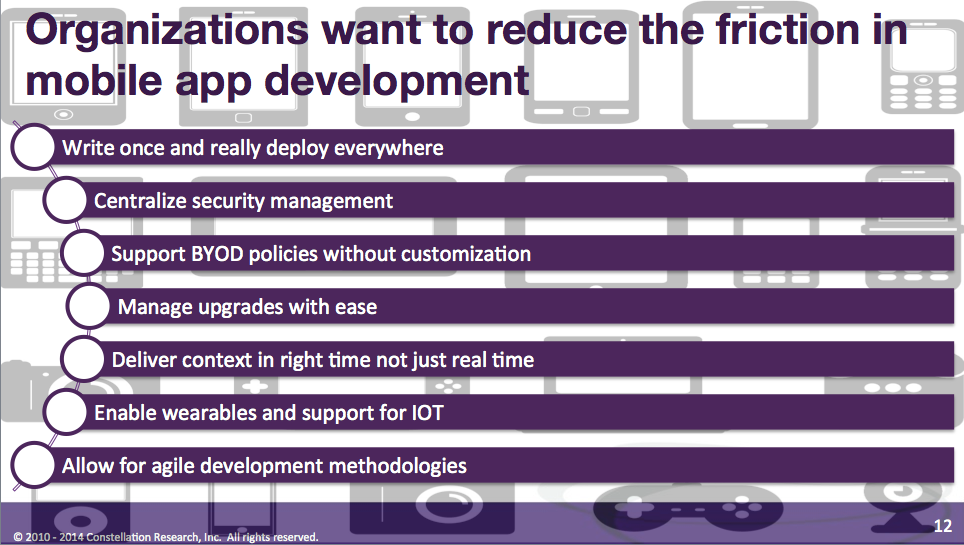 Monday's Musings: What Organizations Want From Mobile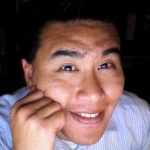 Mobile Is The Entry Point To Digital Business
Mobile is a key entry point into digital transformation and digital business initiatives.  Along with cloud, social, big data/analytics, and video, mobile is one of the five pillars of digital.  Mobile is more than the first screen of interaction for many users.  Mobile describes how users expect to access and engage.  While modern smartphones have more computing power than what was used to send a man to the moon, mobile often works with cloud as cloud provides the storage and computational power when connected.   Constellation estimates that by 2018, 2 billion mobile phones will be shipped and that there will be more phones than people in the world.  Today's use patterns reflect mobility as the first touch point into the digital world.  Further, the average person is no further than 3 feet or 1 meter away from a phone at any point during the day.
Requirements For Mobile App Development Reflect New Patterns Of Use
Conversations with market leaders and fast followers indicate seven key requirements from mobile app dev platforms that reflect these new patterns of use (see Figure 1):
Figure 1. What Organizations Want From Mobile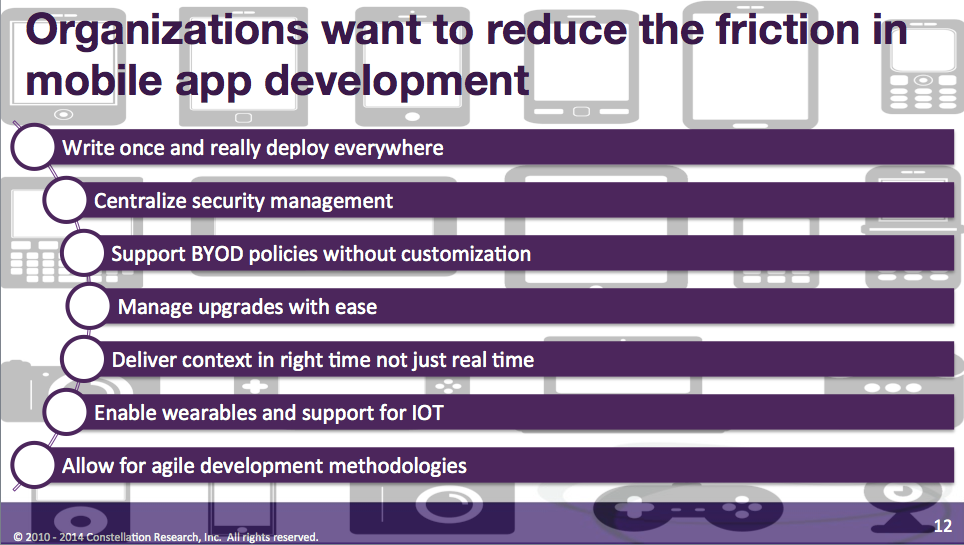 Write once and really deploy everywhere. Users expect responsive design, yet they also expect access to native device features.  The inefficiency of supporting multiple platforms, channels, and interfaces inhibits rapid design and deployment.  Expect mobile development and cloud computing to go hand in hand.

Centralize security management. Developers prefer to embed security policies and device management at design instead of deploying security policies for every operating system, device, and application combination.

Support BYOD policies without customization. The bring your own device (BYOD) movement comes with a cost as organizations often deploy various policies at a granular level.  Organizations need to support mass personalization at scale without incurring mass overhead.

Manage upgrades with ease. The upgrade process today is fraught with inefficiencies.  Many manual steps are required to design, test, and deploy.

Deliver context in right time not just real time. Users expect context drivers such as roles, relationship, time, location, sentiment, and intent to carry seamlessly across all business processes and journey maps.  Delivering context at scale requires a process point of view.

Enable wearables and support for Internet of Things (IOT). Requirements must support new data and sensor capture requirements.  Online and offline support for access to information power future big data business models.

Allow for agile development methodologies.  Developers expect support for a variety of development methodologies to enable rapid iteration and scale.  Today's approaches often limit developers to a handful of approaches.
The Bottom Line: Start With Mobile First For Digital Business
Mobile initiatives provide an entry point into digital.  Mobile first is more than a mantra.  Why?  By applying design thinking to solving specific and purposeful tasks and processes, organizations can rethink the digital journey with mobile projects.  More importantly, mobile enables organizations to break the silos of existing systems from mainframes to on-premises systems and bring new life to legacy applications usage.  Many market leaders and fast followers have mobilized their mainframe and enabled users to access data and information with minimal additional cost with a transformed user experience.  Others have used mobile as an opportunity to break down functional fiefdoms and process silos in their digital transformation efforts. 
Your POV.
Are you still seeing the world through the lens of Social, Mobile, Cloud, Analytics, and UC/Video?  Does this help you take the bigger perspective? Ready for digital disruption by starting with mobile?  Add your comments to the blog or reach me via email: R (at) ConstellationR (dot) com or R (at) SoftwareInsider (dot) org.
Please let us know if you need help with your Digital Business transformation efforts. Here's how we can assist:
Developing your digital business strategy
Connecting with other pioneers
Sharing best practices
Vendor selection
Implementation partner selection
Providing contract negotiations and software licensing support
Demystifying software licensing
Resources
Reprints
Reprints can be purchased through Constellation Research, Inc. To request official reprints in PDF format, please contact Sales .
Disclosure
Although we work closely with many mega software vendors, we want you to trust us. For the full disclosure policy,stay tuned for the full client list on the Constellation Research website.
* Not responsible for any factual errors or omissions.  However, happy to correct any errors upon email receipt.
Copyright © 2001 -2014 R Wang and Insider Associates, LLC All rights reserved.
Contact the Sales team to purchase this report on a a la carte basis or join the Constellation Customer Experience