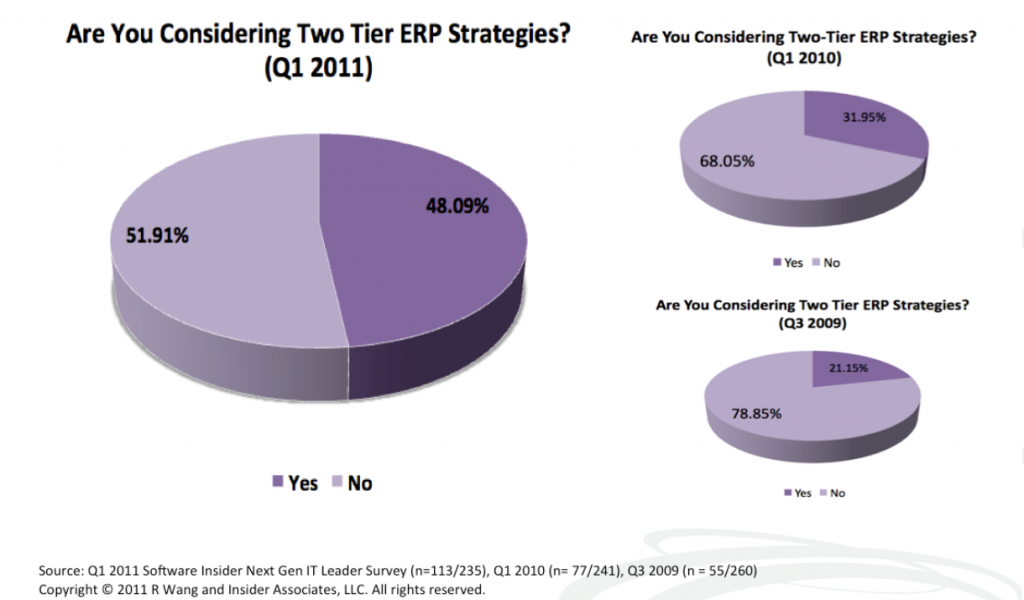 Research Summary: Best Practices - The Case For Two-Tier ERP


Forward And Commentary
Legacy optimization remains a key component for funding future innovation.  Two-tier ERP emerges as one strategy to optimize existing systems while adding innovation.  The report capitalizes on the recent Software Insider survey of 235 companies looking at future strategies.

A. Introduction
Organizations continue to face an onslaught of business requirements that their existing ERP systems can no longer address.  Stuck in the past century, these ERP systems are expensive to run, difficult to upgrade, and impossible to modify for today's fast changing requirements.  Two-tier ERP has emerged as a strategy to enable legacy optimization while reinvigorating the organization's existing ERP systems.
B. Research Findings
Two-tier ERP refers to a business and technology strategy that enables organizations to keep existing ERP systems at the corporate level while empowering divisions or business units to innovate with a second ERP system.  Consequently, two-tier ERP deployments continue to gain favor.  Why? Organizations must optimize legacy systems while delivering on business value.  In fact, in a recent Constellation Research survey, 48% of respondents indicated that they are considering at two-tier ERP strategy (see Figure 1).  These results reflect a 27-point increase from 2009.
Figure 1.  Two-Tier ERP Growing In Popularity As A Key Strategy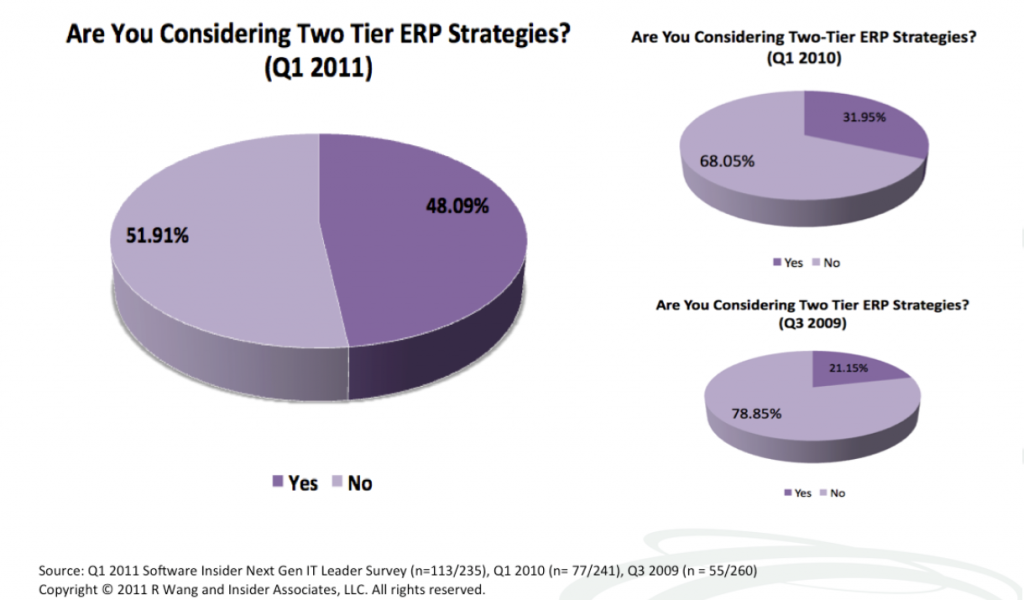 While today's two-tier strategies mostly involve on-premises solutions, cloud based solutions will gain favor over the next 18 to 24 months because of their rapid deployment capabilities, constant innovation qualities, and subscription pricing.  Organizations challenged by diverse lines of business, multiple localization requirements, or needs to phase in legacy system modernization will find a two-tier ERP strategy one that can reduce costs and provide better business value than a one-size-fits-all solution.  Whether SaaS, on-premises, or hybrid, a two-tier ERP strategy will reduce costs, meet new business requirements, and provide better business value.

The Bottom Line: Start With A Few Key Two-Tier ERP Requirements
Organizations embarking on a two-tier ERP strategy should consider a few key requirements during the vendor selection process:
Multi-multi-multi. Organizations in global environments require multi-lingual, multi-currency, and multi-org capabilities. Last-mile solutions should be delivered at the local level.
Single instance support. Subsidiary support for a single instance mitigates consolidation nightmares. Minimize the number of two-tier instances.
Local accounting standards support at the sub level. Sub-level support should include roll-up to the appropriate currency at a global level to reduce the number of country specific instances.
Industry specific and last-mile solutions. Consider the cost of configuration in the Tier 1 system versus the Tier 2 system to meet business requirements. Many Tier 2 systems enable cost effective two-tier deployments.
Legacy optimization. Compare the cost of an upgrade with the deployment of a Tier 2 system. Consider the overall integration costs and change management requirements to support multiple instances.
C. Report Links
Find out the top reasons why organizations are adopting a Two-Tier ERP strategy.  See the 4 case studies for Two-Tier ERP. Buy the full research report on the Constellation Research website.
Contact the Sales team to purchase this report on a a la carte basis or join the Constellation Customer Experience!
Your POV
Have you deployed a Two-Tier ERP strategy? What's your key driver? How has it gone?  What's worked? What's not?  Add your comments to the blog or send us a comment at R (at) SoftwareInsider (dot) org or R (at) ConstellationRG (dot) com
Please let us know if you need help with your enterprise apps strategy by:
Developing your enterprise apps strategy?
Addressing disruptive technologies like Social CRM, Cloud Computing, SaaS deployment, and Two-Tier ERP?
Assessing the ROI of a Two-Tier ERP strategy?
Working on legacy optimization projects!
Resources and Related Research*
20100302 Tuesday's Tip: When To Go With A Two-Tier ERP Strategy
20091203  Strategy: 5 Lessons Learned From A Decade Of Naught
20091222 Tuesday's Tip: 10 Cloud And SaaS Apps Strategies For 2010
20091208 Tuesday's Tip: 2010 Apps Strategies Should Start With Business Value
20091102 Best Practices: Lessons Learned In What SMB's Want From Their ERP Provider
20091006 Tuesday's Tip: Why Free Software Ain't Really Free
Reprints
Reprints can be purchased through Constellation Research, Inc. To request official reprints in PDF format, please contact Sales .
Disclosure
Although we work closely with many mega software vendors, we want you to trust us. For the full disclosure policy, stay tuned for the full client list on the Constellation Research website.
* Not responsible for any factual errors or omissions.  However, happy to correct any errors upon email receipt.
Copyright © 2011 R Wang and Insider Associates, LLC All rights reserved.