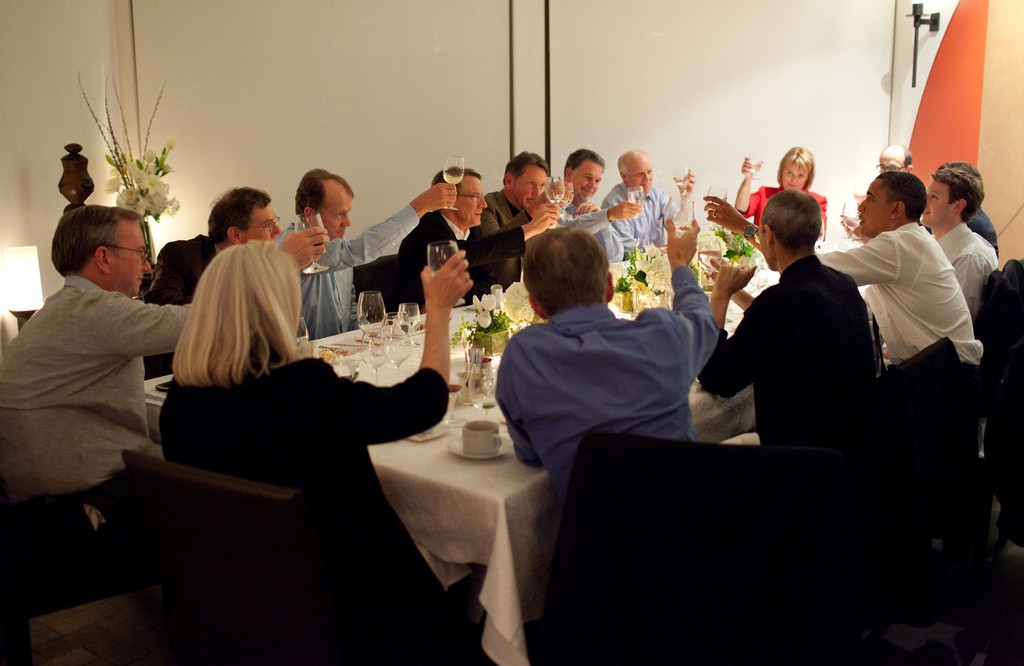 Monday's Musings: Reflections On Obama And The False Hope For A Tech Halo


President Obama's Visit Reflects The Importance Of Silicon Valley To The US Economy
By now everyone's seen and re-seen the photo showing the tech-centric dinner at John Doerr's house in Woodside, CA on February 17th, 2011 (see Figure 1).  With a guest list that included most of the "Captains of the Tech Industry" it would have been great to be a fly on the wall that night to hear what was the secret to innovation and how we could improve education.  On many levels, the dinner and the publicity surrounding the visit did emphasize:
The President's desire to rub off the tech halo. For the White House, here was a chance to highlight an area of the economy that has managed to survive the global meltdown by out innovating the competition.  President Obama's State of the Union talked about how a tech led job creation would be a key component of recovery.  The valley served as a great backdrop to show where this was already happening.
How lobbying does pay off for the Valley. For tech leaders in the valley, here was a chance to bend the President's ear on a number of policies and reap the benefits of all the money spent lobbying.  In fact, among the 10 guests, MAPlight.org showed $735,000 given to the President's party among the overall $913,000 contributed to all political candidates.  I would expect more official economic delegations and trade missions to come from the renewed focus on tech.  Many tech firms pondering the need for strong government affairs teams regained religion.
The state of Steve Jobs' health. Good news!  Steve seemed healthy enough to dine with the President. After all the trash talk in the papers, a picture proved enough to quiet the critics.  Yes, that wasn't a stunt double like Kim Jong Il!  In fact, the picture quelled all rumors.
Figure 1. President Obama's Tech Centric Dinner Photo Op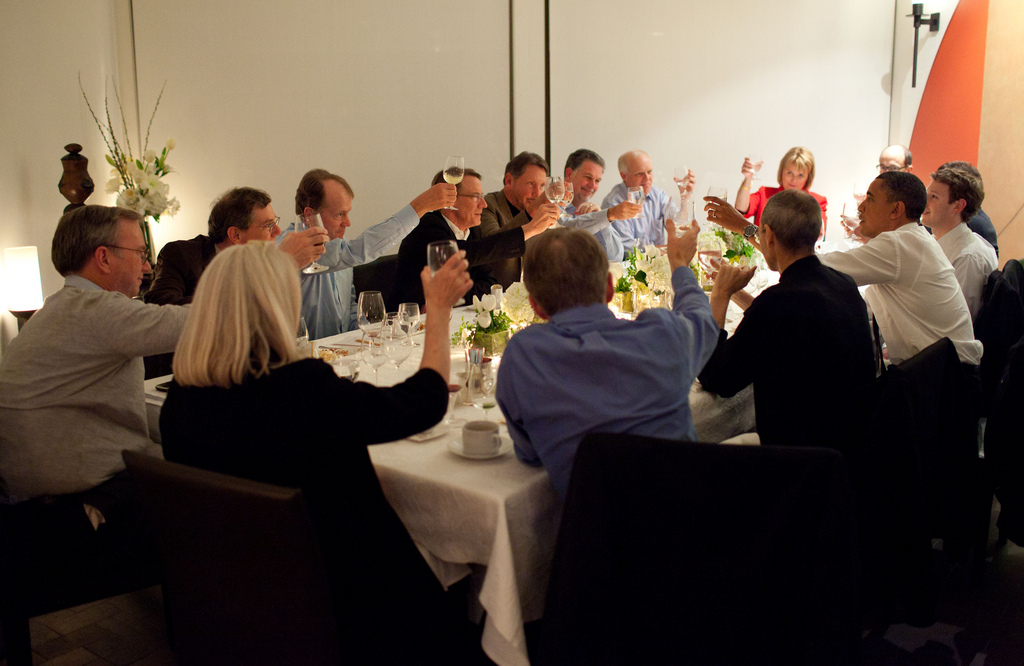 Credits: White House Press Office.  Attendees include: Carol Bartz, President and CEO, Yahoo!; John Chambers, CEO and Chairman, Cisco Systems; Dick Costolo, CEO, Twitter; John Doerr, Partner, Kleiner Perkins Caufield & Byers; Larry Ellison, Co-Founder and CEO, Oracle; Reed Hastings, CEO, NetFlix; John Hennessy, President, Stanford University; Steve Jobs, Chairman and CEO, Apple; Art Levinson, Chairman and former CEO, Genentech; Eric Schmidt, Chairman and CEO, Google; Steve Westly, Managing Partner and Founder, The Westly Group; Mark Zuckerberg, Founder, President, and CEO, Facebook
Success In The Valley Stems From The Hard Work And Investment From...<GASP> Other Countries
One can only imagine the reasons punted around that night on why Silicon Valley is successful in delivering on concept to cash.  It's true - the valley enjoys many of the assets that bring out innovation and helps the US lead with high tech jobs.  We have a top notch workforce.  We have several great universities.  We have a history of entrepreneurship.  We have access to funding and capital.  Many would think these elements were endemic to Silicon Valley.  Unfortunately, that's not true.
In fact, many of the fundamental building blocks for success come from the hard work and long term investment from abroad.  We've reaped the benefits from the brain drain and capital drain of other countries for the past three decades. Silicon Valley's success has often piggy backed off the long-term investment and hard work from other countries in three areas:
Feeding top notch universities with talent. The overall number of native born engineers and scientists continues to fall at almost every university.  If it weren't for the immigrants who seek undergraduate and graduate education opportunities in the hard core sciences, our universities would be in shambles.  Those students have been trained by other countries hoping to build their own Silicon Valley.
Attracting a skilled workforce. Much of the hard work is done by first generation immigrants with training from their country's rigorous education systems and long-term commitment to educational excellence.  Immigrants flock to the Valley like they did to Detroit during the Auto Boom of the 1950's and 1960's.  We still attract the best of the best, but it's a global talent pool we pull from and our skilled workforce is mostly non-native.  We've gained from an immigration policy that has mostly helped than hurt in attracting the best talent through Visa programs that work.
Ensuring access to capital. If you talk to venture capitalists about their funding sources, more and more fund raising comes from overseas investors looking to capitalize on the valley's innovation.  In fact, many foreign government agencies set aside the funds to place bets on  valley start ups.  Our own government lacks the funds to invest.  In fact, we have to borrow money from other countries to pay for our so called "domestic" investments.
The Bottom Line: We Must Invest In Our Own Building Blocks For Innovation Even When It Hurts

Over the past few days, it's been amusing and perplexing to hear former colleagues and fellow friends pontificate on how technology would create all these great jobs for the rest of the country.  These conversations remain so fluffy and airy.  If you take a quick look at the Facebook job listings you'll quickly see how an average person with a high school diploma and some technical training probably would not qualify for an entry level job.  It's elitist to hear how these great high tech jobs will help float an economy overnight.
Now I can see why we'd like this to happen.  A lot has been made about innovation and technology as an export weapon and job creation vehicle.  And with the real unemployment rate hovering just below 20%, calls for a tech led job boom make sense.  However, tech led jobs require a long term vision and commitment.  These things don't happen overnight.  They require that we as a country reshape our policies and re-gear for the long term by:
Investing in education. We can't keep relying on everyone else to train the scientists and engineers around the world.  We can't keep failing our own citizens with budget cuts to higher education and escalating costs.  We can't keep supporting an educational system that fires teachers and keeps administrators.  We have to ensure that all our citizens have an equal opportunity to succeed.
Paying down the debt. Our long term entitlement programs and short term debt obligations strangle our ability to think beyond the short-term.  We need to free ourselves from unnecessary obligations and refocus our priorities on what will support the next generation.  If we keep owing money to the rest of the world, we will soon lose our freedoms to create our own destiny.  Financial independence is a key component of success.
Attracting top talent. We must provide the incentives and opportunity to compete for global talent.  Business climate, political freedoms and quality of life play a key role in bringing the best to America.
Encouraging entrepreneurs. Removing red tape, regulatory craziness, and providing limited job creation tax incentives play a key role.  Entrepreneurs should pay their fair share in taxes, but we should also provide them the ability to create multiplier effects in job creation.  Case in point, oil companies should no longer receive government subsidies, but it might make sense to help fund the next start-up.  More funding could go to agencies like the SBA.  In fact, I learned a few things talking to Jack Bienko, Deputy Director For Entrepreneurship of the SBA at the Gov20LA event last weekend.  Startup America is an example of a public-private partnership that could kick start job creation.
Your POV.
What do you think? Do we have the fortitude to make the long-term bets?  Can we do this outside of the valley?  Got another strategy to add to the list?  What will it take for the US to keep it's competitive advantage?  Please add your comments or privately reply  to rwang0 at gmail dot com or r at softwaresinsider dot org and we'll keep your anonymity.
Reprints
Reprints can be purchased through the Software Insider or Constellation Research brand.  To request official reprints in PDF format, please contact [email protected].
Disclosure
Although we work closely with many mega software vendors, we want you to trust us.  For the full disclosure policy see www.ConstellationRG.com
Copyright © 2011 R Wang and Insider Associates, LLC. All rights reserved.