Research Report: The Upcoming Battle For The Largest Share Of The Tech Budget (Part 1) - Overview

Welcome to a multi-part series on The Software Insider Tech Ecosystem Model.  Subsequent posts will apply the model to these leading vendors:

Overview
Cloud Computing
Cisco
Dell
HP
IBM
Microsoft
Oracle
Salesforce.com
SAP

The aggregation of these posts will result into a research report available for reprint rights.
Business Models Converge During Recessions
Is your technology provider a hardware vendor or a software vendor? Does your System Integrator now provide solutions in the cloud? These questions will continue as models converge.  Hardware, software, and system integration vendors must reinvent new models of revenue.  The economic recession has forced business model shifts at the major technology companies.  The goal - own the largest share of both the business and IT technology budget,  As these sellers attack new profit pools, buyers can expect continued convergence of business models because:
Hardware companies seek higher margins. Most hardware vendors face single digit margins in their core business.  To bolster margins, many vendors acquired system integration firms.  For example, HP purchased EDS and Dell acquired Perot Systems.  The next logical step requires the hardware vendors to get into software.  Software margins hover from 10% to 50% depending on the market.  Expect a hardware vendor such as Cisco, Dell, or HP to acquire a SaaS based company to move into the software business.
Service providers build differentiated intellectual property (IP) using the Cloud. Service providers should go on the SaaS/Cloud offensive if they want to deliver rapid innovation to customers and break the cycle of dependence on packaged apps vendors.  Service providers can take market share through SaaS by investing in white spaces in the solution road map with verticals and other pivot points that have not been well served.  In addition, expect forms of SaaS BPO to emerge as clients seek best of breed SaaS and hybrid deployments.
Software companies use Cloud to transform into information brokers. SaaS and Cloud deployments provide companies with hidden value and software companies with new revenues streams.  Data will become more valuable than the software in the Cloud.  Three areas of growth will include benchmarking, trending, and prediction.
Companies by-pass software vendors for competitive advantage. Roper Industries acquisition of iTrade Networks on July 26th, proves a key point.  Smart and innovative companies will put custom development in the cloud to meet last-mile solution needs that packaged apps vendors or system integrators fail to deliver.  Companies may also acquire software vendors if they can't build the solution.
Budget Authority Shifting From IT To Business
A recent survey of 23 companies shows that while the IT budget appear to have shrunk, the overall technology spend has increased.  Key findings:
IT budgets trending down. CIO's focused on cost savings and efficiency.  Among the 23 CIO's, few IT budgets have increased and most have decreased between 3 and 8 percent.  IT departments must do more with less.
Business technology spending up. Growing SaaS and cloud adoption improve the outlook by business units to procure their own solutions.  Among the 23 organizations surveyed, most line of businesses grew technology spend by 5 to 7%.  Business leaders now call the shot on more and more technology decisions
IT to BT spending ratios nearing 50-50. Survey showed that the average percentage of tech spend for IT was 53.7%.  The average percentage of tech spend for business reached 47.3%.  Expect the business technology budgets to surpass IT in 2012.
The Tech Ecosystem Model Provides Multi-dimensional Insights

The Software Insider Tech Ecosystem Model examines technology solution categories on 4 dimensions (see Figure 1):
Tools for creation. This category describes technologies that can be reused to create new solutions.
Tools for distribution. This category describes channels and distribution models to deliver client value.
Value added solutions. This category describes high margin, high value solutions for clients.  A plethora of vendors by industry, geography, market size, and role populate this category
Commoditized infrastructure. This category describes technologies that should be optimized.  A handful of vendors typically dominate this category.
Figure 1.  The Software Insider Tech Ecosystem Model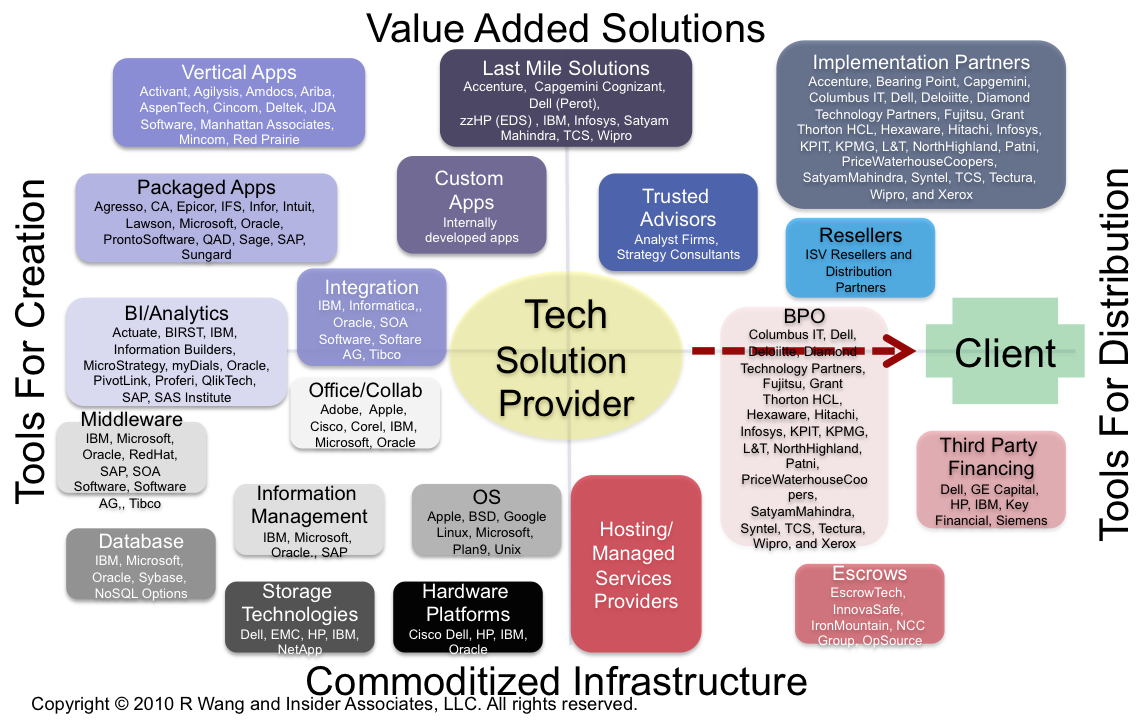 The Bottom Line For Buyers  - Use The Tech Ecosystem Model To Build Out Your Technology Roadmap And Procurement Strategy.
The Software Insider Tech Ecosystem Model can provide a key tool in mapping out the long term apps strategy.  Use the suggested five step approach:
Start by listing the vendors in each category. Jot down the names of every vendor you own into each category.
Identify the key business processes supported. Place business processes at the high level and line them back to the vendors.
Evaluate the application portfolio.  As consolidations occur, business strategy should align with applications strategy.  Applications strategy will then align with procurement strategy to optimize the Business Technology Value equation.
Build out your solution ecosystem plan. In some cases, you will consolidate vendors. In others, you will acquire new solutions.  Sometimes, the last-mile will require custom development.  Take a balanced approach to the portfolio.  Keep in mind how you sunset legacy applications and solutions.
Apply model to the contract strategy. This model applied to Seven Simple Steps To Successfully Negotiate Software Contracts will drive business value in technology projects.
The Bottom Line For Sellers (Vendors) - Use The Tech Ecosystem Model To Plan Partnerships and M&A Strategies
Use the Software Insider Tech Ecosystem Model  to determine when to partner, build, or acquire a capability. Evaluate each category by:
Examining the current footprint. Fill in the model to see what you own
Identifying adjacent profit pools. Look at potential install base up-sell, cross-sell, and attach rate opportunities.
Determining potential profit margins and ROI. Look at average profit margins.  Identify and rank the top categories.
Ranking opportunities by competitive threat. Determine which piece to commoditize next in the value added solutions.  Figure out which areas are high growth value added solutions to invest.
Put together 3 year strategy. Face it, 3 years is too long but you need a time frame.  Identify acquisition prices and partnership criteria.
Your POV.
Buyers, do you need help with your apps strategy and vendor management strategy?  Ready to put the expertise of over 1000 software contract negotiations to work?  Give us a call!  Sellers and vendors, want to expedite your ability to effectively partner or test your M&A idea?  You can post or send on to rwang0 at gmail dot com or r at softwaresinsider dot org and we'll keep your anonymity.
Please let us know if you need help with your next gen apps strategy efforts.  Here's how we can help:
Providing contract negotiations and software licensing support
Evaluating SaaS/Cloud options
Assessing apps strategies (e.g. single instance, two-tier ERP, upgrade, custom dev, packaged deployments"
Designing end to end processes and systems
Comparing SaaS/Cloud integration strategies
Assisting with legacy ERP migration
Engaging in an SCRM strategy
Planning upgrades and migration
Performing vendor selection
Next In The Series
The Cloud
Cisco
Dell
HP
IBM
Microsoft
Oracle
Salesforce.com
SAP
Reprints
Reprints can be purchased through the Software Insider brand or Altimeter Group.  To request official reprints in PDF format, please contact [email protected].
Disclosure
Although we work closely with many mega software vendors, we want you to trust us.  For the full disclosure policy please refer here.
Copyright © 2010 R Wang and Insider Associates, LLC. All rights reserved.