Tuesday's Tip: How To Compare Total Ownership Costs


Apps Strategy Options Abound And Organizations Need Accurate Comparison Methodologies

Recent inquiries from blog readers and client engagements highlight a growing need to compare the cost of apps strategies.  Common comparison scenarios often include:
SaaS versus on-premise
Upgrade versus customization
Single instance versus two-tier
Vendor maintenance versus third party options
Custom apps versus packaged apps
Cost Comparisons Should Encompass The Software Ownership Lifecycle
An inventory of costs should comprise the phases of application ownership (see Figure 1).  License fees, implementation, and maintenance often define the most common costs.  However, additional factors by phase should include:
Phase 1 - Selection. Costs include services such as requirements gathering, vendor selection services, contract negotiation fees, and program management.
Phase 2 - Implementation. Costs include projects such as change management, business process reengineering, integration, customization, and testing.
Phase 3 - Adoption. Costs include, training, testing, configuration, report creation, and customizations.
Phase 4 - Optimization. Costs include upgrade, testing, custom development, and other integration fees.
Phase 5 - Renewal. Costs include third party maintenance, management, and vendor selection.
Figure 1. Total Costs Must Span The Software Ownership Lifecycle.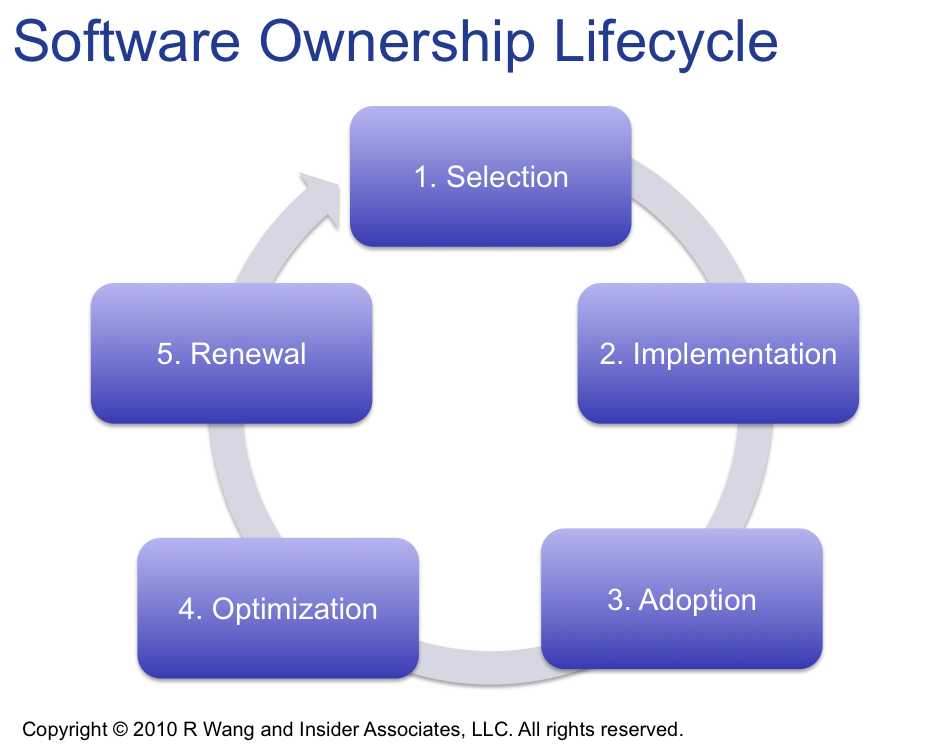 The Bottom Line For End Users - Cost Comparisons Form The Foundation For ROI Calculations
With ROI being asked about more and more, organizations must improve their ability to calculate costs and compare benefits.  Total ownership costs provide one half of the ROI equation. Costs also represent the more controllable factor in improving ROI.  Accurate inventory of costs will provide organizations with the transparency required to conduct apps strategy projects and assess the impact of a technology's benefit.
Your POV
Are you conducting cost of ownership comparisons among your apps strategies? Do you know how your apps strategies will change in the next 18 to 24 months?  Add your comments to the discussion or send on to rwang0 at gmail dot com or r at softwaresinsider dot org and we'll keep your anonymity.
Please let us know if you need help with your overall apps strategy.  Here's how we can help:
Assessing apps strategies (e.g. single instance, two-tier ERP, upgrade, custom dev, packaged deployements"
Evaluating SaaS/Cloud integration strategies
Assisting with legacy ERP migration
Planning upgrades and migration
Performing vendor selection
Providing contract negotiations and software licensing support
Related resources and links
20100322 Tuesday's Tip: Understanding The Many Flavors of Cloud Computing/SaaS
20100302 Tuesday's Tip: When To Go With A Two-Tier ERP Strategy
20100222 Monday's Musings: Why Users Should Preserve Their Third Party Maintenance Rights
20090210 Tuesday's Tip: Software Licensing and Pricing – Do Not Give Away Your Third Party Maintenance And Access Rights
20090709 Tuesday's Tip: Do Not Bundle Your Support and Maintenance Contracts!
20091222 Tuesday's Tip: 10 Cloud And SaaS Apps Strategies For 2010
20091208 Tuesday's Tip: 2010 Apps Strategies Should Start With Business Value
20091102 Best Practices: Lessons Learned In What SMB's Want From Their ERP Provider
20091006 Tuesday's Tip: Why Free Software Ain't Really Free
20090504 News Analysis: Oracle Waives Fees On Extended Support Offerings
20080909 Trends: What Customers Want From Maintenance And Support
20080215 Software Licensing and Pricing: Stop the Anti-Competitive Maintenance Fee Madness
20090405 Monday's Musings: Total Account Value, True Cost of Ownership, And Software Vendor Business Models
20090324 Tuesday's Tips: Five Simple Steps To Reduce Your Software Maintenance Costs
20090223 Monday's Musings: Five Programs Some Vendors Have Implemented To Help Clients In An Economic Recession
20091012 Research Report: Customer Bill of Rights – Software-as-a Service
20090910 Tuesday's Tip: Note To Self – Start Renegotiating Your Q4 Software Maintenance Contracts Now!
Copyright © 2010 R Wang and Insider Associates, LLC. All rights reserved.