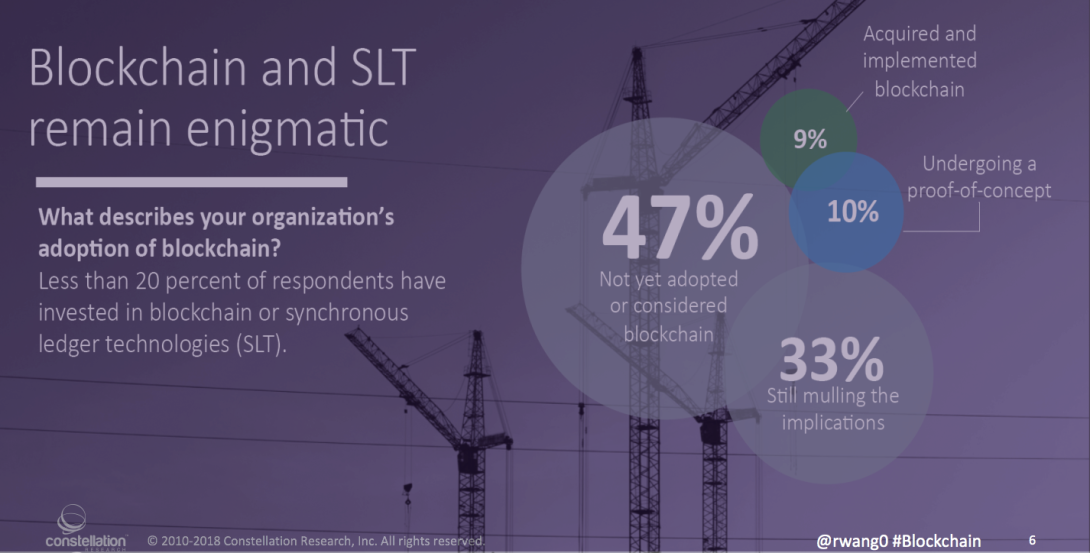 Best Practices: Seven Steps To Success In Enterprise Blockchain

Enterprise Adoption of Blockchain Nascent For Now, But Rapidly Growing
Recent Constellation Research surveys from Q4 2017 show that less than 20% of our market leading and fast follower clients have either acquired and implemented blockchain or undergoing a proof of concept (see Figure 1).  One-third of survey respondents still mull the implications as they consider POC's.  Meanwhile, 47% have not yet adopted or considered blockchain in their portfolio of exponential technologies.  Three reasons for low adoption include
Rapidly evolving platforms and standards.   Blockchain remains a wild west as a plethora of platforms come and go.  The ten most popular platforms and standards include Bigchain DB, Chain Core, Ethereum, Hyperledger Fabric, IOTA, LISK, OpenChain, R3 Corda, Ripple, and Quorum.  Each platform has significant benefits and trade offs as they evolve to meet enterprise requirements.  Most organizations have started on one platform and evolved into another.
Current performance barriers.  Transaction performance of the blockchain remains a valid concern.  Today Bitcoin can barely move beyond seven transactions per second (TPS).  Across the board, overall transaction times remain slow with Ethereum at 20 TPS, IBM Blockchain at 1000 TPS, and Ripple at 1500 TPS.    To put this in perspective, Visa payments does about 1700 TPS and Alibaba does about 325,000 TPS.
Lack of internal and external expertise. Most organizations have not been able to find significant blockchain technical resources let alone the business resources to craft new business models.  The plethora of platforms and standards adds to the scarcity of resources.  Today's resources have often risen from internal reskilling and training programs.
Figure 1. Most Organizations Still Not Ready For Enterprise Adoption Of Blockchain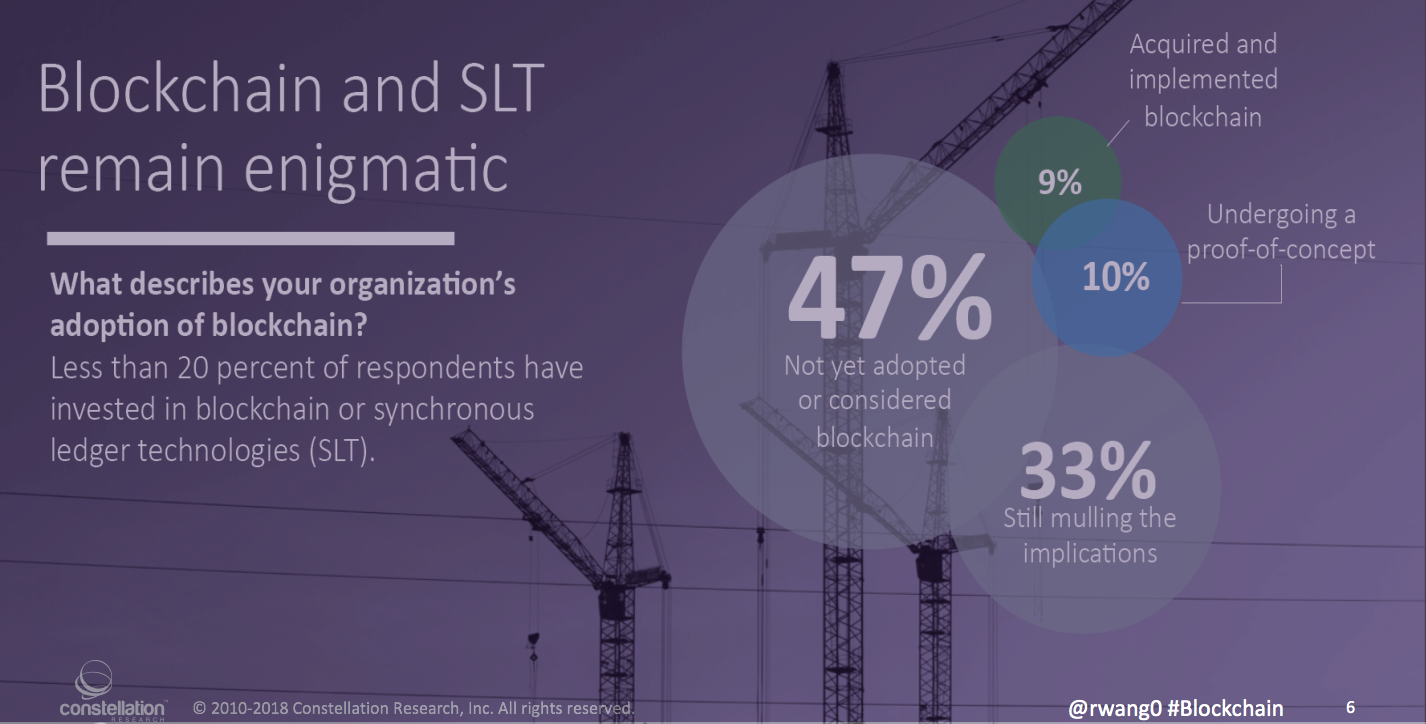 The Bottom Line: Take Seven Steps To Enterprise Blockchain Success
Lessons learned from market leaders and fast followers show key design points for success (see Figure 2).  Almost every early adopter has built on multiple platforms and have learned from their mistakes.  Here are seven design points to craft a proper blockchain strategy:
Choose a platform. Understand the trade offs on existing platforms.  Some platforms have better performance metrics.  Other platforms support complex value exchange and smart contracts.  Some platforms do better with value exchange.   Every platform has its limitations.
Start experimenting. The market has rapidly evolved.  Organizations who start early build out support networks and develop informal relationships which help with resolving implementation issues and recruiting talent.  Staying current on the technology enables agility as the technology rapidly evolves.
Get security and scalability right.  Security remains paramount on blockchain.  Enterprises accustomed to centralized models must make a shift to decentralized approaches.  Security requirements must combat system gaming, 51% consensus attacks, and smart contract bugs.  Design will require that assets and securitization occur on the same token.  Meanwhile, scalability remains limited to a sub 2000 TPS for most platforms.  As the number of node increase, the scalability requirements will also geometrically increase.
Build a legal framework for engagement.  Blockchain's decentralized premise often dis-intermediates existing legal frameworks and bypass global standards.  Legal guidance should be brought in early to derisk potential legislative and regulatory environments.
Set up smart contracts.  Smart contracts use computer code to set the terms and conditions for engaging with other parties without a middleman.  As the heart of many blockchain business models, these smart contracts provide not only a framework for rules governing a transaction, but also provides a computer program to enforce the rules.
Understand value exchange and gamification.  Value exchange and gamification provide the incentives to create a marketplace.  Value exchange models often include monetary, non monetary, and consensus.  Blockchain business models create gamified approaches to influence certain behaviors.
Model out the network ecosystems.  Blockchain business models ultimately must reflect new economic models.  Consequently, design of these new business models must determine how the entire ecosystem will engage and interact in a community of self-interest.  In fact the value of these new business models will come from the insights derived from the network interactions.
Figure 2. Seven Design Points To Create An Enterprise Blockchain Strategy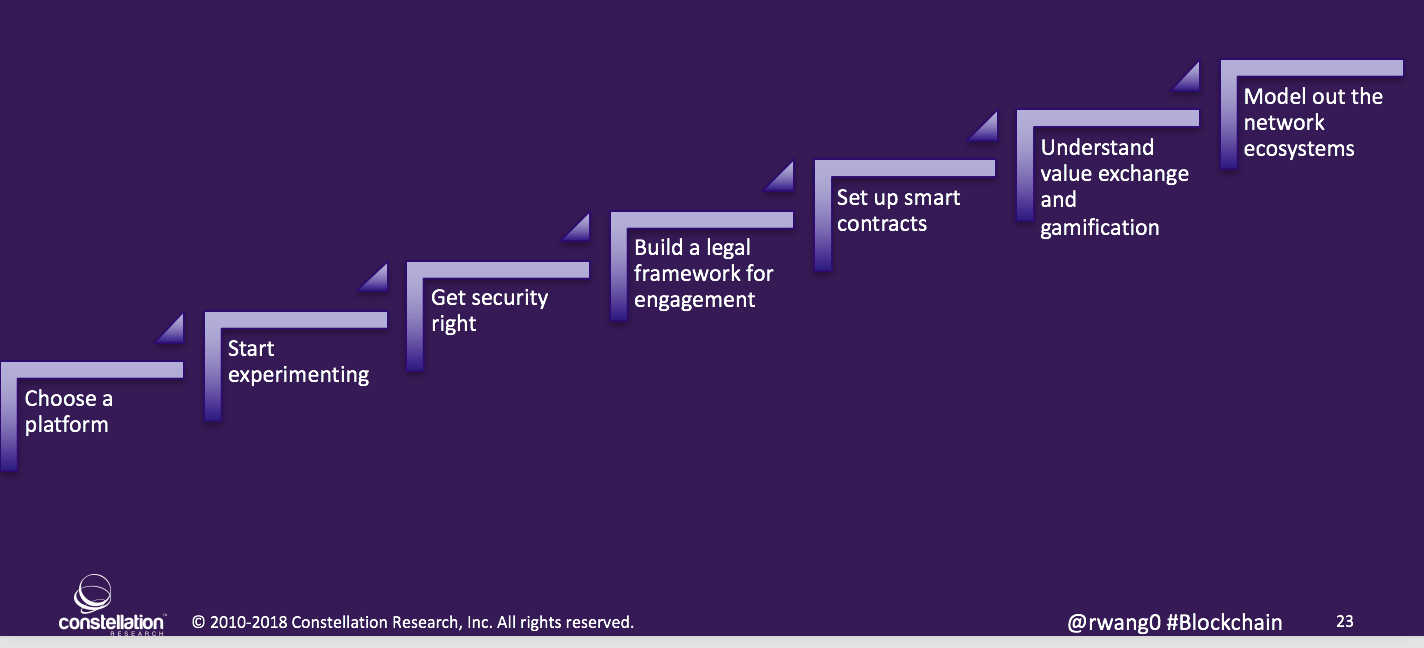 The Bottom Line: Get Started Now
Digital Darwinism is unkind to those who wait.  Constellation expects early adopter organizations to leap frog ahead of existing competitors who do not rethink business models and apply blockchain as an exponential technology in their overall portfolios.   Those organizations who wait will notice the significant gaps among early adopters.
Your POV.
Ready to roll out your plans for digital transformation.  Do you understand the business model implications?  Are you ready to disrupt the board and jump start growth?  Add your comments to the blog or reach me via email: R (at) ConstellationR (dot) com or R (at) SoftwareInsider (dot) org.
Please let us know if you need help with your Digital Business transformation efforts. Here's how we can assist:
Developing your digital business strategy
Connecting with other pioneers
Sharing best practices
Vendor selection
Implementation partner selection
Providing contract negotiations and software licensing support
Demystifying software licensing
Reprints can be purchased through Constellation Research, Inc. To request official reprints in PDF format, please contact Sales .
Resources And Related Research
Disclosure
Although we work closely with many mega software vendors, we want you to trust us. For the full disclosure policy,stay tuned for the full client list on the Constellation Research website. * Not responsible for any factual errors or omissions.  However, happy to correct any errors upon email receipt.
Copyright © 2001 – 2018 R Wang and Insider Associates, LLC All rights reserved.
Contact the Sales team to purchase this report on a a la carte basis or join the Constellation Executive Network