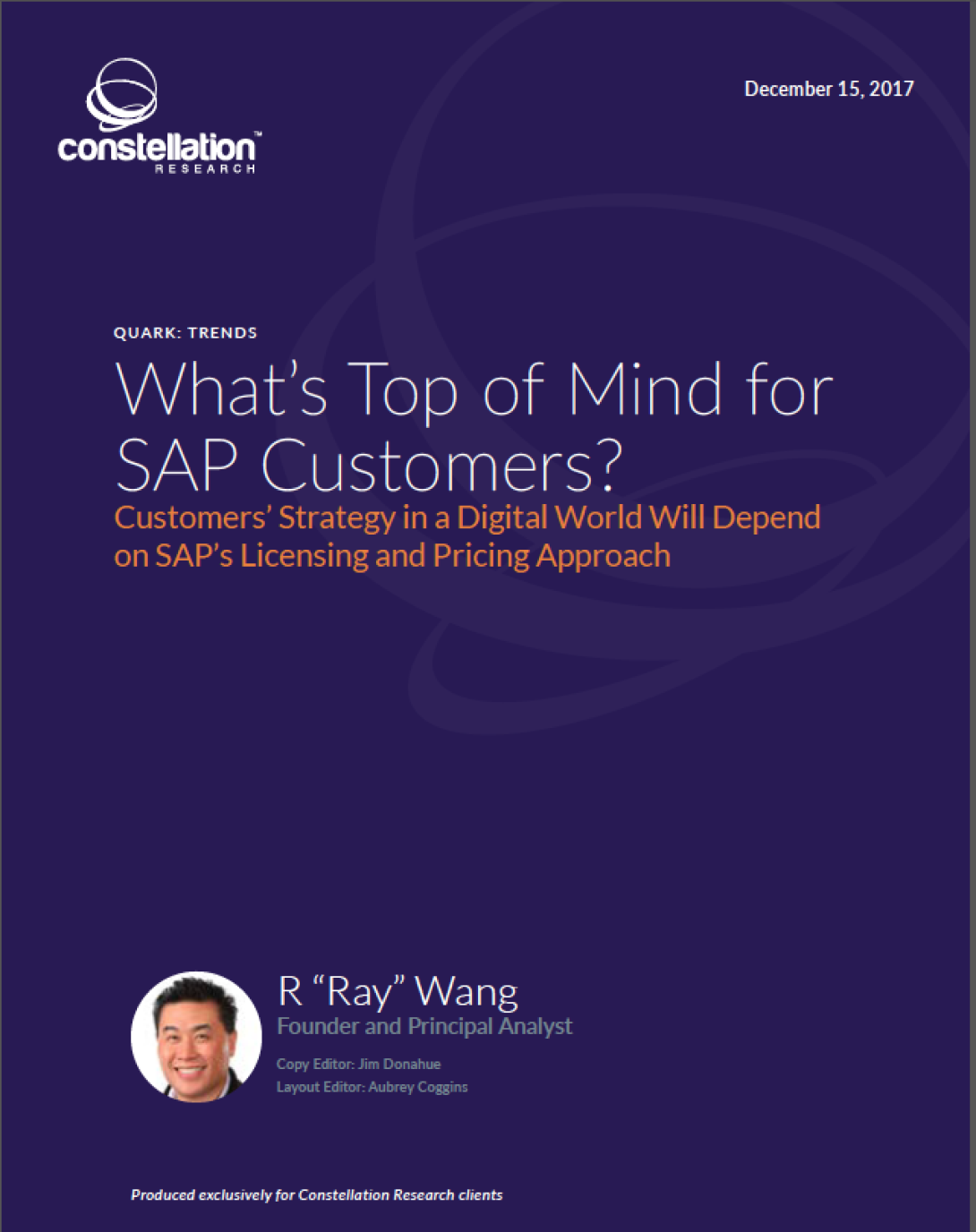 Research Report: What's Top Of Mind From SAP Customers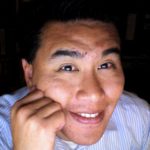 Relevance And Value Lead The Inquiries About SAP
From the criticism about indirect access to SAP Leonardo, the 2017 SAP landscape has been both gut-wrenching and transformational for clients. Rounded out by conversations at Americas' SAP Users' Group (ASUG), SAP Australia User Group (SAUG) and UK and Ireland SAP User Group (UKISUG) events, the top inquiries about SAP strategy reflect both a nervousness over existing investments as well as the desire for a cost-effective innovation partner. Thousands of inquiries later, Constellation sees the following as the top five current issues for SAP customers:
1. Addressing indirect access and overall SAP strategy.  
2. Making The Case For Upgrade to SAP S/4 HANA. 
3. Evaluating @SAPLeonardo.  
4. Utilizing Fiori 2.0 Now. 
5. Determining the overall cloud strategy.
Figure 1. Going over Indirect Access with Hala Zeine and R "Ray" Wang
Figure 2. Inside the SAP Leonardo Design Point
Figure 3. Inside the New SAP Fiori 2.0 User Experience
The Bottom Line: The Transition between the New SAP and the Old SAP Is in Effect
SAP's customer loyalty and success will rely on how indirect access is calculated and how customers are treated with empathy on upgrades. New projects in digital transformation rely on infinite ambient orchestration of transactional systems such as SAP's ERP. AI, IoT, blockchain and analytical apps as well as mobile interfaces require a rethink of the digital core. More importantly, many SAP customers have surrounded their core ERP systems with offerings from Salesforce.com, Workday, Service Now and other cloud leaders as a reaction to SAP's previously slow move to the cloud. Acquisition of cloud leaders SAP Hybris, SAP SuccessFactors, SAP Concur and SAP Ariba with customer's maintenance money would have won greater adoption if customers felt their maintenance dollars provided like-like or better functionality for the newly acquired products. Despite stated conversion programs, interactions with some sales reps leave customers with the impression they must spend more in order to move forward.
In addition, the issues of indirect access continue to arise. SAP sales reps no longer can look the other way as their own auditors question the past purchase of an additional surrogate license, professional user, integration or understanding that the larger account value would make all these issues go away. SAP and its customers must have an honest conversation in the next 12 months about why previous models were OK and why SAP's insistence to capture more value is a win-win. SAP's Hala Zeine has worked hard to rationalize the approach. The field must follow if they expect customers to see action.
The constant short-term push to raise total account value without delivering a win-win for the customer is said to have ended with CEO Bill McDermott's public call for customer focus at this year's Sapphire event. Sometimes the gap between what's said at the top and what happens in the field takes some time to materialize. SAP customers should find some hope that recent conversations with user groups, Hala Zeine, Rob Enslin and other sales leaders indicate this is the case.
Future discussions will determine whether SAP's core ERP software will serve as a mainframe in today's digital world, and whether customers can see how licensing in a digital world could lead to SAP Leonardo adoption and a win-win in co-innovation and co-creation. Constellation has seen positive changes with interactions in the field and believes that changes are in the air. There appears to be a greater commitment to customer success among the field. Customers just need to see more of it.


Get the full report and analysis here.
Your POV.
So what will your SAP strategy look like for 2018?  Will you be ready to address indirect access?  Are you looking for a win-win.  Let us know how we can help?  Add your comments to the blog or reach me via email: R (at) ConstellationR (dot) com or R (at) SoftwareInsider (dot) org.
Please let us know if you need help with your Digital Business transformation efforts. Here's how we can assist:
Developing your digital business strategy
Connecting with other pioneers
Sharing best practices
Vendor selection
Implementation partner selection
Providing contract negotiations and software licensing support
Demystifying software licensing
Reprints can be purchased through Constellation Research, Inc. To request official reprints in PDF format, please contact Sales .
Resources And Related Research
Disclosure
Although we work closely with many mega software vendors, we want you to trust us. For the full disclosure policy,stay tuned for the full client list on the Constellation Research website. * Not responsible for any factual errors or omissions.  However, happy to correct any errors upon email receipt.
Copyright © 2001 – 2017 R Wang and Insider Associates, LLC All rights reserved.
Contact the Sales team to purchase this report on a a la carte basis or join the Constellation Executive Network