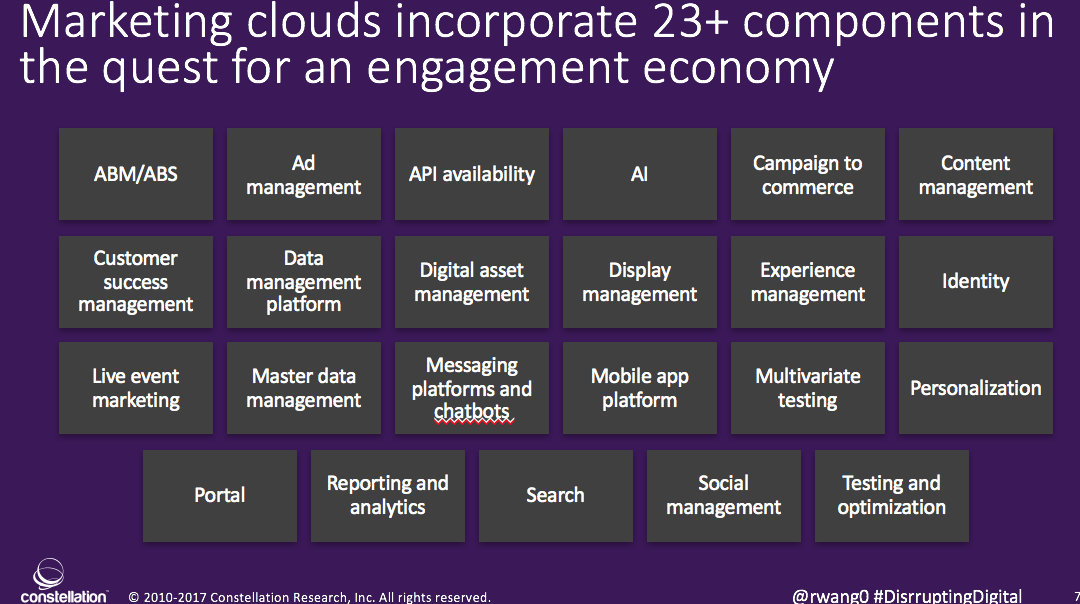 Monday's Musings: Part 1 of 4 - What Top CMO's Care About (Demand Gen Persona)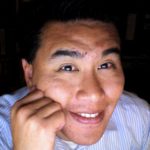 Top Trends for 2018 Highlight Greater Orchestration
In March 2016, Constellation introduced four personas of the modern CMO (see Figure 1).  This framework provided CMO's with a model to think about the role of strategy versus execution and audience development versus audience acquisition.   Over the past eight weeks, conversations with demand generation focused CMO's have indicated a set of priorities for the next 12 to 18 months.
Figure 1. The Four Personas Of The Modern CMO

These top CMO's have coalesced around these seven concerns:
Dealing with convergence of marketing ops and sales ops.  As new business models emerge and B2B and B2C models converge to P2P approaches, the traditional functional fiefdoms of marketing and sales seem quite antiquated.  Organizations must decide if inside sales should belong in marketing or customer success reside with sales.  This convergence and orchestration creates havoc on traditional structures but ultimately provide a customer centric approach.
Preparing for more privacy regulations.  The pending GDPR requirements that levy fines up to 4% of annual revenue will transform demand gen practices.  Organizations must move from today's Canary Islands approach (at least in the US) to a full permission based model to meet compliance.  In addition, governments must respond to the growing calls for more data security and individual control of personal data.
Battling for key talent.  Skills in digital marketing, data analytics, and mar tech remain the hot areas.   CMO's constantly struggle between re-skilling existing employees and finding new talent.  Digital savvy marketers power the future of demand generation and organizations can barely retain talent.
Improving market segmentation while maximizing resource allocation.   The push for conversion rate optimization and ad clicks continue to drive new campaigns.   Successful marketing leaders balance speed, quality, costs, and effectiveness.   In addition, leaders need to expand audience marketing from department heads to CXO's.
Crafting new models of engagement.  Contextual relevancy drives the success of open rates, response rates, and conversion rate optimization.  Setting the stage for meaningful engagement requires context, relevant choices, and value exchange.   Organizations must prepare for mass personalization at scale in an AI driven smart services world.  Success requires augmenting next best actions and crafting guided journeys.
Incorporating a hodge podge of martech solutions.  The average marketing organization must deal with 23 categories of solutions (see Figure 2).  Many of these solutions purchased by departments do not integrate with each other.  More importantly, these solutions often lack a common orchestration architecture.
Investing in foundational demand gen infrastructure for scale. The future of marketing tech require massive compute power and logic to support a world of AI and streaming data.  Unifying marketing automation with CRM, Finance, ERP, and other systems not only remains a challenge, but also requires access to scalable infrastructure.
Figure 2. Over 23 Components Form Marketing Clouds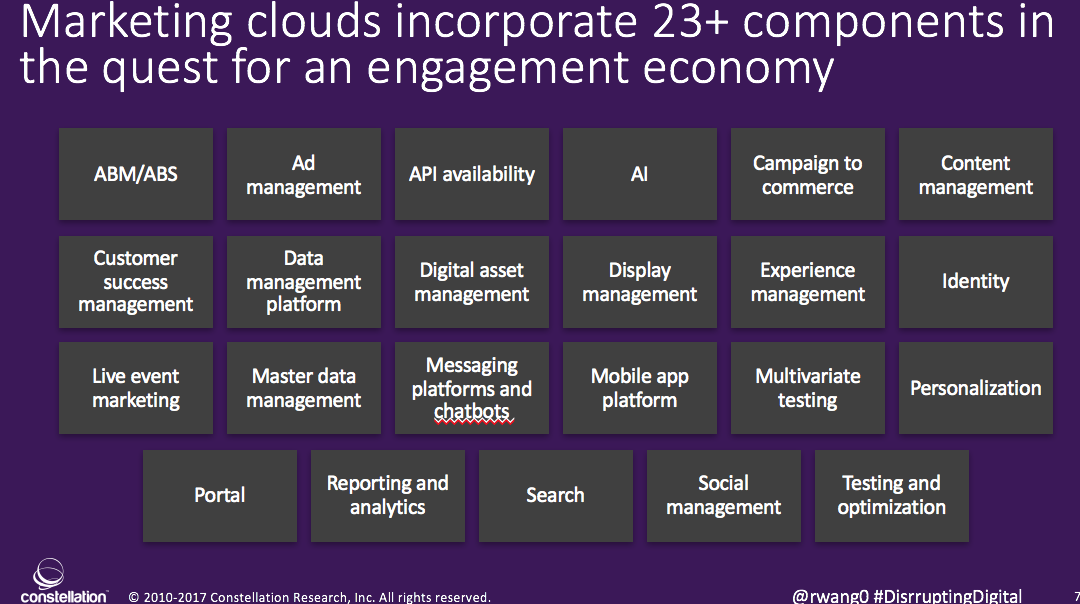 Bottom Line:Demand Gen CMO's Seek Simplification
Demand generation CMO's can no longer support the massive complexity and spend required to support today's challenges.  CMO's seek simplification and scale from technology while improving the efficacy of existing staff.  Leading CMO's expect more staff augmentation for scarce skills.  The continued onslaught of regulation will lead to a greater reliance on technology solutions to achieve scale.   As technology improves, demand generation CMO's can apply the creative aspects of the Brand CMO and improve engagement in campaigns that reflect the brand and deliver contextual relevancy.   CMO's can expect this market to transform in the next 24 to 36 months.
Your POV.
What are your top priorities as a demand gen orientated CMO?  Are you leaning to more sales ops and marketing ops coordination?  Learn how non-digital organizations can disrupt digital businesses in the best-selling Harvard Business Review Press book Disrupting Digital. 
Join like minded folks at the Constellation Executive Network. 
Add your comments to the blog or reach me via email: R (at) ConstellationR (dot) com or R (at) SoftwareInsider (dot) org.
Please let us know if you need help with your Digital Business transformation efforts. Here's how we can assist:
Developing your digital business strategy
Connecting with other pioneers
Sharing best practices
Vendor selection
Implementation partner selection
Providing contract negotiations and software licensing support
Demystifying software licensing
Resources And Related Research

Reprints

Reprints can be purchased through Constellation Research, Inc. To request official reprints in PDF format, please contact Sales .
Disclosure
Although we work closely with many mega software vendors, we want you to trust us. For the full disclosure policy,stay tuned for the full client list on the Constellation Research website.
* Not responsible for any factual errors or omissions.  However, happy to correct any errors upon email receipt.
Copyright © 2001 -2017 R Wang and Insider Associates, LLC All rights reserved.
Contact the Sales team to purchase this report on a a la carte basis or join the Constellation Customer Experience