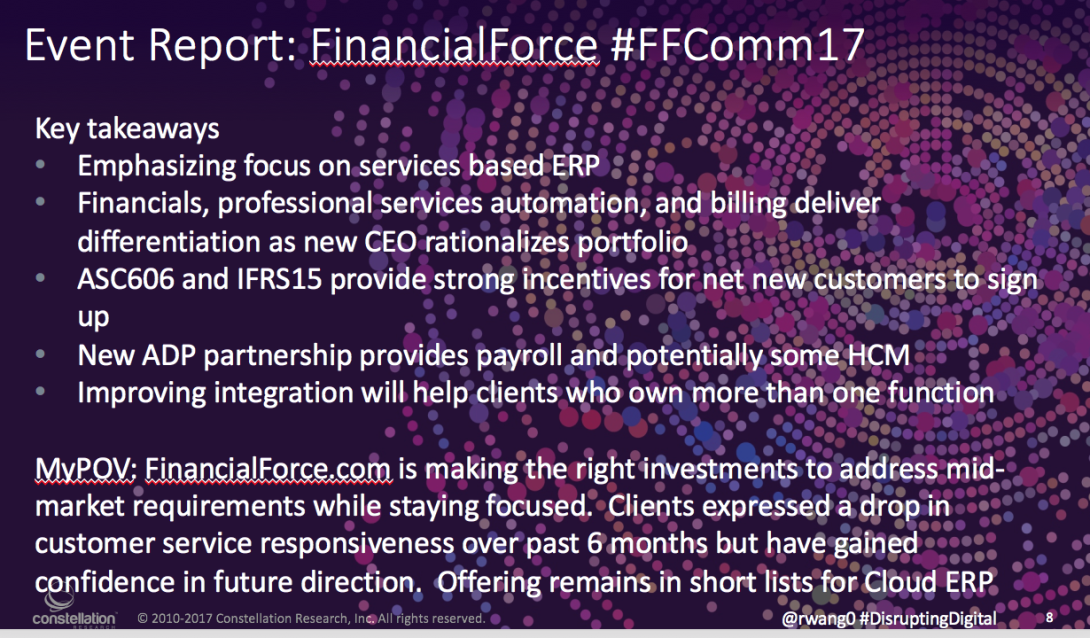 Event Report: FinancialForce #FFComm17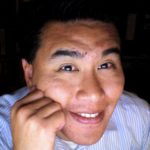 New Management Team and Focus Bode Well for FinancialForce
Constellation attended the FinancialForce Community Live event in Las Vegas in June 2017.  More than 1,000 attendees gathered to see the new management team and product roadmap.  The market for cloud enterprise resource planning (ERP) software remains hot as regulatory requirements and modernization efforts drive upgrades and vendor selection.  Renewed focus on services based ERP and cloud entry points give custoers more choices.
The Analysis
Catch The Full Research Report
The full report and analysis can be found on the ConstellationR.com website.

Selected Tweets From The Event
Here's the Storify with the highlights from this year's event.  Feel free to share!
The Bottom Line: Services-Based Revenue Organizations Should Consider FinancialForce on Short Lists
Constellation believes that FinancialForce is making the right investments to address mid-market requirements while also staying focused.  Though clients expressed a drop in customer service responsiveness over the past six months, conversations with customers at the Las Vegas event showed a renewed confidence with the new management team and approval of the future product direction. For this reason, Constellation recommends that the following prospects consider FinancialForce as an option in cloud ERP:
Mid-market organizations with a services revenue focus.
Large enterprises implementing a two-tier ERP strategy for services-based departments, divisions or regions.
Small to medium-sized enterprises seeking to graduate from products such as Intacct, Sage and Intuit QuickBooks.
Organizations seeking to comply with new revenue recognition requirements such as ASC606 and IFRS15.
Your POV.
What do you think of your ERP vendor?  Do you see them as a strategic partner or just a cost play?  Do you plan to move to the cloud with or without them?
Add your comments to the blog or reach me via email: R (at) ConstellationR (dot) com or R (at) SoftwareInsider (dot) org.
Please let us know if you need help with your Digital Business transformation efforts. Here's how we can assist:
Developing your digital business strategy
Connecting with other pioneers
Sharing best practices
Vendor selection
Implementation partner selection
Providing contract negotiations and software licensing support
Demystifying software licensing
Resources
Reprints
Reprints can be purchased through Constellation Research, Inc. To request official reprints in PDF format, please contact Sales .
Disclosure
Although we work closely with many mega software vendors, we want you to trust us. For the full disclosure policy,stay tuned for the full client list on the Constellation Research website.
* Not responsible for any factual errors or omissions.  However, happy to correct any errors upon email receipt.
Copyright © 2001 -2017 R Wang and Insider Associates, LLC All rights reserved.
Contact the Sales team to purchase this report on a a la carte basis or join the Constellation Customer Experience