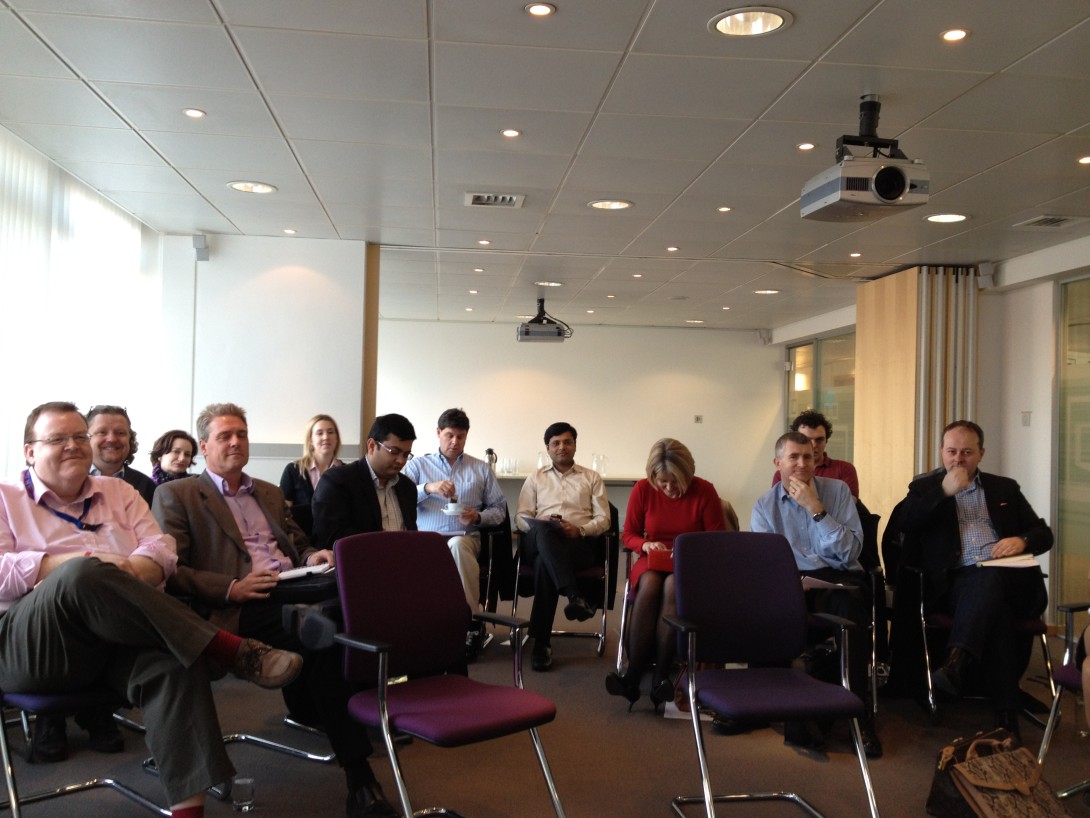 Event Report: IIAR UK Forum - The Future Of The Industry Analyst, Legacy Vs Disruptive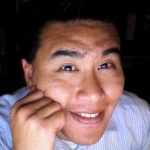 Legacy Analyst Firms Vs Disruptive Influencer Firms
On March 14th, 2012 Constellation had the privilege and pleasure of presenting at the IIAR UK Chapter's monthly meeting moderated by Simon Levin (see Figure 1).  For those who don't know, the IIAR is a "not-for-profit organisation established to raise awareness of analyst relations and the value of industry analysts, promote best practice amongst analyst relations professionals, enhance communication between analyst firms and vendors, and offer opportunities for AR practitioners to network with their industry peers."  IIAR has been responsible for raising both the visibility and standards of analyst relations and influence relations professionals.
Figure 1. IIAR UK Forum - March Meeting


(Source: R Wang)
The topic of the March monthly meeting - the changing nature of analyst firms. Constellation's EMEA team of Alea Fairchild - Brussels (@afairch), Charles Brett - Madrid and Tel Aviv (@charlesbrett) and Paul Papadimitriou - London (@papadimitriou) presented their points of view as IIAR members asked tough and insightful questions about the new model and provided candid feedback.  During the discussion, we also had the opportunity to describe the new analyst firm model and how we have designed our offerings for both the existing and new research firm service buyers.  After the meeting, we put together some notes and came up with a summary between the legacy analyst firms and new and emerging disruptive firms (see Figure 2).  Here's a quick summary of five major areas:
Client types. Legacy analyst firms support the established buyers - IT.  By nature, a disruptive firm thrive on innovation and attracts innovators in an organization from both IT and business.

Design point. Legacy analyst firms bind analysts with non-competes and treat employees as cogs in the wheel.  Disruptive firms build the firm around the sum of personal brands and embrace principles that support the future of work.
Analyst access. Legacy analyst firms block analyst access through expensive pay walls and contracts.  Disruptive firms break down barriers to access and provide research as a service models of access.

Research approach. Legacy analyst firms work in ivory towers and take a conservative outlook.  Disruptive firms embrace the community for input, feedback, and co-creation to deliver pragmatic innovation.

Sales.  Legacy analyst firms apply a transactional model to sales.  Disruptive firms build relationships with stakeholders and sales professionals serve as advisors into the research firm's capabilities.
Figure 2. Comparing the Legacy Analyst Firm With Today's Disruptive Firms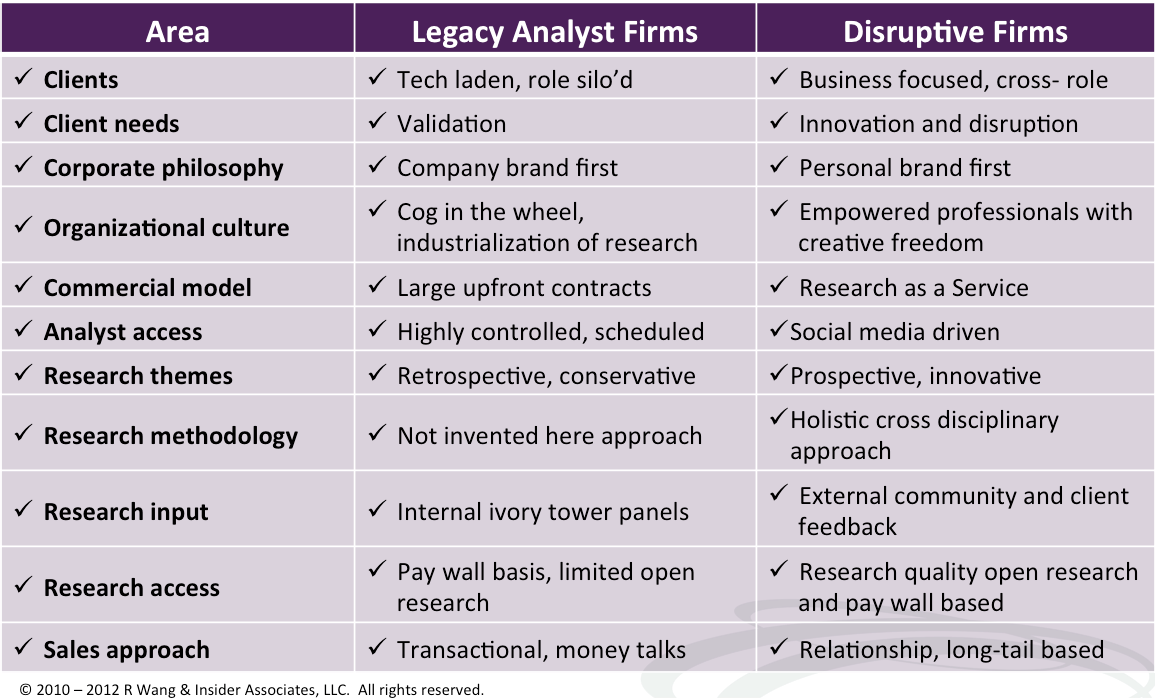 The Bottom Line – Technology Buyers Have Shifted To The Business Side And Market Disruption Is Imminent

With IT spending down 5% year over year and tech spending up 18 to 20%, disruptive firms emerge to support a growing and influential buyer type - the business.  As business examines new approaches, they seek a second opinion to the traditional IT point of view from legacy analyst firms.  The market exists for new firms to support the new buyers and guide them through the growing and dizzying array of disruptive technologies not just for technologies sake.  The goal - apply emerging technologies to create differentiated and disruptive business models.  That's the objective for Constellation and a number of new disruptive firms.  That being said, we encourage the legacy analyst firms to stay the course and play their key role in supporting IT.  There's room for both!
Your POV.
We'd love to hear your point of view on how analyst firms can do a better job, including ours!  We're hoping to incorporate your feedback into our 2H 2012 planning meeting July 2012.  Let us know your experiences.  Add your comments to the blog or reach me via email: R (at) ConstellationRG (dot) com or R (at) SoftwareInsider (dot) com.
Related Resources And Links
20120315 IIAR - Duncan Chapple "More stars move into the Constellation"
20110202 R Wang "Trends: Influencers Aspire For Market Maker Status"
20111109 Technobabble 2.0 - Jonny Bentwood "Introducing Constellation Research"
20100724 R Wang "Personal Log: The 7 Tenets Of Building A "Star Analyst" Firm"
Reprints
Reprints can be purchased through Constellation Research, Inc. To request official reprints in PDF format, please contact sales (at) ConstellationRG (dot) com.
Disclosure
Although we work closely with many mega software vendors, we want you to trust us. For the full disclosure policy, stay tuned for the full client list on the Constellation Research website.
Copyright © 2001 – 2012 R Wang and Insider Associates, LLC All rights reserved.