Monday's Musings: Using MDM To Build A Complete Customer View In A Social Era


Customers Have Evolved… Has Your Organization?
Right now customers and prospects probably ignore your organization's marketing messages because mass marketing campaigns lack relevancy. Right now most customers answer each other's questions because your customer service and support agents lack the authority or knowledge to resolve issues. Right now prospects ask each other what they think about a company's product or service because most organization's sales professionals lack credibility.
Consequently, organizations face immense challenges in influencing prospects and customers as three forces drive the changing dynamics in customer engagement (see Figure 1).
Trust not financial performance is the new social currency. Trust drives influence, engagement, and relationships. People and organizations must earn trust through their actions across their relationships. Trust can be expended to gain influence, create engagement, and foster relationships. Trust can be taken away through lack of credibility, bad behavior, and dishonesty.
Increase in social media adoption moves beyond fad. Social media adoption is a cultural shift not a fad. The growing preference for engagement through social channels drives new relationship models. Social has moved beyond the tipping point. How social evolves and permeate our lives is the question.
Failure of CRM efforts to engage and influence. Traditional CRM focused on management versus engagement. CRM initiatives barely addressed customers and mostly ignored relationships. Projects focused on manager convenience instead of employee empowerment. More importantly, systems supported transactions not relationships.
Figure 1. Three Forces Drive The Changing Dynamics In Customer Engagement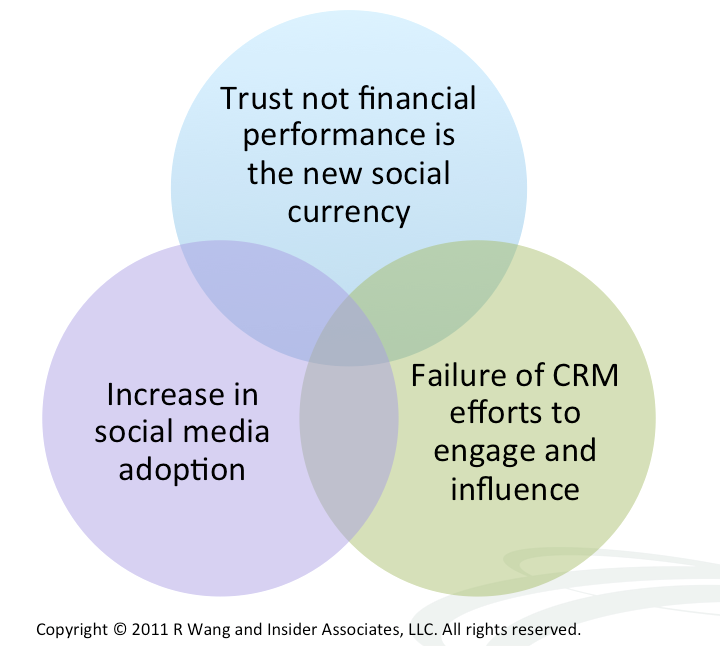 Organizations Must Address Their Data Challenges To Gain A Strategic Advantage
To add to the chaos, a lack of a complete customer view often hampers successful interactions by front line employees with customers and prospects. For example, organizations must answer basic business questions at each interaction point such as the individual's identity, apparent and potential relationships, sentiment, product and services purchased or considered, credit risks, and pricing plans and entitlements. However, organizations often cannot address key customer questions because of:
Data siloes. Customer insight is often locked up in competing and fiercely independent systems. Finance systems do not talk to customer data systems that do not talk to warehouse systems. Organizations often find customer data scattered in as many systems as there are acquisitions and departments.
Trustworthiness of data. Data quality is impacted by poor information governance processes. Multiple systems often lead to multiple reporting results. Updates from one department can override clean data feeds in another system. Most organizations lack confidence in the validity of their business information.
Proliferation of unstructured data. Feeds from social data sources, ad-hoc comments and notes, and sentiment cloud existing systems designed to support structured data. Lack of tools and techniques to address unstructured data mask key insights and opportunities.
Self service challenges. Existing systems remain complex and cumbersome to use. Business leaders seek the ability to modify reports, change algorithms, and apply new visualization techniques without requiring technical expertise. Most systems fail to provide even the most basic self-service capabilities to identify corrleations and deliver business insight.
The Bottom Line: Use Master Data Management To Enable A Complete Customer View

Success in engaging with customers will require a business process to ensure that the right customer information is delivered to the right person using the right security model for the right form factor. While a complete customer views is often at the eye of the beholder, Master Data Management (MDM) provides a key technology that supports how data is:

Acquired. Where is data referenced? How are different sources brought into the system? What's the history and lineage of that information?

Cleansed. What formats should be applied to the data? What conventions should be added? What spelling or errors should be corrected?

De-duplicated. How can we reduce similar data across the system? How do we create one common view among multiple sources and systems?

Classified. Can we apply a hierarchy to the data. Are there categories to associate with? How does the data relate to people, objects, and other organizational relationships?

Relevant. What's begin done to integrate and synchronize the data. How do you keep data real-time in a system?
As data complexity increases, customer data must be embraced as as strategic asset. Your customer information supply chain provides the foundation for improved customer engagement.
Resources
To find out more, join me at the Informatica Customer Data Forum over the next 2 weeks.
Register here
May 10 – Toronto, ON Canada
Sheraton Centre Toronto Hotel
May 11 – Dallas, TX
Crowne Plaza Hotel
May 12 – Rosemont, IL
Hilton Rosemont - Chicago O'Hare
May 17 – Edina, MN
The Westin Edina Galleria
May 18 – San Francisco, CA
W San Francisco
May 19 – Carlsbad, CA
Sheraton Carlsbad Resort & Spa
Your POV.
Trying to fix your CRM program?  Have a lessons learned from your Social CRM initiative.  Got a question?  Add your comments to the blog or reach me via email: R (at) ConstellationRG (dot) com or R (at) SoftwareInsider (dot) com.
Please let us know if you need help with your Social CRM/ Social Business efforts.  Here's how we can assist:
Assessing social business/social CRM readiness
Developing your social business/ social CRM  strategy
Vendor selection
Implementation partner selection
Connecting with other pioneers
Sharing best practices
Designing a next gen apps strategy
Providing contract negotiations and software licensing support
Demystifying software licensing

Related Research:
Reprints
Reprints can be purchased through Constellation Research, Inc. To request official reprints in PDF format, please contact sales (at) ConstellationRG (dot) com.
Disclosure
Although we work closely with many mega software vendors, we want you to trust us. For the full disclosure policy, see the full client list on the Constellation Research website.
Copyright © 2011 R Wang and Insider Associates, LLC All rights reserved.