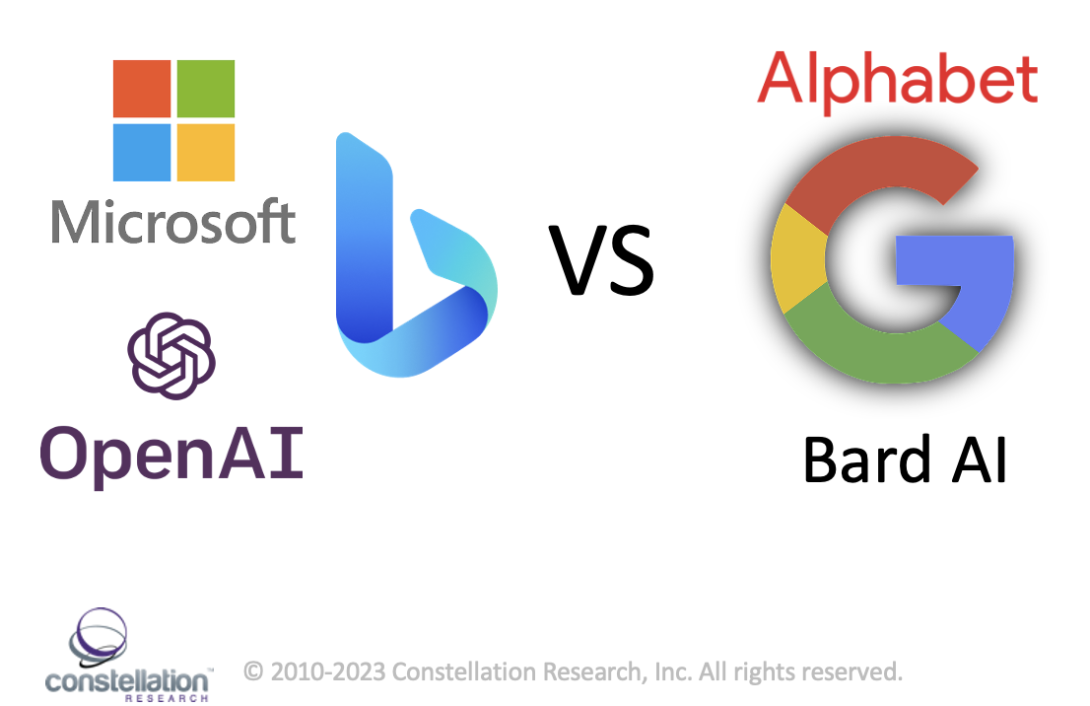 News Analysis: Microsoft's Bing with ChatGPT versus Google Bard AI
The $450 Billion Ad Tech Market Is About To Be Shaken Up By AI
When Google was officially launched in 1998 by Larry Page and Sergey Brin, it was the 21st search engine to enter the market. In 2022 Google generated over $200 billion in revenue off of search advertising and other digital advertising.  MIcrosoft launched the Bing search engine in 2009, built from the assets of Live Search which was released in 2006.  By all accounts, Microsoft Bing was the laggard among Google and Yahoo in the space.  Round 1 of the search engine wars was won by Google which has dominate for almost two decades.
Microsoft - Open AI Alliance Challenges Google Ad Dominance
The recent announcements on Tuesday, February 7th by Microsoft that the new Bing engine would use technology with a more powerful large language model than the one that underpins ChatGPT.  Microsoft's model would add massive data sets of online data for user queries and prompts.
Google countered with Bard AI, an experimental conversational AI service that would do the same and be released soon. Feburary 7th, 2023 will be recognized as the day conversational AI disrupted traditional search advertising.
Round 2 in the battle will be remembered when large language models, NLP, and conversational AI changed the game.  Will MIcrosoft finally come in first for technology in this decade?  What will Apple do with its large data sets?
ChatGPT vs Google Bard AI (What We Know For Now)
So what started all this was the launch of ChatGPT on November 30, 2022.  Chat GPT is an AI language model that communicates with users in a conversational manner.  The AI and large language model (LLM) summarizes text, translate languages, answers questions using a technology called Natural Language Processing or NLP
Google Bard AI is like Chat GPT, but it's build on Google's Language Model for Dialogue Application (LaMDA). Google Bard AI can access the entire Internet, ChatGPT can't yet, but the new Microsoft Bing Search is expected to.  Today, ChatGPT is limited to the data it's trained on. So it's good with stuff before 2021.  When available, Google Bard AI will be fresh and current by pulling vast data troves from the web.
From preliminary insights from engineers at Google and Microsoft, Google's tech will use less computer power so it could handle more users and consume less energy than ChatGPT.  However, Chat GPT is available now and being trained, Google Bard Is coming soon.
The Bottom Line: AI Is An Exponential Game Changer
How we access information on a search bar has fundamentally changed. Expect AI to suggest ideas, explain complex concepts, write code, prepare speeches, and translate languages.  At Davos this year, every third presentation began with "ChatGPT wrote this speech".  With 100 million users in less than 10 days, this is just the power of LLM's, AI, NLP and text.
On the computer vision side, other cool tech like stable diffusion, Midjourney, and DALL-E2 will do to images and computer vision what conversational AI is doing to text.  AI is an exponential game changer in the enterprise and how humans interface technology is about to be changed right in front of one's eyes.
Disclaimer: this post was written by an actual human
Your POV
Ready for conversational AI and large language models to change how you interface with data and search? Who will win Round 2 - Google or Microsoft?  What are your views on AI ethics?
Add your comments to the blog or reach me via email: R (at) ConstellationR (dot) com or R (at) SoftwareInsider (dot) org. Please let us know if you need help with your strategy efforts. Here's how we can assist:
Developing your metaverse and digital business strategy
Connecting with other pioneers
Sharing best practices
Vendor selection
Implementation partner selection
Providing contract negotiations and software licensing support
Demystifying software licensing
Reprints can be purchased through Constellation Research, Inc. To request official reprints in PDF format, please contact Sales.
Disclosures
Although we work closely with many mega software vendors, we want you to trust us. For the full disclosure policy,stay tuned for the full client list on the Constellation Research website. * Not responsible for any factual errors or omissions.  However, happy to correct any errors upon email receipt.
Constellation Research recommends that readers consult a stock professional for their investment guidance. Investors should understand the potential conflicts of interest analysts might face. Constellation does not underwrite or own the securities of the companies the analysts cover. Analysts themselves sometimes own stocks in the companies they cover—either directly or indirectly, such as through employee stock-purchase pools in which they and their colleagues participate. As a general matter, investors should not rely solely on an analyst's recommendation when deciding whether to buy, hold, or sell a stock. Instead, they should also do their own research—such as reading the prospectus for new companies or for public companies, the quarterly and annual reports filed with the SEC—to confirm whether a particular investment is appropriate for them in light of their individual financial circumstances.
Copyright © 2001 – 2023 R Wang and Insider Associates, LLC All rights reserved.
Contact the Sales team to purchase this report on a a la carte basis or join the Constellation Executive Network