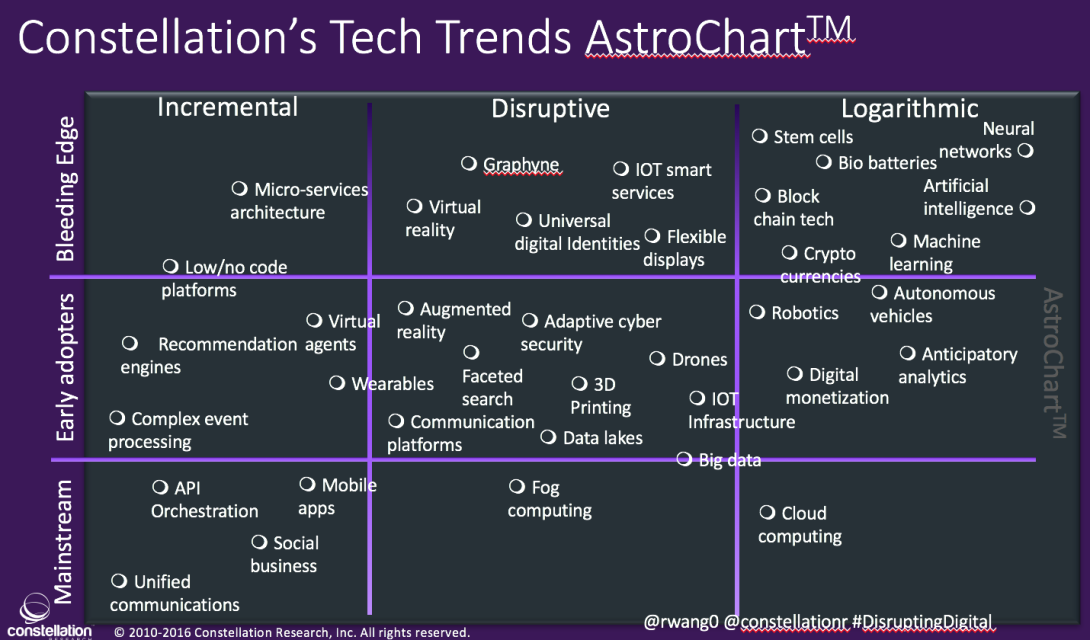 Research Summary: Constellation's AstroChart For Tech Trends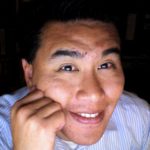 Avoiding The Hype In Tech Trend Cycles
Constellation's AstroChartTM for Technology provides market leaders and fast followers a visual guide to technology trends and their adoption.  The vertical access rates adoption from mainstream to early adopters to bleeding edge.  The horizontal access estimates the impact on an organization's business model. from incremental to disruptive to logarithmic.   The intent of an AstroChartTM is to move beyond both the hype and constraints of a 2 x 2 grid.
Figure 1. Constellation's AstroChartTM for Technology Shows Adoption And Impact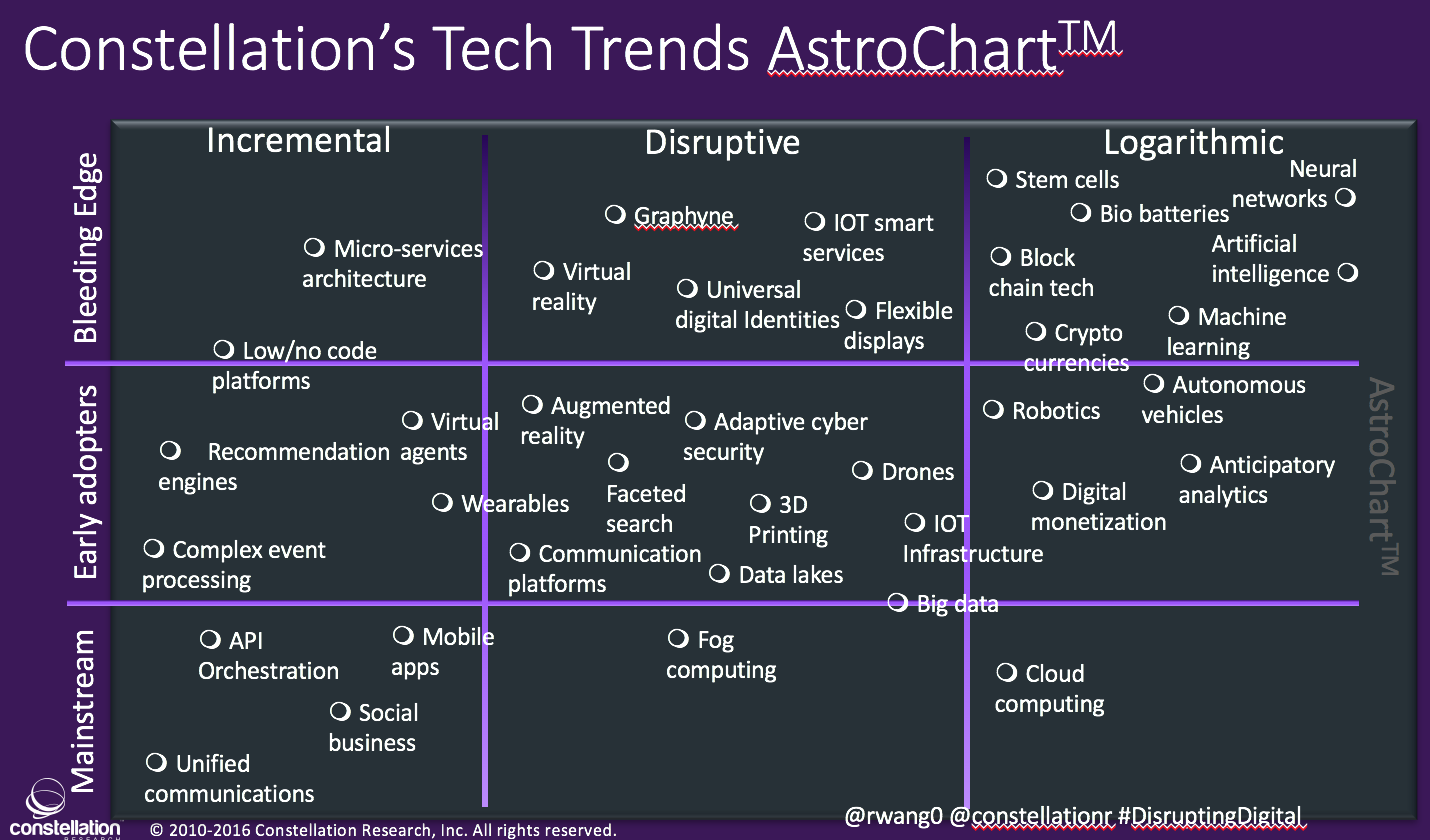 Nine Categories Show Progression and Maturity of Disruptive Technologies
Back in 2009 and 2010, Constellation identified the five pillars of consumer tech trending into the enterprise (see Figure 2).  Over the past seven years, the five pillars have moved from Bleeding Edge to Mainstream.   For example, disruptive technologies trending in 2020 that are at the bleeding edge and early adopter adoption path include topics such as IOT,  3D printing, augmented reality and virtual reality, robotics, block chain, and cognitive or artificial intelligence (see Figure 3).
Figure 2. SMAC Technologies Hot in 2009 Now Mainstream
Figure 3. Newer Disruptive Technologies Move Up on Adoption Scale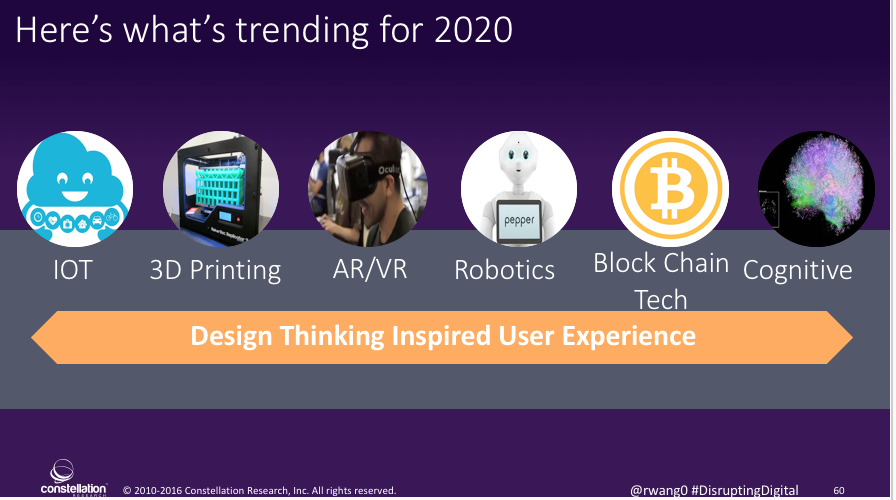 The Bottom Line: Use The Constellation's AstroChartTM for Technology To Plan Out Investment Roadmap
Stay abreast of the latest disruptive technology by adoption rates and business model impact using the Constellation's AstroChartTM for Technology.  Use the AstroChartTM to develop your overall technology investment strategy and to benchmark your organization's adoption.   Constellation recommends that:
Mainstream adoption technologies should be standardized across the enterprise.  Organizations should invest in best of breed players or custom built only for the logarithmic categories
Early adopters technologies should be tied back to a business model.  Expect five to ten vendors in each category.
Bleeding edge technologies should be tied to proof-of-concept projects.  Expect early stage startups willing to co-innovate and co-create.
Your POV.
Ready to take advantage of the Constellation's AstroChartTM for Technology?  How have you built out your technology investment map?  Learn how non-digital organizations can apply a technology roadmap to disrupt digital businesses in the best-selling Harvard Business Review Press book Disrupting Digital. 
Add your comments to the blog or reach me via email: R (at) ConstellationR (dot) com or R (at) SoftwareInsider (dot) org.
Please let us know if you need help with your Digital Business transformation efforts. Here's how we can assist:
Developing your digital business strategy
Connecting with other pioneers
Sharing best practices
Vendor selection
Implementation partner selection
Providing contract negotiations and software licensing support
Demystifying software licensing
Resources
Reprints
Reprints can be purchased through Constellation Research, Inc. To request official reprints in PDF format, please contact Sales .
Disclosure
Although we work closely with many mega software vendors, we want you to trust us. For the full disclosure policy,stay tuned for the full client list on the Constellation Research website.
* Not responsible for any factual errors or omissions.  However, happy to correct any errors upon email receipt.
Copyright © 2001 -2016 R Wang and Insider Associates, LLC All rights reserved.
Contact the Sales team to purchase this report on a a la carte basis or join the Constellation Customer Experience