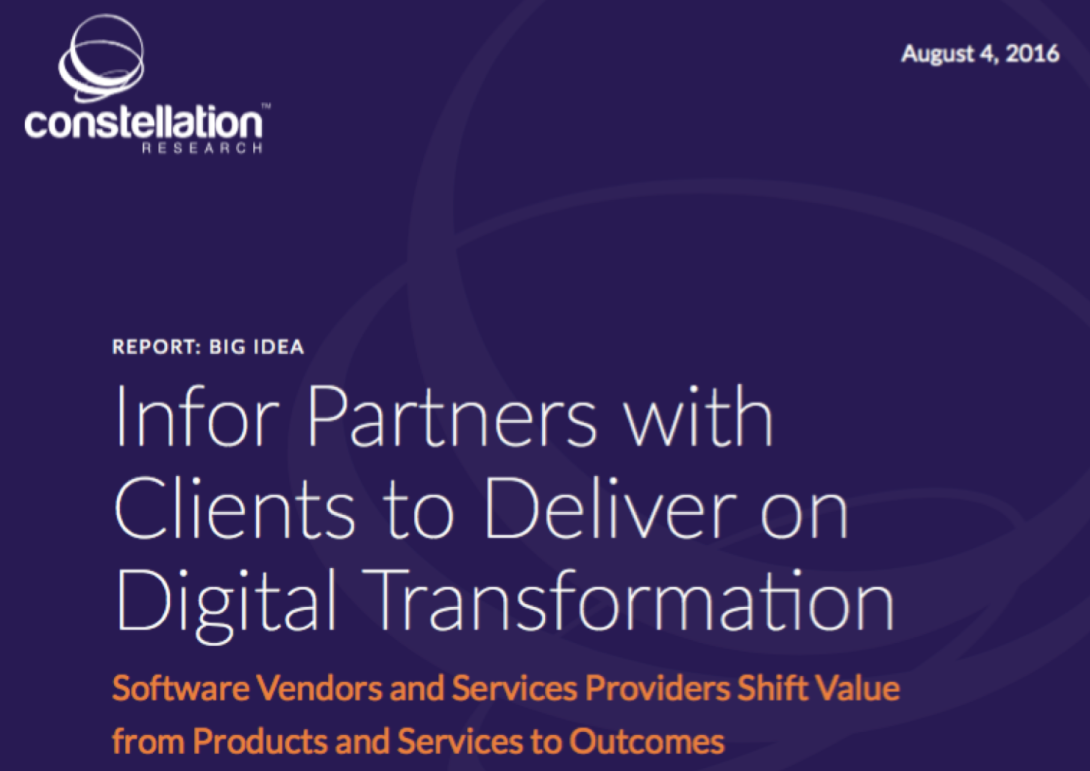 Research Summary: Infor Partners with Clients to Deliver on Digital Transformation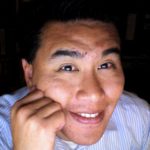 Software Vendors and Services Providers Shift Value from Products and Services to Outcomes
The convergence of software vendors and services providers foreshadows the challenges organizations face in the selection of digital transformation solutions.  The lack of pre-packaged, out-of-the-box solutions forces executives to focus not only on how the solutions are  designed but also on the desired outcome and business model.
As organizations struggle to differentiate their offerings in the market and jump start growth, market leaders and fast followers have partnered more closely with their technology providers and services firms for innovative solutions.  Why? Market leaders and fast followers understand that their success requires co-innovation and co-creation to deliver innovation from concept to commercialization.
By applying five success factors to digital transformation efforts, organizations can improve their ability to succeed. Here are five things organizations need to do:
1.      Strategize with design thinking
2.      Commit to business model disruption
3.      Apply a form-follows-function approach to technology adoption
4.      Institutionalize and incentivize the process of going from concept to commercialization
5.      Craft a cultural renaissance
New York-based Infor is one technology provider who recently spun out a separate group to deliver business consulting and digital transformation.  The team that was spun out is tasked with enabling change at the client site by strategizing with the client on the solution, designing the approach, assembling the technology, and running the operation.  Early success includes work in creating new marketplace for a major retailer and a Waze-like network for transportation logistics for Caterpillar.
This report begins a series analyzing the software and services convergence in digital transformation projects. This report addresses all eight of Constellation's business research themes.

Your POV.
Are you exploring your digital transformation options?  Have you worked with Infor or another software vendor or system integrator to co-innovate and co-create? Let us know what your experiences have been and feel free to reach out.  Add your comments to the blog or reach me via email: R (at) ConstellationR (dot) com or R (at) SoftwareInsider (dot) org.
Please let us know if you need help with your Digital Business transformation efforts. Here's how we can assist:
Developing your digital business strategy
Connecting with other pioneers
Sharing best practices
Vendor selection
Implementation partner selection
Providing contract negotiations and software licensing support
Demystifying software licensing
Resources
Reprints

Reprints can be purchased through Constellation Research, Inc. To request official reprints in PDF format, please contact Sales .
Disclosure
Although we work closely with many mega software vendors, we want you to trust us. For the full disclosure policy,stay tuned for the full client list on the Constellation Research website.
* Not responsible for any factual errors or omissions.  However, happy to correct any errors upon email receipt.
Copyright © 2001 -2016 R Wang and Insider Associates, LLC All rights reserved.
Contact the Sales team to purchase this report on a a la carte basis or join the Constellation Customer Experience