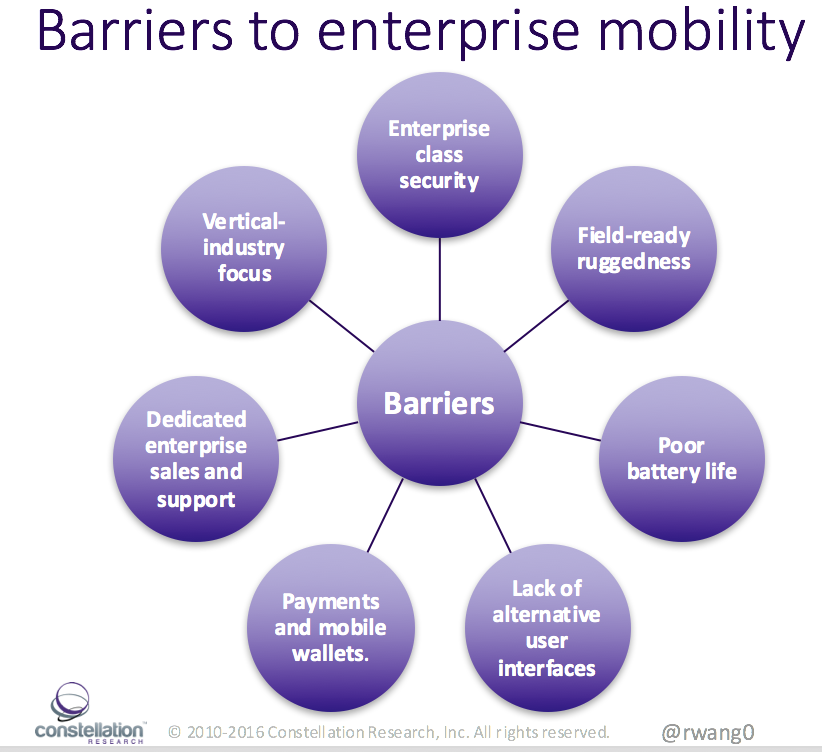 Monday's Musings: CXOs Seek Enterprise-Grade Mobile Solutions Despite Seven Barriers

Understand The Seven Barriers To Successful Enterprise Mobility
Constellation's annual survey of disruptive technologies among leading CXOs consistently places mobile enablement as a top three priority. In the 2016 survey, more than 58 percent of respondents revalidated that mobile enablement was their number one priority. Unfortunately, most CXOs and their organizations often find mobile solutions to lack the enterprise-grade capabilities required to move beyond consumerization.
In conversations with leading CXOs, the following seven barriers often limit success for enterprise mobility adoption: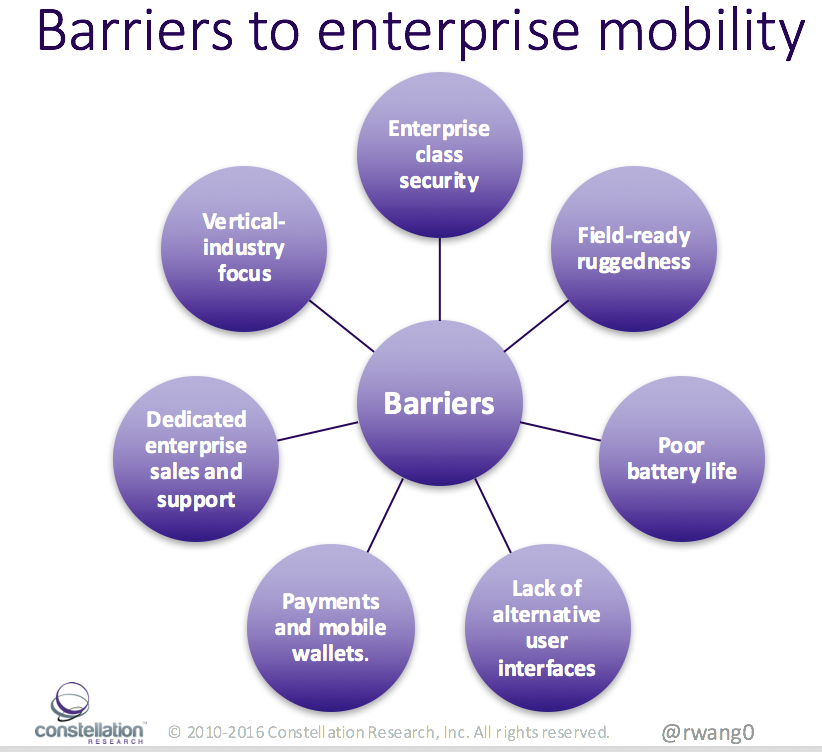 Enterprise-class security. Organizations expect enterprise-class solutions to address corporate policies, while enabling employees anywhere, anytime access. Consequently, leaders expect mobile device management, mobile application management, and mobile email management to enforce corporate policies, but also address corporate data segregation, manage email and browser access, secure an app catalog, deliver updates, manage configurations, monitor content, and provide remote testing and diagnostics.
Field-ready ruggedness. While not all users will require support for harsh work environments, devices often need to meet temperature, pressure and weather requirements. Water resistance and protective casings often top the list. Two key standards - Ingress Protection (IP) rating and Military Standard (MIL-STD) - often are used to test ruggedness.
Poor battery life. The last thing users want is constant battery life anxiety. While battery life depends on active usage, fast charging, efficient chip sets and larger capacity, users want any advantage to help extend battery life. Constellation's estimates show that users expect shorter charging times under 90 minutes and batteries to last 12 hours or more.
Lack of alternative user interfaces. Users consistently expect alternative interfaces. Voice-to-text remains a key feature. The stylus has risen in popularity. Some still seek a physical keyboard.
Payments and mobile wallets. The ability to exchange value among users is key. Payments provide the capability to send money. Over time, the capability of the mobile wallet will expand and play a role in managing identity.
Dedicated enterprise sales and support. The challenge with most consumerization of IT programs is the lack of dedicated sales and customer support teams. Enterprises expect service-level agreements to match their business models and ensure device uptime.
Vertical-industry focus. For many, enterprise class requires industry specialization. Leaders want to know that key regulatory and industry-specific requirements are thought through and designed into solutions.
The Bottom Line: Overcome Barriers When Evaluating Enterprise Class Mobile Solutions
From devices to enterprise software, the future of mobility depends on technology providers who overcome the concerns from CXO's and organization's seeking long-term solutions and platforms.  Constellation's seven barriers should serve as a checklist for leadres seeking enterprise class mobility solutions.  As enterprises realize the need for enterprise grade solutions, expect customers to demand more from their mobility solutions.
Your POV.
Ready for digital disruption by starting with mobile?  Add your comments to the blog or reach me via email: R (at) ConstellationR (dot) com or R (at) SoftwareInsider (dot) org.
Please let us know if you need help with your Digital Business transformation efforts. Here's how we can assist:
Developing your digital business strategy
Connecting with other pioneers
Sharing best practices
Vendor selection
Implementation partner selection
Providing contract negotiations and software licensing support
Demystifying software licensing
Resources
News Analysis: Inside the First Industry-Specific Mobile Apps by the IBM MobileFirst for Apple iOS Partnership
Monday's Musings: Why The Third Generation Of Enterprise Mobile Is Designed For Digital Transformation
Monday's Musings: What Organizations Want From Mobile
Quips: Good Technology Data Validates That Apple iOS Is Still King of Enterprise Class Mobile in The US
 
Reprints
Reprints can be purchased through Constellation Research, Inc. To request official reprints in PDF format, please contact Sales .
Disclosure
Although we work closely with many mega software vendors, we want you to trust us. For the full disclosure policy,stay tuned for the full client list on the Constellation Research website.
* Not responsible for any factual errors or omissions.  However, happy to correct any errors upon email receipt.
Copyright © 2001 -2016 R Wang and Insider Associates, LLC All rights reserved.
Contact the Sales team to purchase this report on a a la carte basis or join the Constellation Customer Experience