Event Report: Epicor Recaptures Mojo With Insights 14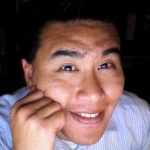 Management Team Changes Provide A Breath Of Fresh Air To Culture, Customer, and Products



Over 4000 customers, prospects, and partners gathered April 27th to 30th for the flagship Epicor customer conference, Insights 14, at the Mandalay Bay Convention Center in Las Vegas, Nevada.  The event provided the $968M revenue, 20,000 customer, Austin based software company an opportunity to showcase changes in management, a new product, and a reaffirmation of its technology partnership strategy.  Takeaways from the event include:
Change at the top harkens a new management philosophy . Veteran software executive and task master, Joe Cowan brings over 25 years of experience from companies such as Baan, Invensys, EXE Technologies, Manugistics, and Interwoven.  Since his arrival as CEO in October 2013, new talent such as Janie West, Chief Product Officer has arrived and the corporate headquarters moved from tax and regulatory burdened California to Austin Texas.  In addition, the company announced the Hiring Heroes program to hire 100 veterans over the next 12 months as part of its giving back initiative.

Point of View (POV): Conversations with the executive team and partners indicate that Joe's no-nonsense style has already made an impact.  Product quality, deadlines, and accountability have been drilled back into the company.  From one-on-one conversations, Joe appears to reignite the need to innovate around the customer and to ensure that customers have the full support to successfully implement products.  Customers, prospects, and partners can expect a shift from the inward process mentality of the last management team to a more outbound customer centric culture.
Launch of Epicor 10 builds on lessons learned from Epicor 9 and customer driven innovation. Epicor 10 starts with 5 key principles: collaboration, choice, responsiveness, simplicity, and mobility (see Figure 1).  The product launch included a six month beta testing phase from early adopter clients.  Reference customers live and running on Epicor 10 include Allambi Youth Services, Boers & Co Fine Metalworking Group, Cyclicron Engineered Cylinders, LLC, Enpress LLC, Habasit America, Hallmark Building Supplies, Humtown Products, MK Products, and XT (previously Xstrata Technology)

(POV): Despite much fanfare at launch, the previous release of Epicor 9 failed in the market not for lack of vision, but for lack of quality and customer delivery.  Full SOA architecture, multi-tenant cloud delivery, and next generation platform was not enough.  Customers felt abandoned by the poor quality of code and the lack of customer support.  Lessons learned from the Epicor 9 debacle include a significant investment in services and organizational readiness.  New migration tools and assistance include upgrade tools proven via beta program, improved skills certifications, and significant partner enablement.  Conversations with early adopters indicate major improvements.  The full adoption of Microsoft SQL Server and the removal of the Progress Technology components results in 200 to 300% decrease in time for upgrade and a reduction of 40 to 50% in size of migrated database.  Most early adopters gave Epicor high marks for a much smoother migration and deployment process. The tide has turned for Epicor with ERP version 10.
Figure 1. The Five Principles Behind Epicor ERP 10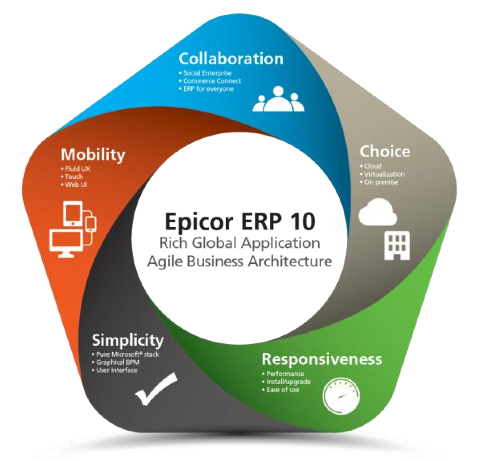 Source:Epicor Software
Standardization on Microsoft Stack For Core Technology. Epicor's core architecture, ICE 3.0, places exclusive bets on Microsoft.  The technology


foundation now runs on an end to end Microsoft technology stack. Epicor ERP version 10 is optimized for SQL Server 2014 and can take advantage of the data engine, analysis and reporting services. Automated back up can be conducted in the cloud with Windows Azure storage containers.  The core ICE 3.0 framework includes 1300 business services out of the box, enterprise search patterned after consumer grade patterns, and a business activity query tool that allows organizations to manage unstructured data from social networking and transient business processes.  The new expenses and time keeping app on Windows App Store highlights the mobile strategy on Microsoft.

(POV): Removal of the remaining Progress Technology and Support for Oracle database reduces the code complexity and improves overall performance for customers. Early customer benchmarks show four times the scalability and up to double the performance.  Epicor is wise to streamline its technology stack and align with Microsoft.  Customers can take advantage of Windows Azure for Infrastructure as a Service (IasS) options. Meanwhile, Epicor can tap a base of over 650,000 Microsoft partners to extend reach and build on top of the ICE 3.0 platform.  However, Epicor may want to make its mobile bets beyond Microsoft as enterprise adoption remains low for Window Phone. In addition, issues with the Microsoft SQL Azure team in delivering a database worth for systems of record continue to limit not only Epicor, but also other enterprise software providers in delivering the full stack in Azure.
Introduction of Commerce Connect Platform With Epicor ERP Version 10. Epicor partners with Magento to deliver a B2B and B2C commerce platform integrated back to Epicor ERP version 10. The solution provides both a connector and toolset to Magento's open commerce platform. Customers gain a complete order management lifecycle and unified database for areas such as product, customer, pricing, and account information. Three flavors of Epicor Commerce Connect include Epicor Consumer Connect, Epicor Customer Connect, and Epicor Supplier Connect.

(POV): Epicor's Retail business is a major player in the market with over 500 retail brands, 100,000 stores, 300,000 registers, 37,000 mobile devices, and 100 retailers in 47 countries.  Key customers include significant brands such as GNC, Jones New York, Michael Kors, Payless ShoeSource, Pier 1 Imports, Roadrunner Sports, Tumi, UnderArmor.  Conversations with retailers, manufacturers, and distributors, indicate an initial interest in trading community capabilities. Constellation believes that the value will not be from the transactions completed but in the data and insight gleaned from the network. Additionally, conversations with retailers indicate high satisfaction with Epicor for delivering on key road map features, providing commitment to customer success, and delivering on measurable results post implementation.  For instance, companies such as UnderArmor reported significant gains in mobile ROI such as 11% higher averaged dollar per transaction, 8% higher units per transaction, and 20 to 45% of transactions executed on a mobile device.
Figure 2. Screenshots of New Epicor Products
<iframe align=center src=http://www.flickr.com/slideShow/index.gne?user_id=35408001@N04&set_id=72157644497532584&detail=yes frameBorder="0" scrolling=no width="600" height="500"></iframe>
Source: R Wang and Insider Associates, LLC. All rights Reserved.
The Bottom Line: Time To Reconsider Epicor 10 In Short Lists
Over the past 18 months, Constellation has pulled Epicor ERP version 9 from short lists in vendor selections due to the poor quality of the release and poor customer reference checks. At Insights 14, Constellation validated Epicor ERP version 10 customer reference checks, spoke with 7 live customers, met with key partners, and grilled the management team on Epicor ERP version 10. These data points give Constellation renewed confidence to add Epicor ERP version 10 back into short lists. Meanwhile, Epicor's Retail solutions have continued to deliver significant benefits for customers and should be considered in most vendor selection efforts. The success stories for major brands show continued innovation and market momentum for retailers seeking matrix commerce solutions.
Figure 3. Flickr Feed of Insights 14 Highlights
<iframe align=center src=http://www.flickr.com/slideShow/index.gne?user_id=35408001@N04&set_id=72157644082839990&detail=yes frameBorder="0" scrolling=no width="600" height="500"></iframe>
Source: R Wang and Insider Associates, LLC. All rights Reserved.

Your POV:

Are you looking at ERP and CRM replacement? Do you need specialized requirements for your industry?  How are you doing this today? Add your comments to the blog or reach me via email: R (at) ConstellationR (dot) com or R (at) SoftwareInsider (dot) com.
Please let us know if you need help with vendor selection efforts.  Here's how we can assist:
Vendor selection
Implementation partner selection
Connecting with other pioneers
Sharing best practices
Designing a next gen apps strategy
Providing contract negotiations and software licensing support
Demystifying software licensing
Related Research:
Reprints
Reprints can be purchased through Constellation Research, Inc. To request official reprints in PDF format, please contact Sales .
Disclosure
Although we work closely with many mega software vendors, we want you to trust us. For the full disclosure policy, stay tuned for the full client list on the Constellation Research website.
* Not responsible for any factual errors or omissions.  However, happy to correct any errors upon email receipt.
Copyright © 2001 – 2014 R Wang and Insider Associates, LLC All rights reserved.
Contact the Sales team to purchase this report on a a la carte basis or join the Constellation Customer Experience!