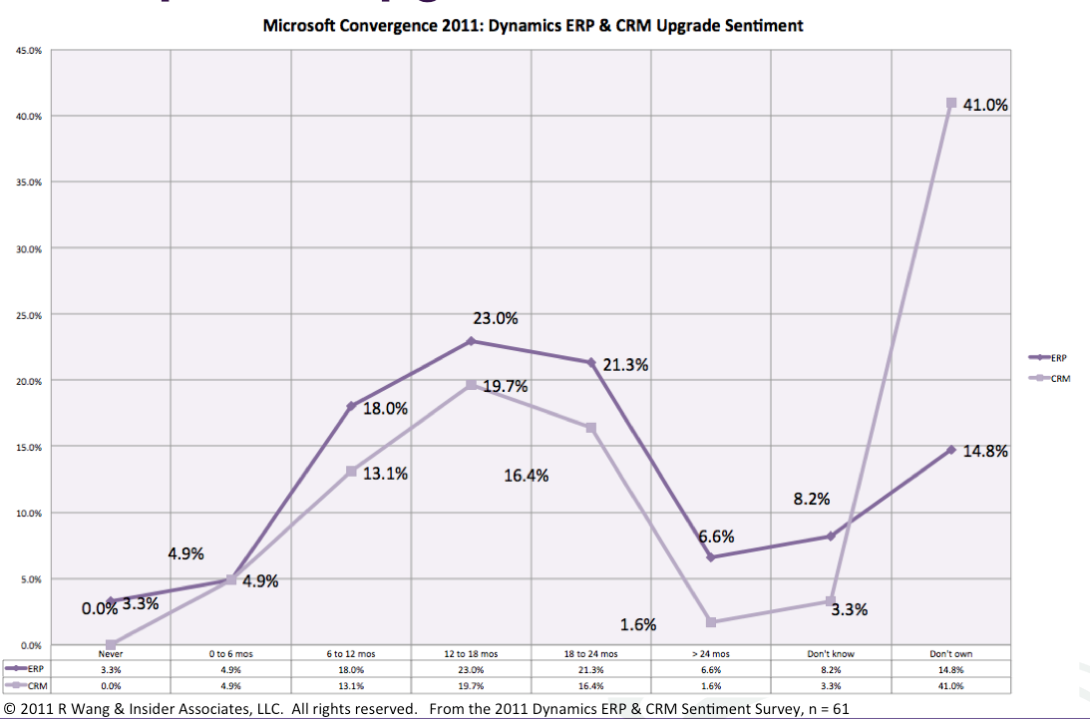 Event Report: The Sentiment At Microsoft Convergence 2011



Refresh Cycle Reflects Bullish Outlook By Partners and Customers
Microsoft Convergence kicked off over the weekend in Atlanta, GA at the Georgia World Congress Center.  With an anticipated increase in attendance, many new product announcements, and a technology refresh cycle in play, attendees seemed upbeat.  The event kicked off in true tradition including the must attend Randy and Andy (IBIS, Inc) welcome party.  Anticipated cloud announcements, new features, and industry extensions dominate discussions among partners.  Through a survey of over 60 customers, we found the following observations:
Customers expect to upgrade ERP and CRM in 12 to 18 months. Good news for Microsoft partners.  Most ERP and CRM customers plan to upgrade within the next 12 to 18 months (see Figure 2).  Many plan to upgrade ERP (18.0%) and CRM (13.1%) in the next 6 to 12 months.

Cloud adoption remains partly cloudy. While there are numerous benefits to cloud adoption for clients,  34.4% of ERP customers showed no interest.  Most CRM customers expected to make the shift to the cloud (see Figure 3).  As for the shift to office in the cloud, 18.0% planned to make the shift 24 months from now.

Attendees seek to leverage Microsoft investment. Informal conversations highlighted interest in mobile development, greater sharepoint adoption, and interest in Power Pivot.  Most customers felt Microsoft had turned the corner and began to innovate as of the Windows 7 launch.
Large customer prospects explore Two Tier ERP. In speaking with 13 divisions of large enterprises at the event, most attended to explore the option of adding Microsoft Dynamics ERP into their subsidiaries.  Eight of the ten companies ran SAP while three ran Oracle, and another two ran custom legacy systems.  Surveyed prospects believe that Two-tier ERP strategies will dominate future apps strategy.
Figure 1.  Flickr Feeds From Microsoft Dynamics Convergence 2011
(Tag your images with #softwareinsider or #rwang0 to include into the feed)
Figure 2. Most Microsoft Dynamics Customers Plan To Upgrade ERP & CRM In 12 to 18 Months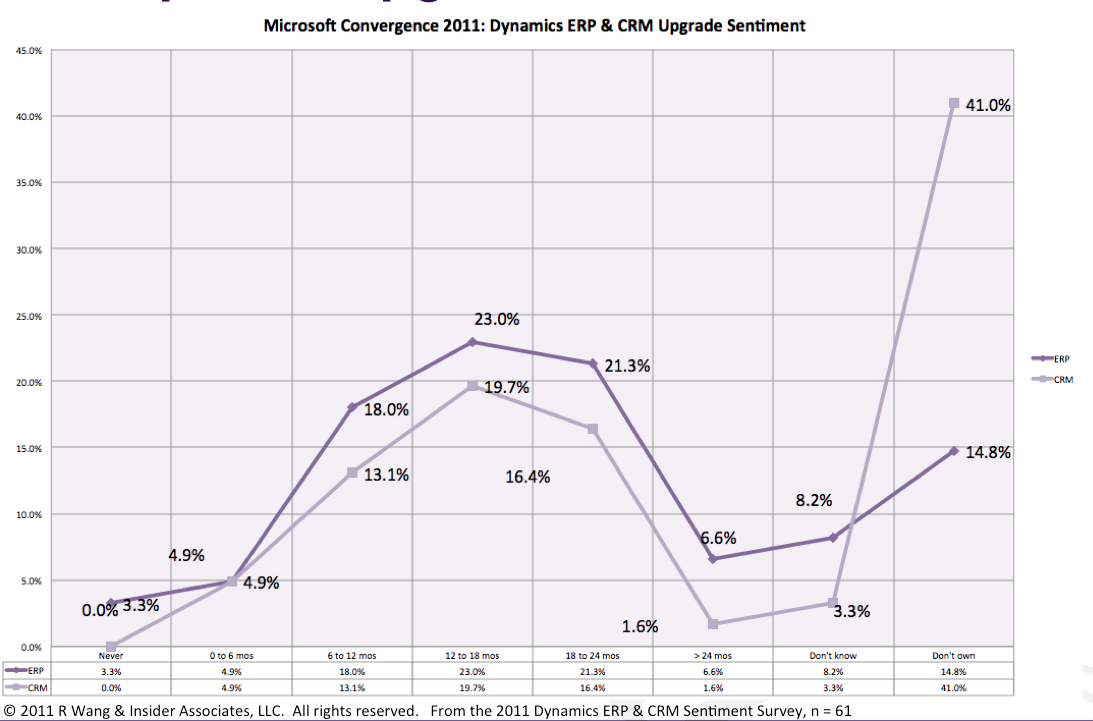 (Right click image to expand)


Figure 3.  Not Surprisingly, CRM Leads Cloud Adoption Sentiments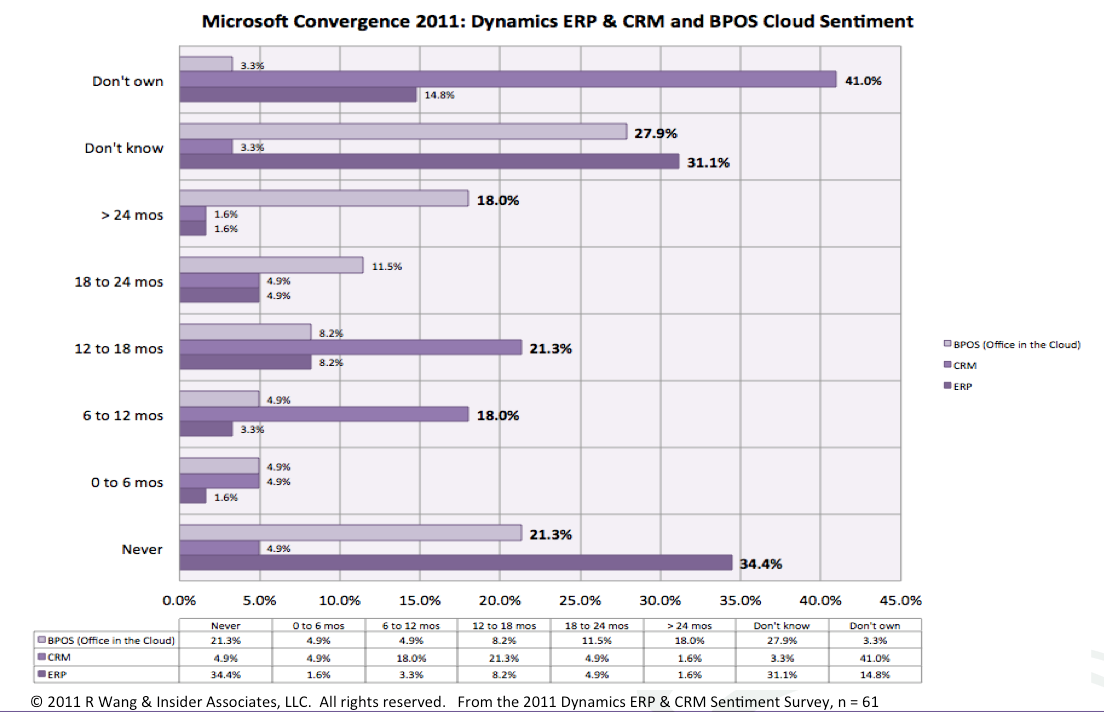 (Right click image to expand)

The Bottom Line: Focus On Improving Business Processes And Metrics
Customers and users have an opportunity to avoid the failures in past deployments of CRM and ERP.  Instead of focusing just on technology implementation this time, plan to:
Begin with the end in mind. Focus on the key business metrics.  Align outcomes to business processes.  Assign responsibility to roles.  For example, in an order management process measure the % completed on first order and assign it to everyone associated with that process.  Then, figure out what technologies will support this objective.
Invest for future business scenarios. Design for the future.  What happens when the business becomes more service oriented?  How will you handle warranties, parts, installations, and returns?  What happens when business models change?  Consider flexibility in the design of new business processes.
Allocate budget for change management. Remember the last ERP and CRM project where in a rush, training was cut short?  Don't do that again!  Budget for time and money to have change management throughout the implementation.  In cloud deployments, this will prove to be a key asset.  In on-premises, this is a critical success factor.
Continue to drive down costs. Drive down cost of ownership by increasing the usage of the product and reducing the cost of ownership.  Quickly deploy existing licenses.  Pay for what you need.   Avoid overpaying for unused licenses.  Shelfware is expensive and should be avoided at all costs.

Reinvest for innovation.  Set aside a percentage of cost savings and new capital for innovation.  As these systems automate and accelerate business processes, organizations need to create market differentiators.  Innovation tied to business value provides a key strategic advantage.
Your POV.
Do you plan to upgrade soon?  Why or why not?  Are you ready for the cloud? Add your comments to the blog or reach me via email: R (at) ConstellationRG (dot) com or R (at) SoftwareInsider (dot) com.
How can we assist?
Buyers, do you need help with your apps strategy and vendor management strategy?  Trying to figure out how to infuse innovation into your tech strategy? Ready to put the expertise of over 1000 software contract negotiations to work?  Give us a call!
Please let us know if you need help with your next gen apps strategy efforts. Here's how we can help:
Providing contract negotiations and software licensing support
Evaluating SaaS/Cloud options
Assessing apps strategies (e.g. single instance, two-tier ERP, upgrade, custom dev, packaged deployments"
Designing innovation into end to end processes and systems
Comparing SaaS/Cloud integration strategies
Assisting with legacy ERP migration
Engaging in an SCRM strategy
Planning upgrades and migration
Performing vendor selection
Resources and Related Research
20100424 Friday's Feature: Microsoft Dynamics GP 2010

20100711 Research Report: Microsoft Partners – Before Adopting Azure, Understand the 12 Benefits And Risks
20100125 Monday's Musings: The Hidden Value In SaaS Deployments
20101227 Trends: 2011 Cloud Computing Predictions For CIO's And Business Technology Leaders
20110301 Research Summary: Best Practices - The Case For Two-Tier ERP
20100302 Tuesday's Tip: When To Go With A Two-Tier ERP Strategy
20091203  Strategy: 5 Lessons Learned From A Decade Of Naught
20091222 Tuesday's Tip: 10 Cloud And SaaS Apps Strategies For 2010
20091208 Tuesday's Tip: 2010 Apps Strategies Should Start With Business Value
20091102 Best Practices: Lessons Learned In What SMB's Want From Their ERP Provider
Reprints
Reprints can be purchased through Constellation Research, Inc. To request official reprints in PDF format, please contact sales (at) ConstellationRG (dot) com.
Disclosure
Although we work closely with many mega software vendors, we want you to trust us. For the full disclosure policy, stay tuned for the full client list on the Constellation Research website.
Copyright © 2011 R Wang and Insider Associates, LLC All rights reserved.