News Analysis: Rimini Street Launches Third Party Maintenance for SAP
(Photo: Rimini Street movable billboard outside SAPPHIRE 09.   Courtesy of Rimini Street.  All rights reserved)
Almost one year after Rimini Street announced its intention to provide third party maintenance, on May 11th, 2009, the ground breaking support services provider announced that it had signed its first SAP clients and launched immediate availability of its support services for SAP products.  Rimini Street promises to deliver more than 50 percent cost savings in annual fees compared to SAP.  Conversations with 83 Sapphire 09 attendees confirm significant interest (79/83) in alternatives to SAP's Enterprise Support offering, despite the SUGEN announcement.  Key elements of the software offering include:
Inclusion of older and current releases. Support for the SAP R/3 4.x, ECC 5.0, ECC 6.0, and BW 3.5 and earlier releases Named, local senior support engineers assigned to each client (no off-shoring of support calls)
POV: In Rimini Streets original announcement, the vendor had intended to provide support for pre ECC products.  The move to support the full line will come as a pleasant surprise to many SAP customers who have upgraded to SAP ECC 5.0, SAP ECC 6.0, SAP NetWeaver 7.0,  and SAP NetWeaver 7.1 looking for leverage and options to SAP Enterprise Support.
Support through 2020 and beyond. Rimini Street has committed to providing tax, regulatory, and other updates for existing releases without any required upgrades.  This includes application fixes for serious issues and tax and regulatory updates as needed and flexible contract offerings.
POV: Rimini Street has demonstrated success to date with acquire Oracle products to deliver such capabilities for existing customers.  Multinational customers will want to eavluate details about regulatory support especially in countries such as Brazil, Poland, and Russia.  Customers will want to undestand what Rimini Street defines as a serious issue.
Follow the sun coverage by a senior engineer. The announcement states 24x7 support coverage with 30-minute or less guaranteed response by a senior engineer.
POV: A 30 minute response rate by a senior engineer may put Rimini Street in the top echelon of support capabilities.  Most vendors and support organizations promise response times of 60 minutes or less with no guarantee of whom may show up on the other line.
Comprehensive support with no additional fee. Support for client customizations, interoperability and performance at no additional fee
POV: No tall order, this third party maintenance provider intends to handle the hairy task of supporting complex environments of spaghetti code and a patchwork of SAP integrations.  One would expect Rimini Street to also offer services to streamline environments in order to reduce their cost of support and increase application efficiency.
Conversations with Seth Ravin (CEO) and David Rowe (Senior Vice President of Global Marketing and Alliances) affirm Rimini Street's
intentions to invest in this SAP practice.  Demand for third party maintenance and interest in working for a 3PM company appear to be strong.  Many long time SAP employees and support experts have reached out to both Rimini Street and the Software Insider
to seek employment positions.
The bottom line - include third party maintenance (3PM) options as part of apps strategy

Customers must carefully consider when to use third party maintenance as part of their long term apps strategy.   When effectively used, saivngs on maintenance fees can be applied to reinvestment and fund new innovation as opposed to feeding the beast!  Here's a quick guide as to what scenarios to use third party maintenance:
Stable apps environment. Often enterprises in this maintain as is scenario find few change requests from the business.  Internal support teams already deliver most fixes and changes.  A 50% or more cost savings to maintenance makes most sense here.
Post upgrade savings. After completing an upgrade and achieving stability, customers can take the opportunity to enjoy new capabilities without having to pay full maintenance.  Customers take a risk here of not receiving any additional functionality and access to new enhancements.
Redeployment "upgrade". Clients who have made significant customizations and modifications requiring reimplementation for an upgrade will consider third party maintenance for both cost savings and negotiations leverage.  Moving to 3PM allows the client to fund the reimplementation or replacement while considering other vendor alternatives.
Third party maintenance may be appealing to most customers.  However, there are caveats to third party maintenance that include:
Zero access to future upgrades. Movement to 3Pm means being cut-off from the vendor's stream of innovation.  Customers seeking functionality in future SAP Enhancement Packages (EhP) should not consider third party maintenance at this time.  Upgrade to the latest requirements before considering 3PM.
Potential back maintenance issue. Expect vendors like SAP to pressure customers about potential back maintenance.  Vendors customarily require customers to true up their maintenance fees should they come back.  However, recent amnesty programs by some vendors and the market pressure make this tactic less and less likely.  Moving to 3PM actually provides leverage to the customer.  Will SAP really threaten back maintenance payments when you are choosing among other vendors now that you are not beholden to them?
Dependency on a third party. As with any other services contract, carefully consider the key SLA's around metrics, performance, and unforeseen conditions.
Your POV.
Will you be calling Rimini Street in the next 3 months?  Do you believe that third party maintenance from SAP is feasible?  Does market place choice give you more leverage with SAP? Do you wonder why your system integrators do not offer third party maintenance?  Post your thoughts or send me a private email to rwang0 at gmail dot com.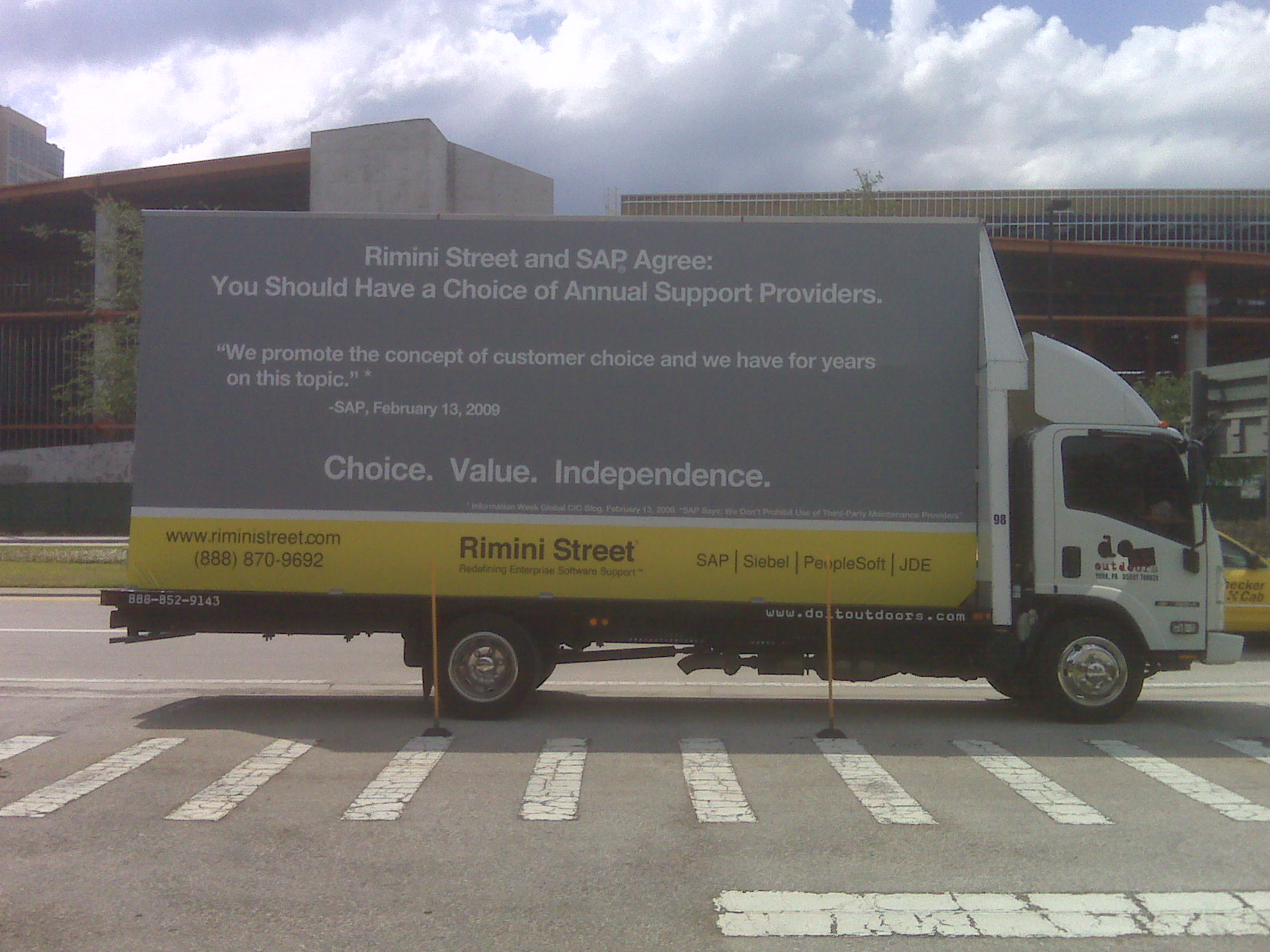 (Photo: Rimini Street movable billboard outside SAPPHIRE 09.   Courtesy of Rimini Street.  All rights reserved)
Copyright © 2008 & 2009 R Wang. All rights reserved.