Event Report: Lawson CUE 2009

Keynote highlights include themed presentations around value

Customers, partners, and prospects gathered together in the always spectacular San Diego Convention Center for Lawson CUE 2009.  Moments before the keynote, the team unveiled the latest Lars Larson video, "Lost and Found"!  In true Lars Lawson fashion, the final solution reflected simplicity.  The keynote then kicked off with a series of classic Harry Debes jokes to warm up the crowd.  Amidst a back drop of "Who wants to be a Billionaire?", Harry began an interview of his show guests which included Lawson customers and executives.   Armed with new words such as 'interlutions' and 'liquid applications', Guenther Tolkmit,  Senior Vice President of Product Development shared how Lawson has moved to agile development cycles of 4 to 6 weeks for new interlutions.  Ed Sturdivant, County Auditor of Ft. Bend County of Texas detailed how they achieved a revenue & cost-savings of a combined $4.9 million over 3.5 years with Lawson.  Meanwhile, Catholic Healthcare Initiatives described how their roll out of Lawson to 45,000 employees realized a $125M savings across 77 hospitals in just their first year.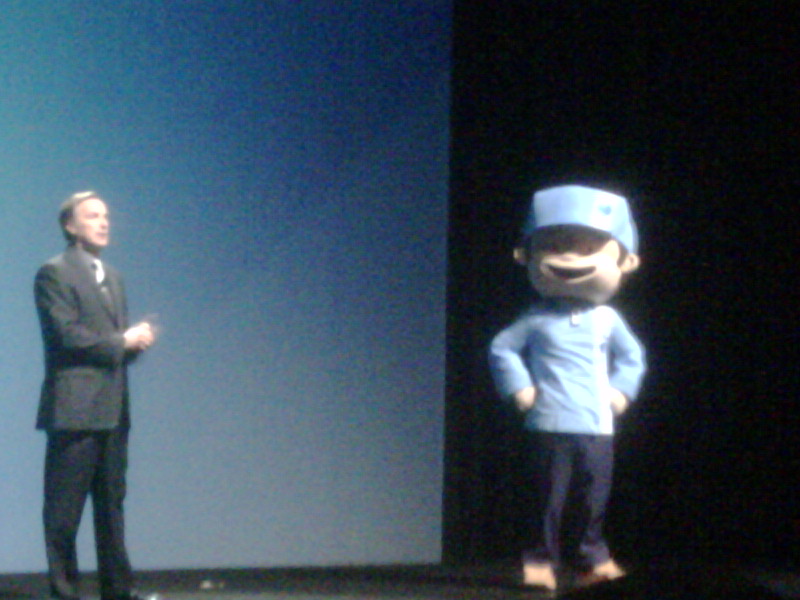 (Photo: Lawson CEO Harry Debes with Lars Lawson.  Copyright © 2009 R Wang. All rights reserved)
The Day 2 keynote kicked off with Dean Hager's Extreme Makeover - Lawson Edition.  The audience got a glimpse of his ice fishing house as he highlighted new announcements in the Microsoft based User Productivity Platform.  Smart Office 9.03, enterprise search, and M3 analytics led the charge for new developments announced at CUE09.  With the makeover complete, attendees saw the new Hager household.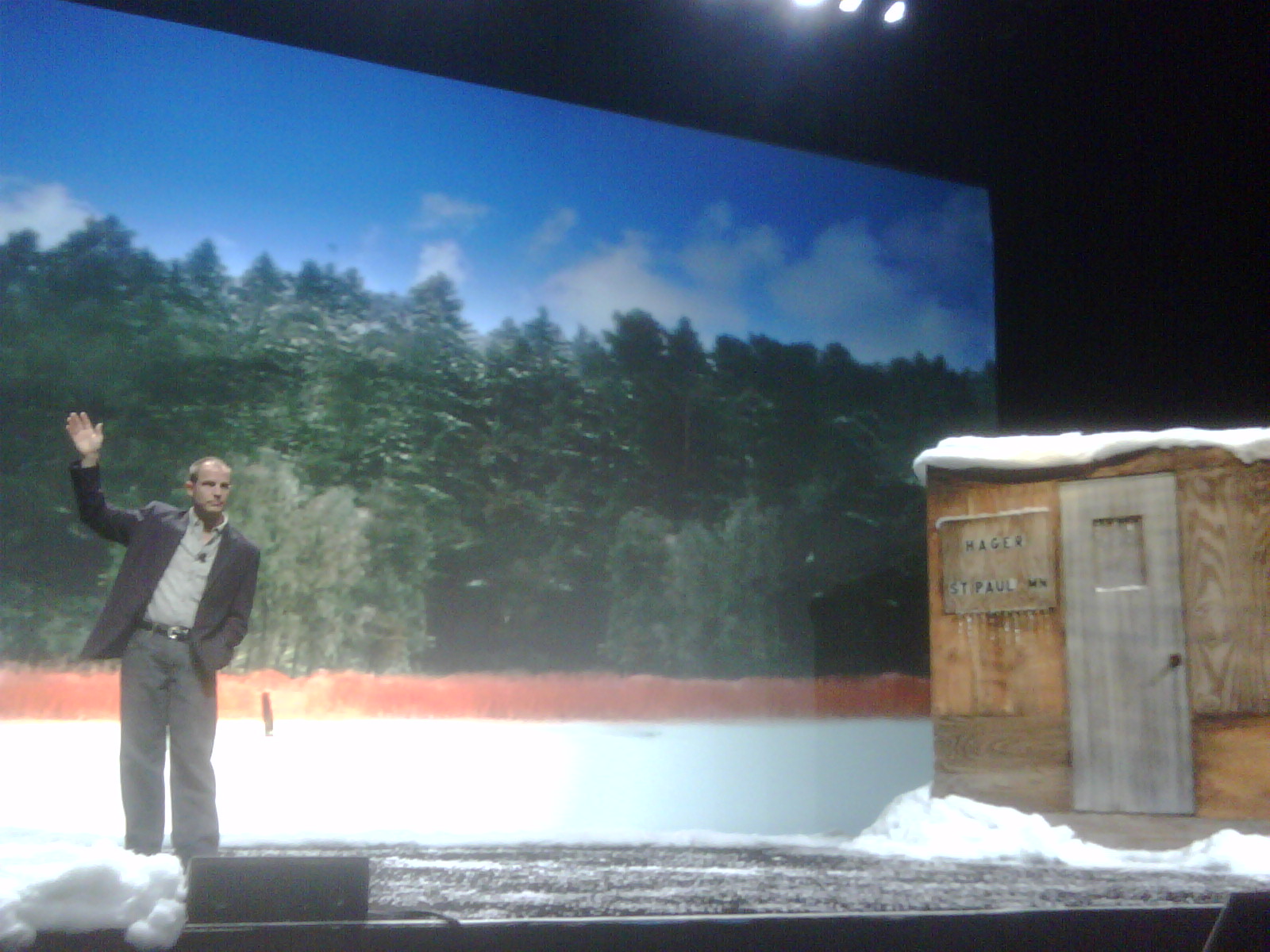 (Photo: Lawson Senior Vice President of Product Management,  Dean Hager and his "Fish House" Extreme Makeover-Lawson Edition.  Copyright © 2009 R Wang. All rights reserved)
Major announcements include new product offerings
In addition to the new M3 analytics and PLM capabilities for Fashion, key development and related analysis from this year's CUE include:
Vertical industry and target capability focus. Despite presence in 15 vertical industries, Lawson now actively targets seven industries including food processing, fashion, distribution, equipment services management and rental, health care, and public sector.  True to its heritage, Lawson also targets the human capital management (HCM) horizontal with an integrated talent management suite and workforce management solution.

POV:  Software vendors below $1B in revenue have the bandwidth to focus on just 5 to 10 verticals.  Lawson's strategy makes sense as industry relevance and capability provides a key barrier of entry from larger ERP players.  Lawson's strength in HCM provides it with the opportunity to go deep on vertical HCM requirements.
Lawson Smart Office 9.0.3. First delivered to M3 customers in 2008, this latest release delivers the same attributes of intuitive role focused design, personalization, integration BI, process automation, and Microsoft Office integration for S3 customers.  Smart Office builds on Microsoft tools and technologies such as Windows Presentation Foundation and Groove.  This latest release adds interactive charting and analysis tools to list views, a new ad-hoc query tool called InfoBrowser, and better enterprise mash up support.  Additional enhancements include personal history, type ahead, personal watches (DVR or Tivo like feature), off-line editing in Microsoft Excel, export to Microsoft Outlook Tasks, embedded learning, and custom widget creation.

POV: Lawson's continued focus on usability and user experience may help improve overall productivity for the customers.  Form must follow function and in this case, these screens show a movement towards the fundamentals of Enterprise 2.0 applications.
Lawson Enterprise Search. Based on the popular Apache open source search solution Lucene, the new search appliance serves S3 customers today and M3 customers next year.  Search features span across both structured and unstructured data from Lawson apps and Lawson BI to the user's desktop.
Lawson Enterprise Search appliance is a connected as a virtual machine using VMWare.  User security is enforced and individual user history can be stored and searchable.
POV: Customers seek tools and techniques to quickly find information.  Enterprise search plays a key role in accessing items such as transactions, purchase orders, assets, and customers.  Lawson's new offering may provide such a proactive solution.  However, the real test will be its ability to serve up non-Lawson data with ease and relevance.

New global maintenance and support offerings. Lawson revised its maintenance and support offerings and now offers a two-tiered precious metals based support and maintenance plan.  Bronze provides customers with providing product updates, access to MyLawson.com and access to support consultants during the customer's business hours. It also provides 24/7 critical issue support, access to upgrades, tax and regulatory updates, and corrections - as well as remote diagnosis, rapid technical response, customer-focused "hot topics" web sessions, and electronic reporting.  Silver adds on to Bronze offerings but includes a Lawson Global Support Account Manager, a scorecard activity review to track progress on support cases, and software update planning services.  Silver customers gain access to senior support resources within the Lawson Global Support and Product Development teams, priority case queuing, and an exclusive track event during the Lawson CUE event.

POV:choice, value, and predictability,  Lawson's move here demonstrates a willingness to apply customer feedback in making revisions. While Lawson did raise maintenance fees

last year

in December 2007 (corrected April, 28, 2009) to the chagrin of some customers, the new offering does provide better clarity and tiering of options.   Because customers continue to seek
Lawson Online Learning Suites.  New learning management tools for S3 and M3 are directly delivered to the desktop.  Four types of course include the OnDemand collection which provides self paced courses, the Simulation Collection which delivers step-by step realistic scenarios, the Interactive Webcast Collection which engage with demos and q&a sessions, and the Virtual lab collection which offers online, instructor led courses.

POV:  With travel freezes and crazy work schedules, customers seek training options that not only match their learning style, but also meet their schedule and availability.  Lawson's Online Learning Suites provide a cost effective and flexible approach to training.  Course content quality does vary according to some clients but overall the feedback is positive.
The bottom line - vertical orientation and move towards Enterprise 2.0 add needed innovation and relevance
The Intentia acquisition continues to bring Lawson economies of scale in R&D, back office functions, and sales and marketing.  More importantly, strong vertical beach heads for M3 in Fashion, Food & Beverage, Equipment Services Management & Rental, and Distribution balance out the s3 product line's dominance in health care, public sector, and human capital management.  The result - a focus on user productivity amidst a growing vertical focus.  Customers in the key target verticals should keep Lawson in short lists.
Your POV
How was your Lawson CUE experience?  Does Smart Office or enterprise search compel you to upgrade to the latest Lawson release?  What's your view on the merger of Intentia? Post your comments here or send me a private email to rwang0 at gmail dot com. Thanks and looking forward to your POV!
Copyright © 2009 R Wang. All rights reserved.