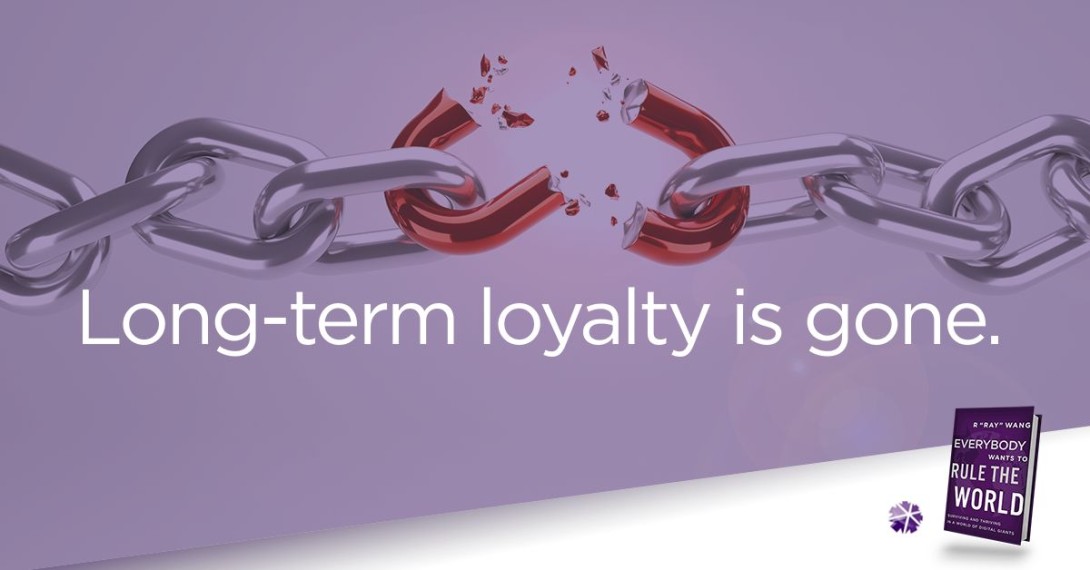 Monday's Musings: Long Term Loyalty Is Gone!
Long-term loyalty is gone.
Your customers will trade loyalty for convenience, value, or status.

Consider Domino's. Even though they managed an A+ digital transformation in the 2010s, the company now faces a new existential threat. The enemy is no longer Pizza Hut; it's the new wave of food delivery companies like Uber Eats and DoorDash moving into its sector.

While these food delivery "aggregators" don't own their own kitchens, they do own the customer experience. They can analyze tons of customer data on food preferences and price elasticity. They then partner with "ghost kitchens"— commercial facilities that prepare meals from different cuisines (such as Chinese, Thai, Indian, and pizza) from a single physical location and different online brands.

This agility and data mean the Dominos of the world are about to get their butts kicked! Every company must constantly re-evaluate its business and monetization model and value proposition if they hope to survive.

Otherwise, it's easy to win one war but lose the next.
 
Get the latest book Everybody Wants To Rule The World
Your POV
Where do you see the future of loyalty? What are you trading loyalty for? Add your comments to the blog or reach me via email: R (at) ConstellationR (dot) com or R (at) SoftwareInsider (dot) org. Please let us know if you need help with your AI and Digital Business transformation efforts. Here's how we can assist:
Developing your digital business strategy
Connecting with other pioneers
Sharing best practices
Vendor selection
Implementation partner selection
Providing contract negotiations and software licensing support
Demystifying software licensing
Reprints can be purchased through Constellation Research, Inc. To request official reprints in PDF format, please contact Sales.
Disclosures
Although we work closely with many mega software vendors, we want you to trust us. For the full disclosure policy,stay tuned for the full client list on the Constellation Research website. * Not responsible for any factual errors or omissions.  However, happy to correct any errors upon email receipt.
Constellation Research recommends that readers consult a stock professional for their investment guidance. Investors should understand the potential conflicts of interest analysts might face. Constellation does not underwrite or own the securities of the companies the analysts cover. Analysts themselves sometimes own stocks in the companies they cover—either directly or indirectly, such as through employee stock-purchase pools in which they and their colleagues participate. As a general matter, investors should not rely solely on an analyst's recommendation when deciding whether to buy, hold, or sell a stock. Instead, they should also do their own research—such as reading the prospectus for new companies or for public companies, the quarterly and annual reports filed with the SEC—to confirm whether a particular investment is appropriate for them in light of their individual financial circumstances.
Copyright © 2001 – 2021 R Wang and Insider Associates, LLC All rights reserved.
Contact the Sales team to purchase this report on a a la carte basis or join the Constellation Executive Network