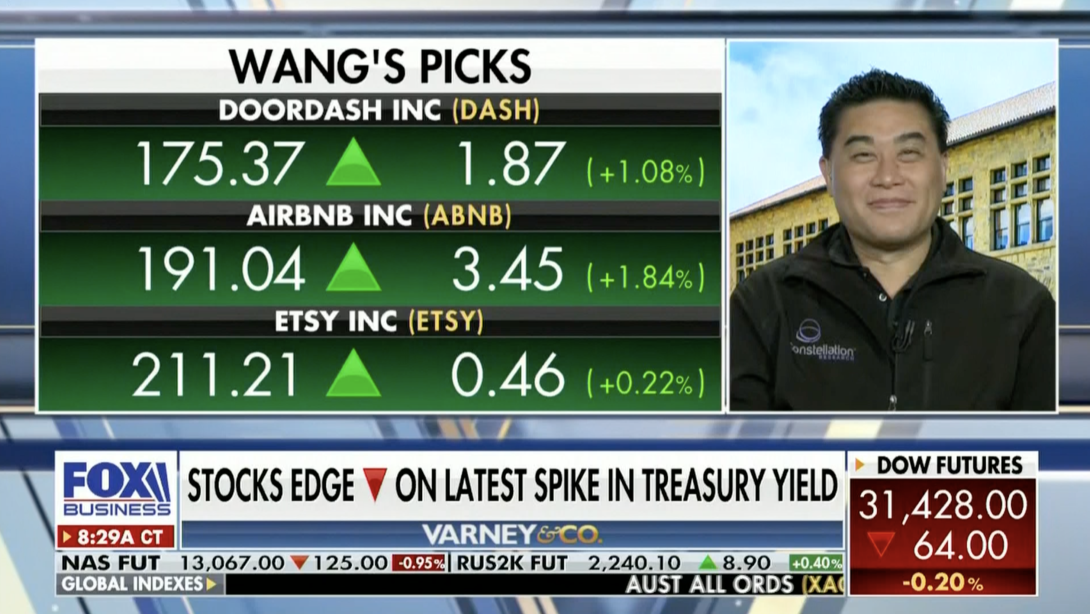 Digital Giants Market Analysis: Digital Giants Emerge As Post Pandemic Winners
Not All Big Tech Bets Are The Same
Market response to rising bond yields and a potential sector rotation out of big tech was reversed when Federal Reserve Chair, Jerome Powell reassured markets that the Fed would continue to take an accommodative position on interest rates.  In spite of the slight rise in bond yields, many investors flocked to buy the dip on the GAMA (i.e Google, Amazon, Microsoft, and Apple) trillion dollar market cap trade and bolster their big tech positions with more Facebook, Microsoft, Netflix, and Tesla.  While these capital flows were being activated, an emerging grouping of digital giants gained traction in the market.  While not all big tech bets are the established Digital Giants, these big tech stocks have more than adequately served as large cap safe havens.  With a rising VIX and new themes emerging, expect more volatility over the next few weeks.
Meanwhile, emerging digital giants have shown the most growth in the winner takes all, post-pandemic markets.  Many of these post-pandemic winners enable successful digital commerce, market places, subscription business models.  In fact, these organizations exemplify the five traits of emerging digital giants and their 100 year platforms:
Build a > 50 million active member community or device network
Own the customer relationship, though they may not own the physical assets
Design data driven digital networks to compete for data supremacy and decision velocity
Deploy digital monetization models
Enter the market with a long-term mind set
Five Emerging Big Tech Stocks Follow The Theme Of Digital Giants
DOORDASH - BUY $230
Investment relationship - NO
Individual owned - Yes
Family owned- NO
Company owned - NO

Door dash reports on February 25th, with its first ever public quarter earnings.  Competitors in the food delivery space and last mile logistics space have show explosive growth.  Grubhub's revenues were up 48% YoY, and Uber Eats revenue grew 128% YOY.  Doordash was first to market in suburbs.  With the death of density as a business model and an urban exodus, Doordash is well positioned to see strong growth for Q4 2020. The food delivery giant will be both a pandemic and post pandemic winner.
AIRBNB - BUY $220
Investment relationship - NO
Individual owned - NO
Family owned- NO
Company owned - NO
As with DoorDash, AirBnB reports its first ever public quarter earnings and will report to the street Thursday February 25th.  Precision and aggresive cost cutting placed the company in the black for Q3.  The hospitality digital giant has proved to be a pandemic winner.  As lockdowns are lifted and vaccine doses are delivered, global travelers will be booking travel to make up for 18 months of confinement.  AirBnB is set up to emerge as a stronger and leaner post pandemic winner.
ETSY - BUY $240
Investment relationship - NO
Individual owned - NO
Family owned- YES
Company owned - NO
Q4 earnings coming out Thursday, February 24th.  Etsy has evolved from craft direct selling to facilitating creator and buyer marketplaces.  Etsy has helped folks move from the side hustle to full pandemic entrepreneur.  Online market places are hot and Etsy's International's sxpansion will continue its growth trajectory.  Some fear openings will reduce commerce, however, in Etsy's case the lock downs have cemented buyer behaviors and enabled a community of creators
DOCUSIGN - BUY $280
Investment relationship - NO
Individual owned - NO
Family owned- NO
Company owned - NO
Docusign is a key enabler of digital signatures and transactions.  Docusign has emerged as an essential component of pandemic digital transformation. As digital signatures morph into the world of commerce, identity, and HR will play a large rols.  The track records has show explosive EPS growth of 274% over the past 3 years.  Avg yearly revenue growth reached 39%.
SHOPIFY - BUY $1400
Investment relationship - NO
Individual owned - NO
Family owned- YES
Company owned - NO
Shopify provides on-line market places and commerce software.  With a super hot direct to consumer sales market, customers and merchants trust Shopify to deliver the both the front facing and commerce experience. While the stock dropped 6% on Monday, the company raised $1.5B in stock sales to fund expansion.  Meanwhile, Amazon is going after this market.  This stock is another post pandemic winner as more revenue will flow throughj.
Your POV
Ready for a crazy 2021 for Big Tech as the reflation trade takes off? What are your hot picks for 2021?
Add your comments to the blog or reach me via email: R (at) ConstellationR (dot) com or R (at) SoftwareInsider (dot) org. Please let us know if you need help with your AI and Digital Business transformation efforts. Here's how we can assist:
Developing your digital business strategy
Connecting with other pioneers
Sharing best practices
Vendor selection
Implementation partner selection
Providing contract negotiations and software licensing support
Demystifying software licensing
Reprints can be purchased through Constellation Research, Inc. To request official reprints in PDF format, please contact Sales.
Disclosures
Although we work closely with many mega software vendors, we want you to trust us. For the full disclosure policy,stay tuned for the full client list on the Constellation Research website. * Not responsible for any factual errors or omissions.  However, happy to correct any errors upon email receipt.
Constellation Research recommends that readers consult a stock professional for their investment guidance. Investors should understand the potential conflicts of interest analysts might face. Constellation does not underwrite or own the securities of the companies the analysts cover. Analysts themselves sometimes own stocks in the companies they cover—either directly or indirectly, such as through employee stock-purchase pools in which they and their colleagues participate. As a general matter, investors should not rely solely on an analyst's recommendation when deciding whether to buy, hold, or sell a stock. Instead, they should also do their own research—such as reading the prospectus for new companies or for public companies, the quarterly and annual reports filed with the SEC—to confirm whether a particular investment is appropriate for them in light of their individual financial circumstances.
Copyright © 2001 – 2021 R Wang and Insider Associates, LLC All rights reserved.
Contact the Sales team to purchase this report on a a la carte basis or join the Constellation Executive Network