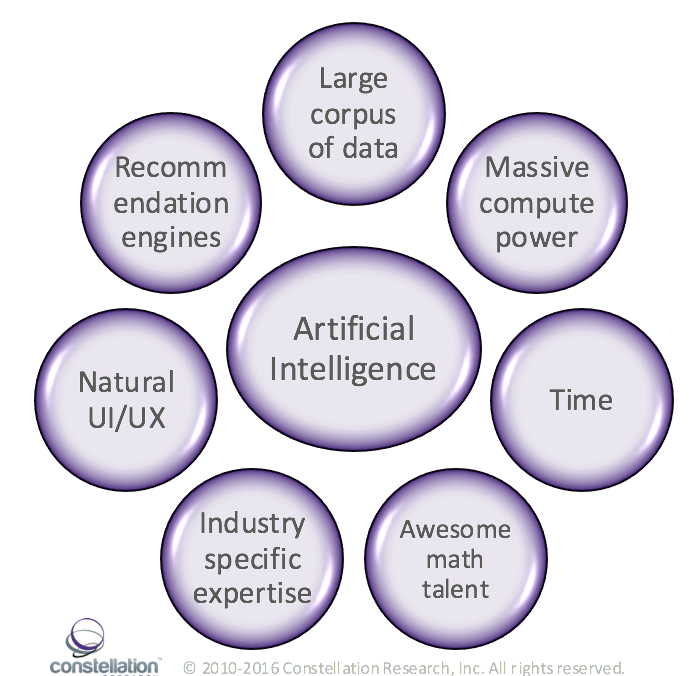 Tuesday's Tip: Seven Factors For Precision Decisions In Artificial Intelligence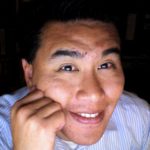 The Rush To Artificial Intelligence Will Enable Augmented Humanity
While market leaders and fast followers have not yet achieved mass personalization, the next rush is focused on investments in artificial intelligence (see Figure 1).  Searching for a competitive advantage and fearful of disruption, board rooms and CXO's have rushed to artificial intelligence as the next big thing.  The investment in pilots for AI's subsets of machine learning, deep learning, natural language processing, and cognitive computing have moved from science projects to new digital business models powered by smart services.
Figure 1. Digital Systems Ultimately Will Achieve Artificial Intelligence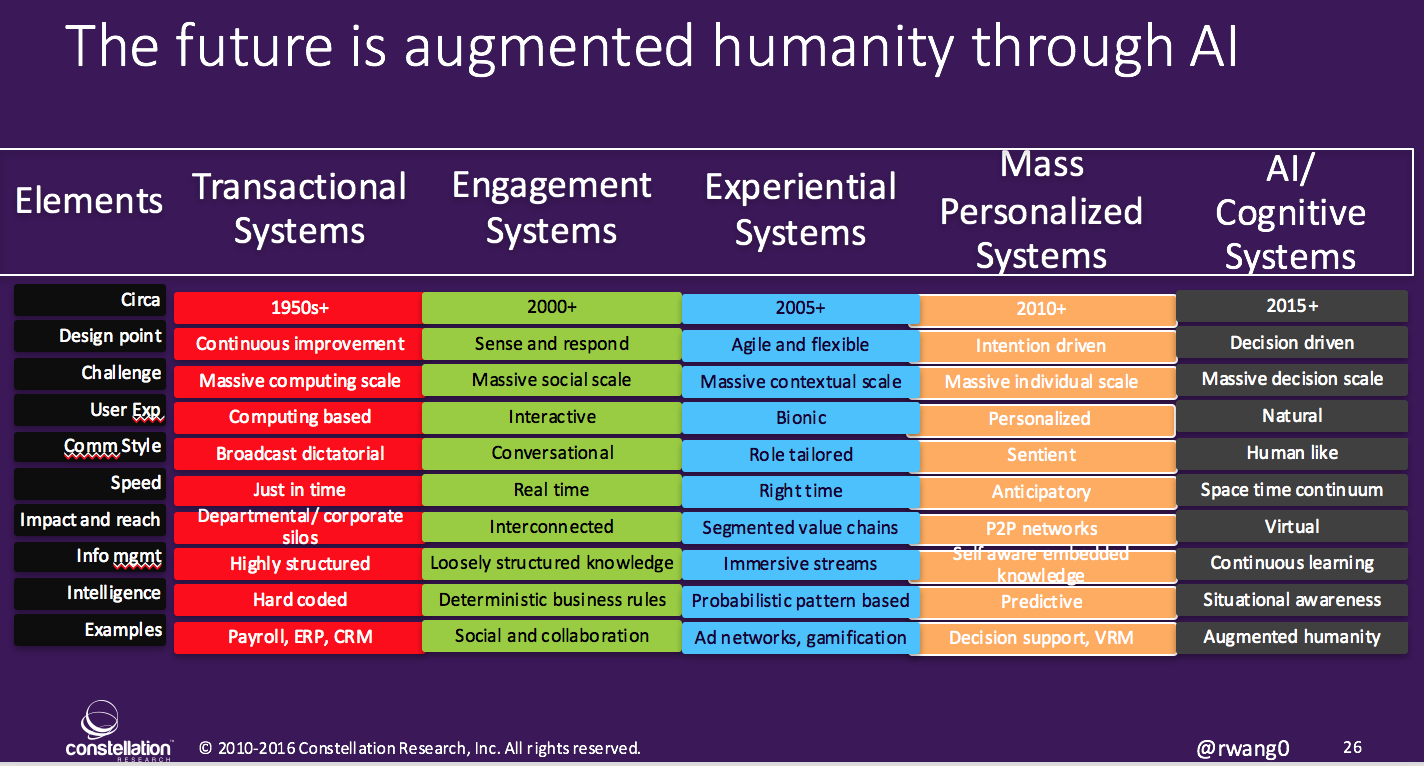 Early Adopters Realize That Good AI Requires Seven Success Factors
With the goal of precision decisions, successful AI projects require more than just great algorithms or access to data scientists.  What market leaders and fast followers have discovered are seven traits that require nurturing (see Figure 2):
Large corpus of data.  The battle for large data sets has nothing to do with having more data.  The goal is to build the largest graph that maps the connections to data.  More data should improve the precision of insights and allow for more patterns to emerge.
Massive compute power.  Winners will have access or own cheap compute power.  The ultimate metric for AI rests in pricing not by just compute power, but potentially cost per kilowatt hour.  So the cheapest rate of compute power may determine the cost structure for AI smart services.
Time.  There is no substitute for time.  Early adopters gain an advantage of time.  Algorithms need time to improve.  Data set gathering requires time for better precision.  More interactions in the network depend on time.
Awesome math talent.  The discovery of patterns, creation of new algorithms, and the ability to apply human intuition to compute requires great math talent.  People enable artificial intelligence.  Algorithms are only as good as the math talent.  Success will require the hiring of digital artisans - those who can balance right brain and left brain expertise.
Industry specific expertise.  Industry vertical experience will emerge as the key differentiator in AI smart services.   The more advanced and specialized the AI system, the more relevance to the end users.
Natural user interfaces and user experiences.  Expect AI systems to mimic human interaction going forward.  From sensory capabilities, to visualization, to voice, to gesture, the interfaces will improve in human and natural like capabilities.
Recommendation engines.  The output of AI comes to precision decisions.  AI systems augment humanity.  The recommendation engines that emerge will enable choices, accelerate decision making, and ultimately provide filters that deliver situational awareness.
Figure 2.  Seven Factors In Good Artificial Intelligence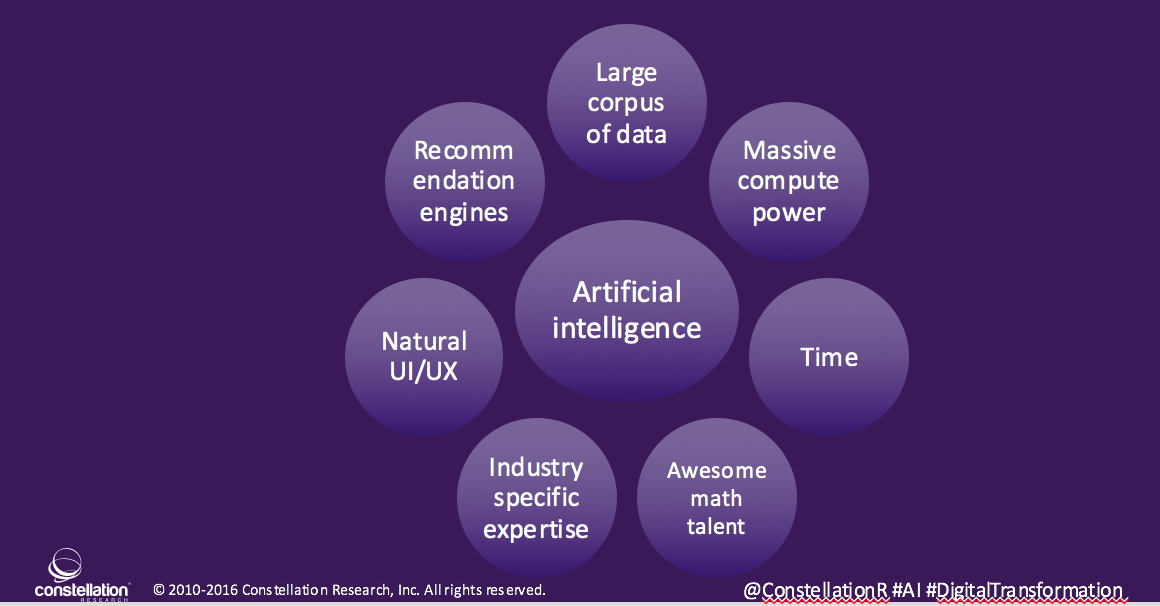 The Bottom Line: Expect AI Networks To Emerge
The seven success factors for AI foreshadow a world where limited players can deliver AI smart services.  Why? Access to huge corpus of data and massive compute power fall in the hands of the few.  Expect the internet giants, cloud computing behemoths, and the social networking leaders to have an edge in delivering AI:
Alibaba
Amazon
Apple
Baidu
Facebook
Google
Microsoft
Oracle
QQ
Sina
Tabao
Weibo
Yahoo
Yandex
Moreover, the value in AI will come from the smart services that emerge through digital transformation projects.  More than just automation, these AI driven smart services will power the future business models.  Thus, winners will secure the seven critical success factors and create the network economies that will dominate their industries.
Your POV.
Are you ready to unlock the powers of Artificial Intelligence?  What's your entry point? Machine learning, natural language processing, topological data analyses? Would you like to hear what other organizations have embarked on?  Would you like us to present to your boardroom?  Learn how non-digital organizations can apply an AI road map to disrupt digital businesses in the best-selling Harvard Business Review Press book Disrupting Digital. 
Add your comments to the blog or reach me via email: R (at) ConstellationR (dot) com or R (at) SoftwareInsider (dot) org.
Please let us know if you need help with your Digital Business transformation efforts. Here's how we can assist:
Developing your digital business strategy
Connecting with other pioneers
Sharing best practices
Vendor selection
Implementation partner selection
Providing contract negotiations and software licensing support
Demystifying software licensing
Resources
Reprints
Reprints can be purchased through Constellation Research, Inc. To request official reprints in PDF format, please contact Sales .
Disclosure
Although we work closely with many mega software vendors, we want you to trust us. For the full disclosure policy,stay tuned for the full client list on the Constellation Research website.
* Not responsible for any factual errors or omissions.  However, happy to correct any errors upon email receipt.
Copyright © 2001 -2016 R Wang and Insider Associates, LLC All rights reserved.
Contact the Sales team to purchase this report on a a la carte basis or join the Constellation Customer Experience