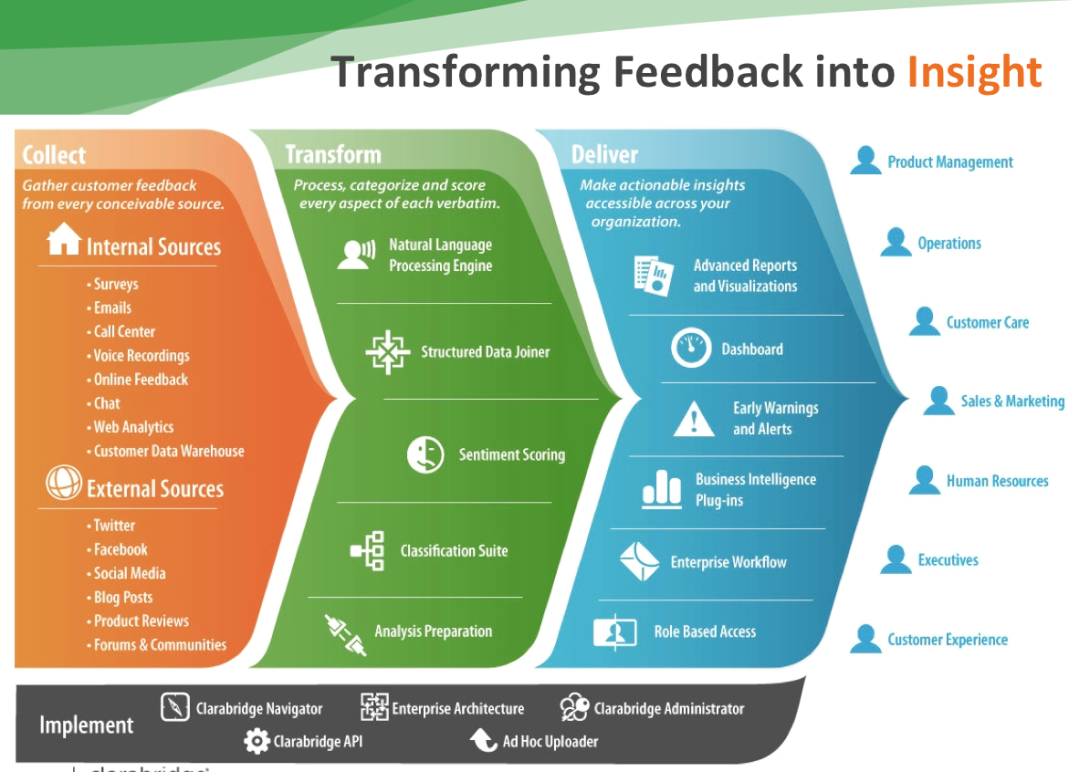 Event Report: Clarabridge Customer Connections 2012 #cbc312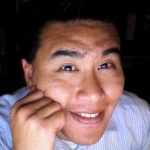 Clarabridge "Turns Up The Heat" On Delivering Context For Customer Experience
CEO, Sid Banderjee, opened up Clarabridge's 4th annual user conference to 350 customers at the Doral Golf & Spa in Miami, FL on March 5th, 2012.  Clarabridge, a sentiment and text analytics software provider helps companies discern insight from their text based customer feedback and the growing plethora of social and mobile data points.  The goal - aggregation of insights from qualitative analytics that transform key organizational processes in customer experience, new product development, and employee satisfaction.
Clarabridge has shown success with a Global 1000 customer list that spans key verticals in technology/telco, retail/CPG, manufacturing, travel/hospitality, financial services/insurance.  Major clients include Bank of America, Best Buy, Cisco, Dell, Disney, Fidelity, General Mills, Hilton, IHG Hotels, Kaiser Permanente, Marriott, Siemens Sony, T-Mobile, United Airlines, Verizon, Visa, Walgreen's, Walmart, and Zynga.
Some highlights from the event include:
Keynote from customer experience transformist Bruce Temkin. Bruce's keynote discussed how organizations apply Voice of the Customer (VoC) programs to augment customer experience.  Temkin highlighted his VoC Maturity assessment methodology that drills in on six key areas - detection, dissemination, diagnosis, discussion, designing, and deploying.  The key quote from Bruce was "Customer feedback is cheap, actionable insight may be valuable, but taking action on insight is precious. VoC programs are useless unless you act on what you find"
Best practices discussions from Global 1000 companies.Leading brands such as Acer, Best Buy, B/E Aerospace, Charming Shoppes, Choice Hotels International, Inc., Dell Inc, Expedia, Estée Lauder, Fidelity Investments, GE Appliances, United Airlines, Sage, Verizon, Vodaphone, Wendy's, Walmart, and Zynga shared best practices.   Experiences from Wynn Parrish, VP Product Support of B/E Aerospace showd how customer management and warranty liability could be minimized.  Michael Silverman at Silverman research highlighted how Unilver uses VOC for internal employee programs.  One of the highlights was Jared Anderson (Best Buy) and Jonathan Sunberg's (Confirmit) panel on voice of the customer at the leading edge/
Official details on the Clarabridge 5.0 launch. The launch of Clarabridge 5.0 provides the foundation for a customer insight data analytics hub (See Figure 1).  As part of the launch, Clarabridge Collaborate adds integrated notifications and alerts.  A new satisfaction scoring and sentiment transparency capability brings customer satisfaction scores into the equation to determine customer loyalty and retention programs.  Many attendees expressed interest in the new theme and event detection capabilities which provide custom categorization models to quickly surface new trends.  Last but not least, the natural language processing engine now supports Italian, Dutch, and Japanese.
Figure 1. Transforming Feedback Into Insight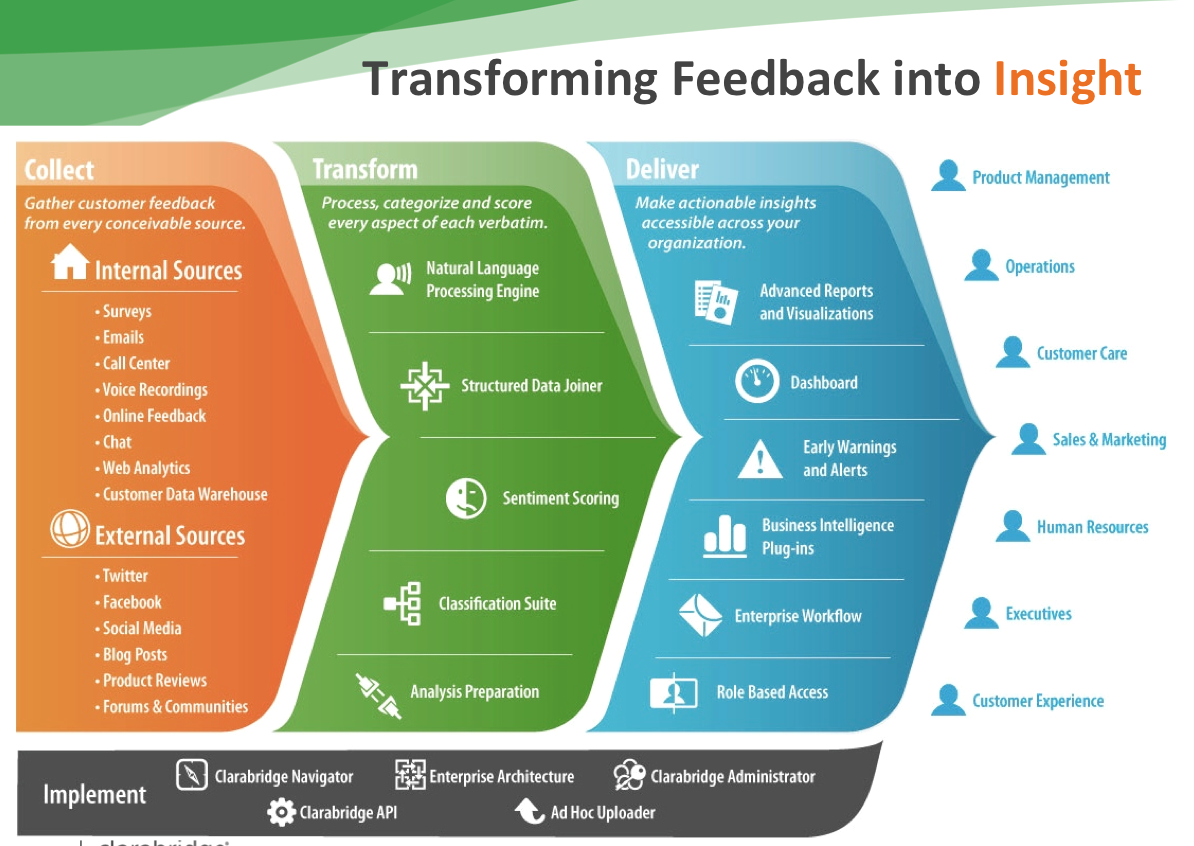 Figure 2. Scenes From Clarabridge C3
<iframe align=center src=http://www.flickr.com/slideShow/index.gne?user_id=35408001@N04&set_id=72157629304562292&detail=yes frameBorder="0" scrolling=no width="600" height="500"></iframe>
Source: R Wang and Insider Associates, LLC. All rights reserved.
The Bottom Line: Voice of Customer Programs Key to Improving Customer Engagement

VOC's provide a time honored tradition in capturing a customer's expectations, preferences and aversions.  As the first step to any social business program, listening is critical to success.  Without understanding the customer or competitive landscape, organizations lack the insight required to address the root causes behind customer satisfaction and experience.  Customer service professionals can expect these techniques to extend beyond text based systems.  Early adopters to social business know they must build competencies in social media monitoring, text analytics, and social analytics.  In fact, organizations will see a digital divide grow in customer experience between those who use VOC techniques beyond social and those who fail to fast follow early adopters.  Why? Because customer experience is the only defensible position in today's market.
Your POV
What strategies and tactics are you using to drive engagement?  How do you measure success.  Add your comments to the blog or send us a comment at R (at) SoftwareInsider (dot) org or R (at) ConstellationRG (dot) com
Please let us know if you need help with your Social CRM/ Social Business efforts.  Here's how we can assist:
Assessing social business/social CRM readiness
Developing your social business/ social CRM  strategy
Vendor selection
Implementation partner selection
Connecting with other pioneers
Sharing best practices
Designing a next gen apps strategy
Providing contract negotiations and software licensing support
Demystifying software licensing
Related Research:
Reprints
Reprints can be purchased through Constellation Research, Inc. To request official reprints in PDF format, please contact Sales .
Disclosure
Although we work closely with many mega software vendors, we want you to trust us. For the full disclosure policy, stay tuned for the full client list on the Constellation Research website.
* Not responsible for any factual errors or omissions.  However, happy to correct any errors upon email receipt.
Copyright © 2001 – 2012 R Wang and Insider Associates, LLC All rights reserved.
Contact the Sales team to purchase this report on a a la carte basis or join the Constellation Customer Experience!