Best Practices: Five Simple Rules For Social Business


Early Adopters And Pioneers Have Benefited From Social
Across executive board rooms and even in living rooms, social business is all the rage.  In 2010, social crm (SCRM) and Enterprise 2.0 (E20) rose into mainstream conversation.  Despite the mindshare and awareness, a majority of business leaders have yet to begin these initiatives.  The good news - those organizational leaders who have adopted disruptive technologies in social, have already realized the benefits.  Those benefits include:
Faster product time to market and customer adoption
Reduced marketing spend and increased marketing engagement
Reduced incident to resolution times that lead to greater customer retention
Greater market influence and brand awareness
Improved collaboration across departments and improved knowledge bases
Growth in the top line and savings in the bottom line
SCRM and E2.0 Evolve Into An Uber Category Of Social Business In 2011
Fast followers have noticed the business benefits and have begun planning for social business initiatives in 2011.  Innovative management teams can expect social businesses to bring together the many concepts of social media, social analytics, social media monitoring, social marketing, SCRM, E20, community platforms, and Vendor Relationship Management (VRM).  Leaders seeking to understand social business can succeed by following these five simple rules for social business (see Figure 1.):
Figure 1. Five Simple Rules For Social Business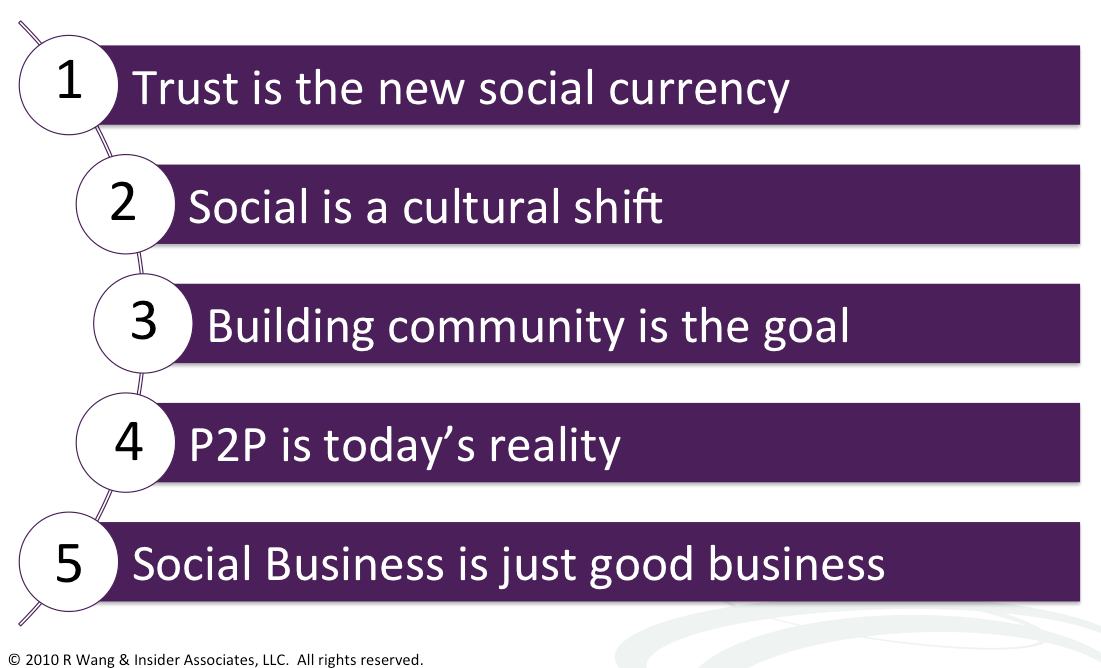 Trust is the new social currency.

Trust drives influence, engagement, and relationships.  People and organizations must earn trust through their actions across their relationships.  Trust can be expended to gain influence, create engagement, and foster relationships.  Trust can be taken away through lack of credibility, bad behaviour, and dishonesty.
Social is a cultural shift. Social is not a fad.  The growing preference for engagement through social channels drives new relationship models.  Social has moved beyond the tipping point.  How social evolves and permeates our lives is the question.  Expect a smaller but strident anti-social movement to counter this current trend.  Social is here to stay and is one of the five forces of consumer tech entering the enterprise.
Building community is the goal. People and organizations seek a sense of belonging.  Communities form around personal ecosystems that transcend geographies, time, and individual status.  Communities provide the force multipliers to amplify messages through advocates and detractors.  Communities require curation and nurturing for success.  Once you have a community, organizations and individuals must earn trust to create social currency.
P2P is today's reality. B2B and B2C are dead.  Social business is conducted through Peer-to-peer (P2P) relationships.  Attempts to stove pipe individuals into forced-fit, artificial market segmentations, fail because each individual brings multiple roles to the community.  Each role brings a new perspective and a set of expectations in customer experience.
Social business is just good business. While the moniker social will eventually go away, business has always been social.  Breakthroughs in technology and cultural adoption drive the social business phenomenon.  However, business can not be conducted without relationships.  Social business will be omniscient.
The Bottom Line -Embrace Social In 2011 Or Be Left Behind
The train has left.  Organizations must put together a social business strategy that meets their business objectives, matches their organizational culture, and provides the right level of technological support.  Expect reference architectures for social business to emerge that incorporate design thinking, innovative user experience models, business API's, and deeper vertical focus.  Not all organizations can and will adopt social business.  However, those that succeed will leapfrog their competition with a disruptive technology and business model for 2011 and beyond.
Your POV.
Having trouble convincing management its time for Social Business?  Looking to build out a Social Business strategy?  You can post or send on to rwang0 at gmail dot com or r at softwaresinsider dot org and we'll keep your anonymity or better yet, join the community!
Please let us know if you need help with your Social Business efforts.  Here's how we can help:
Assessing social business/social CRM readiness
Developing your social business/ social CRM  strategy
Vendor selection
Implementation partner selection
Connecting with other pioneers
Sharing best practices
Designing a next gen apps strategy
Providing contract negotiations and software licensing support
Demystifying software licensing
Resources And Related Research:
Reprints
Reprints can be purchased through the Software Insider brand or Constellation Research, Inc.  To request official reprints in PDF format, please contact [email protected].
Disclosure
Although we work closely with many mega software vendors, we want you to trust us.  For the full disclosure policy, stay tuned for the full client list on the Constellation Research website.
Copyright © 2010 R Wang and Insider Associates, LLC. All rights reserved.