Tuesday's Tip: The SAP Optimization List - Key Ecosystem Vendors You Should Know


High Cost Of Ownership And Changing Requirements Drive SAP Users To Seek Optimization Solutions
As users await SAP to regain its mojo (see Dennis Howlett's post) and implement it's "Voice of the Customer" strategy in 2010, users must continue to reduce their cost of ownership and complexity (see Figure 1).  In addition, rapidly changing business requirements require some users to seek SaaS alternatives, additional point solutions, and extensions.
Figure 1.  Cost Reduction Top of Mind for SAP users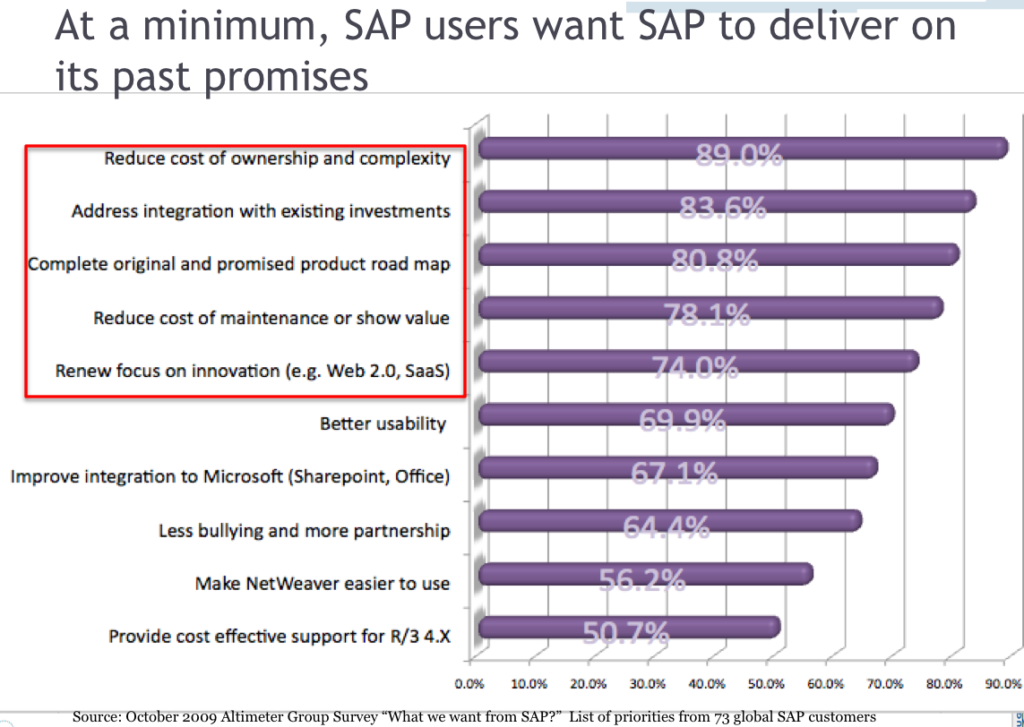 Consequently, vendors providing SAP optimization and extension solutions represent one of the fastest growing parts of the $78.7B (2009 Altimeter Group estimate), 850,000 person strong SAP service partner and developer ecosystem.   SAP users already embrace many of the solutions from vendors on this inaugural SAP Optimization List as part of their business value oriented apps strategy. The living list covers seven areas including:
application extension and usability;
application life cycle management;
archiving, storage, and data management;
license management and optimization;
Microsoft Office integration;
third party maintenance; and

virtualization
1. Application Extension and Usability
Users often complain about the poor usability of SAP solutions.  These solutions allow users to change their user experience with SAP.  In some cases, the solutions provide composite app creation capabilities in other tool sets to inter-operate with SAP.
2. Application Life Cycle Management
Whether it may be instance consolidation, upgrades, test data management, or performance planning, these vendors ease the process of managing the SAP application life cycle.
3. Archiving, Storage, and Data Management

4. License Management and Optimization

Solutions in this category focus on helping clients manage their license usage.  Many large enterprises lack the understanding of how much shelfware may be in production.  In addition, the used software market provides users with opportunities to unload or acquire older releases of software.
5. Microsoft Office Integration
Organizations require easy ways to leverage Microsoft Office as an interface into SAP.  Common scenarios include Outlook, Excel, Access, and Word integration.
6. Third party maintenance
Customers seeking relief from maintenance choose solutions that provide maintenance, tax updates, and regulatory changes for often half the cost of existing SAP maintenance prices.  The clear leader in the market is Rimini Street though some other system integrators have been quietly providing such services.
7. Virtualization
Virtualization allows organizations to consolidate server infrastructure costs for development, testing, training, and production environments.
The Bottom Line - Lots Of Proven Solutions, Expect More Details In Future Friday's Features
Over the course of the next 6 months, we will be profiling many of these vendors.  Key questions that will be answered:
What's the appropriate use case?
What other customers have used these solutions?
What are sample ROI's achieved?
Meanwhile, let's see what news, programs, and innovations develop at SAP's Field Kickoff Meeting (FKOM 2010) the third week of January.
Your POV.
Have you worked with any of these vendors?  Feel free to share your experiences.  Am I missing anyone?  This list will be continuously updated so please share with us your thoughts.  Feel free to post your comments here or send me an email at rwang0 at gmail dot com or r at softwareinsider dot org.
Copyright © 201o R Wang and Insider Associates, LLC. All rights reserved.