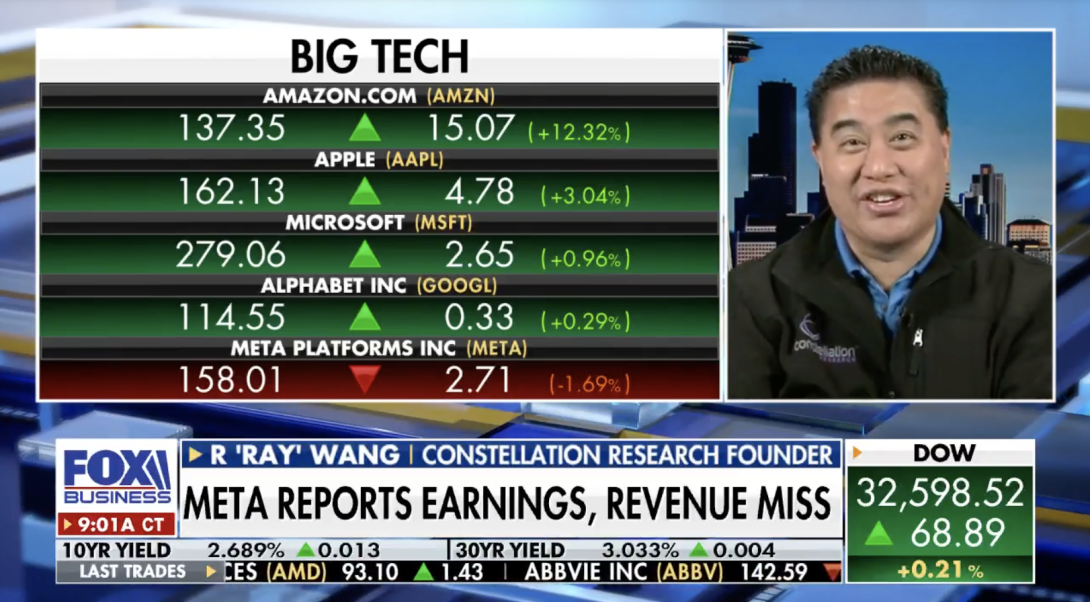 News Analysis: Big Tech Earnings in Q2 2022 Show Tech Rebound Among The MATANA Stocks
Not All Big Tech Companies Are Equally Created
The MATANA stocks continue to do well despite a confluence of crises. MIcrosoft, Apple, Tesla, Alphabet, Nvidia, and Amazon, collectively showed that big tech, digital giants who:
Build the biggest networks
Disintermediate customer account control
Compete for data supremacy
Maximize digital monetization
Execute with a long term mindset
will continue to deliver on both growth and margins.  These companies build data-driven digital networks (DDDNs) that serve as 100-year mulit-sided platforms.
Source: Fox Business
Digital Giants Companies Continue To Show Outsized Growth
As the NASDAQ finds a floor in 11,000, and tech company forecasts for Q3 2022 reassure investors that growth is still in play, the digital giants have shown what's required to grow both market share and margins.  Five trends emerged from this quarters tech earnings:
Not all digital advertising are created equal. Search based digital advertising is more bullet proof than social.  Tech companies such as Facebook, Meta, Snap, and Twitter carry more risk while Amazon grew digital advertising revenue via commerce to 8.76B. Search based and commerce based digital advertising appear to be more recession proof
Enterprise cloud growth continues to surprise many.  The tech industry is in the 3rd inning of a 9 inning market battle for cloud dominance.  The public cloud providers have shown that even amidst intense competition, growth remains in high double digits. For example, Microsoft Azure grew 46%.  Google Cloud grew revenue 47% and market leader Amazon grew 33% year over year for the quarter.
Successful digital giants build multi-sided platform businesses with data driven digital networks (DDDNs).   Apple showed they were  still able to grow iPhone sales and services sales.  Apple added 160 million paid subscribers in the last quarter bringing its total to 860M paid subscribers for services.  Services revenue grew 12% to $19.6 billion
One-trick ponies do not fare well in a recession.  Apple, Amazon, Google , and Microsoft guidance show the dichotomy of multiple digital monetization models.  Digital giants have diversified busines models and multiple monetization models.  Successful digital giants monetize more than one area in ads, search, goods, services, subscriptions, and memberships.  One trick pony monetization models of Meta (Facebok), and Netflix show lethargy in growth.
Enterprise tech companies remain undervalued. While much attention is focused on the mega cap digital giants, especially consumer oriented stocks, the mega cap enterprise stocks remain very attractive.  Nvidia, Oracle, Adobe, Salesforce.com, Adobe, IBM, ServiceNow, Snowflake and Atlassian have positioned themselves for a lot of upside.  Cybersecurity stocks such as Palo Alto Networks, Fortinet, and Crowdstrike remain recession proof as well.
The Bottom Line: MATANA Digital Giants Dominate Return To Tech Rotation
Move over FAANG, focus on the digital giants.  During the world's biggest margin call (as my friend Keith Fitzgerald has proclaimed,) tech stocks are mostly trading at 10 to 15% of historical lows.  With a strong dollar, weak Europe, zero-COVID locked down China, and  high interest rates, the quest for alpha will prove to be even harder.  Those investors taking a longer term view of 12 to 18 months may want to buy at historic lows in the cycle.  Given that the world has psyched themselves into a recession, few sectors will have the 20 to 40% growth rates of big tech and now may be a strategic time to buy back into the market.
Your POV
Do you think we hit the bottom for big tech? Are you diving back in or are you dollar cost averaging? Where do you think we will be during the recession?
Add your comments to the blog or reach me via email: R (at) ConstellationR (dot) com or R (at) SoftwareInsider (dot) org. Please let us know if you need help with your strategy efforts. Here's how we can assist:
Developing your metaverse and digital business strategy
Connecting with other pioneers
Sharing best practices
Vendor selection
Implementation partner selection
Providing contract negotiations and software licensing support
Demystifying software licensing
Reprints can be purchased through Constellation Research, Inc. To request official reprints in PDF format, please contact Sales.
Disclosures
Although we work closely with many mega software vendors, we want you to trust us. For the full disclosure policy,stay tuned for the full client list on the Constellation Research website. * Not responsible for any factual errors or omissions.  However, happy to correct any errors upon email receipt.
Constellation Research recommends that readers consult a stock professional for their investment guidance. Investors should understand the potential conflicts of interest analysts might face. Constellation does not underwrite or own the securities of the companies the analysts cover. Analysts themselves sometimes own stocks in the companies they cover—either directly or indirectly, such as through employee stock-purchase pools in which they and their colleagues participate. As a general matter, investors should not rely solely on an analyst's recommendation when deciding whether to buy, hold, or sell a stock. Instead, they should also do their own research—such as reading the prospectus for new companies or for public companies, the quarterly and annual reports filed with the SEC—to confirm whether a particular investment is appropriate for them in light of their individual financial circumstances.
Copyright © 2001 – 2022 R Wang and Insider Associates, LLC All rights reserved.
Contact the Sales team to purchase this report on a a la carte basis or join the Constellation Executive Network