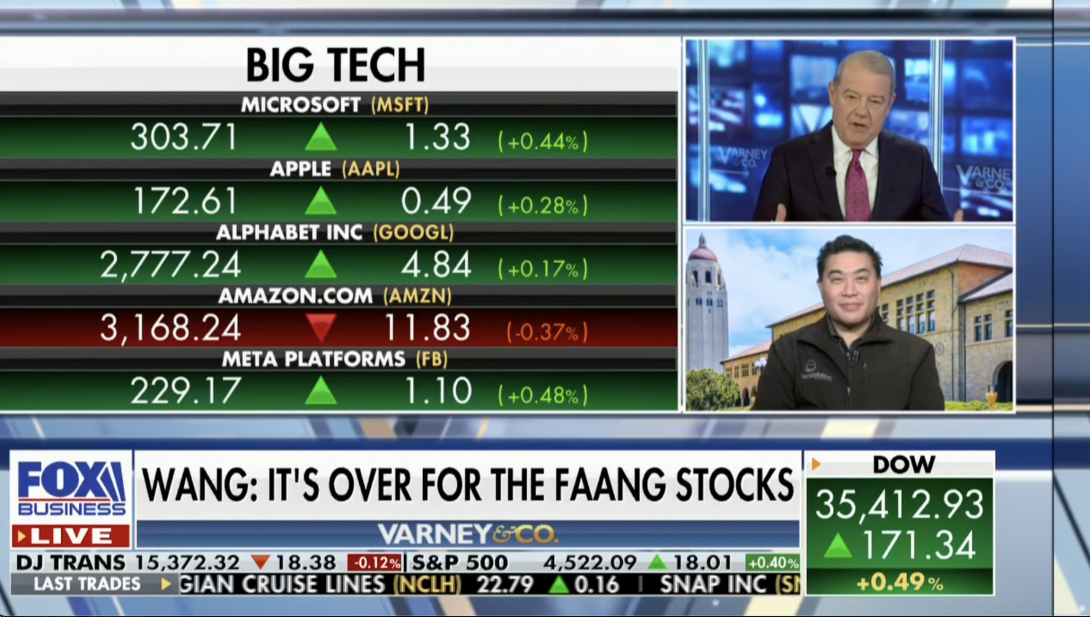 News Analysis: Goodbye FAANG, Hello MATANA
Goodbye FAANG, Hello MATANA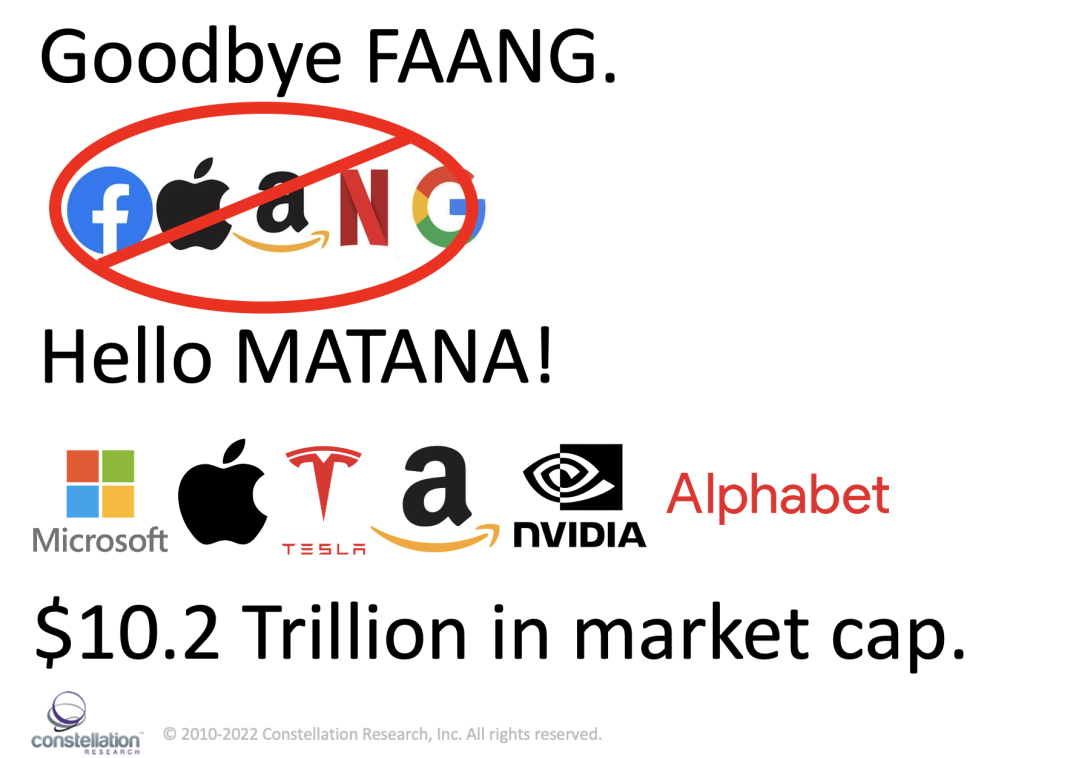 The FAANG stocks (i.e. Facebook, Apple, Amazon, Netflix, and Google) have had a great run as the large cap digital giant leaders.  However, with Facebook and Netflix facing massive declines in year over year subscriber growth, their valuations have taken a hit along with the macro conditions of rising interest rates and global instability.
Enter MATANA
MATANA means gift in Hebrew and the shift to quality stocks is important. Investors seek digital giants who show double digital year over year growth and increasing revenue per user (ARPU). This collection of stocks are the gifts that keep giving.  Microsoft, Apple, Tesla, Alphabet, Nvidia, and Amazon (MATANA) are the large cap shocks who have exhibited this consistency in year over year financial performance and market domination.
The Bottom Line: Flight To Quality Digital Giants Is Real
Not all tech stocks are created the same.  Rising interest rates, a tightening Fed, Russia/Ukraine, and global regulatory onslaughts on tech giants provide massive headwinds on tech. However, the digital giants will still outperform most sectors given the macro environment.  This shift to quality requires an understanding of which big tech categories will survive the current big tech winter.  The winners will exhibit five traits as mentioned in my latest book, Everybody Wants To Rule The World.
Build the biggest network
Disintermediate customer account control
Compete on data supremacy
Dominate digital monetization
Invest with a long term mindset
Your POV
What's your view of the digital giants? Have you gone through your cyclical rotation from growth to value? Do you regret it? Ready to wait out for the dip or are you selling the rip?
Add your comments to the blog or reach me via email: R (at) ConstellationR (dot) com or R (at) SoftwareInsider (dot) org. Please let us know if you need help with your strategy efforts. Here's how we can assist:
Developing your metaverse and digital business strategy
Connecting with other pioneers
Sharing best practices
Vendor selection
Implementation partner selection
Providing contract negotiations and software licensing support
Demystifying software licensing
Reprints can be purchased through Constellation Research, Inc. To request official reprints in PDF format, please contact Sales.
Disclosures
Although we work closely with many mega software vendors, we want you to trust us. For the full disclosure policy,stay tuned for the full client list on the Constellation Research website. * Not responsible for any factual errors or omissions.  However, happy to correct any errors upon email receipt.
Constellation Research recommends that readers consult a stock professional for their investment guidance. Investors should understand the potential conflicts of interest analysts might face. Constellation does not underwrite or own the securities of the companies the analysts cover. Analysts themselves sometimes own stocks in the companies they cover—either directly or indirectly, such as through employee stock-purchase pools in which they and their colleagues participate. As a general matter, investors should not rely solely on an analyst's recommendation when deciding whether to buy, hold, or sell a stock. Instead, they should also do their own research—such as reading the prospectus for new companies or for public companies, the quarterly and annual reports filed with the SEC—to confirm whether a particular investment is appropriate for them in light of their individual financial circumstances.
Copyright © 2001 – 2022 R Wang and Insider Associates, LLC All rights reserved.
Contact the Sales team to purchase this report on a a la carte basis or join the Constellation Executive Network