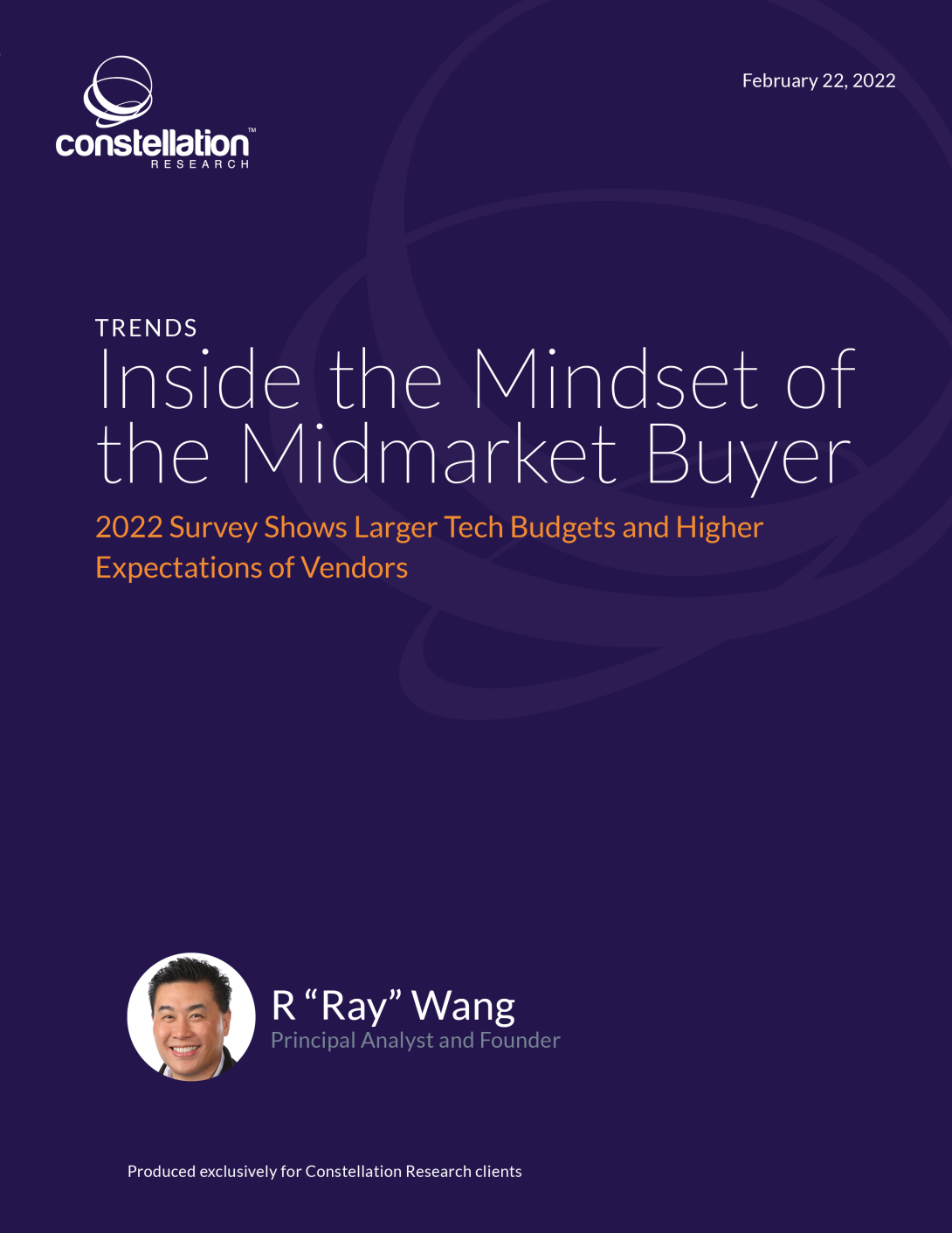 Research Report: Trends - Inside The MIndset Of The Midmarket Buyer
Data Shows Priority Shifts From Pre-Pandemic To Post-Pandemic
Midmarket executives have always been challenged by a culture of scarcity. Limited access to funds, talent, and innovation has often created a barrier to entry into and exit from new markets, industries, and ecosystems. During the COVID-19 pandemic, these leaders have made shifts in their buying behaviors and technology investments. Constellation's latest midmarket analysis chronicles these findings and identifies the shifts during the 2020-to-2022 budget cycles. This emerging postpandemic strategy signifies the first steps to the Great Refactoring ahead.
Tech Budgets Shifting From Peak Operational Efficenty To Revenue And Growth
Prior to the pandemic, midmarket leaders invested tech budgets primarily in operational efficiency and cost. During the pandemic, both operational efficiency and cost (41.6%) and regulatory compliance (31.5%) saw higher-than-normal investment. The shift to a focus on revenue and growth (24.0%) in 2022 comes as reductions in investment for operational efficiency and cost (31.5%) and regulatory compliance (25.8%) drop from 2021 peak highs (see Figure 1).
This budget shift to revenue and growth and strategic differentiation indicates an optimism for those enterprise that survived the economic onslaught of the pandemic. Winners and survivors have seen the impact of digital channels, digital business models, and digital monetization. Constellation believes this frameshift from old models to new models built on analytics, automation, and artificial intelligence (AI) will play out in continued investments in technology and platforms.
Figure 1. Operational Efficiency Drives Budget Decisions As Revenue And Growth Gain Steam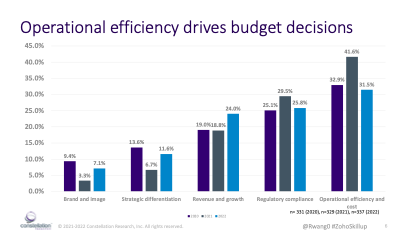 To access the report: go to the Constellation website
Your POV
Trying to understand the mindset of the mid market buyer? Wondering how peers are prioritizing tech budgets?
Add your comments to the blog or reach me via email: R (at) ConstellationR (dot) com or R (at) SoftwareInsider (dot) org. Please let us know if you need help with your strategy efforts. Here's how we can assist:
Developing your metaverse and digital business strategy
Connecting with other pioneers
Sharing best practices
Vendor selection
Implementation partner selection
Providing contract negotiations and software licensing support
Demystifying software licensing
Reprints can be purchased through Constellation Research, Inc. To request official reprints in PDF format, please contact Sales.
Disclosures
Although we work closely with many mega software vendors, we want you to trust us. For the full disclosure policy,stay tuned for the full client list on the Constellation Research website. * Not responsible for any factual errors or omissions.  However, happy to correct any errors upon email receipt.
Constellation Research recommends that readers consult a stock professional for their investment guidance. Investors should understand the potential conflicts of interest analysts might face. Constellation does not underwrite or own the securities of the companies the analysts cover. Analysts themselves sometimes own stocks in the companies they cover—either directly or indirectly, such as through employee stock-purchase pools in which they and their colleagues participate. As a general matter, investors should not rely solely on an analyst's recommendation when deciding whether to buy, hold, or sell a stock. Instead, they should also do their own research—such as reading the prospectus for new companies or for public companies, the quarterly and annual reports filed with the SEC—to confirm whether a particular investment is appropriate for them in light of their individual financial circumstances.
Copyright © 2001 – 2022 R Wang and Insider Associates, LLC All rights reserved.
Contact the Sales team to purchase this report on a a la carte basis or join the Constellation Executive Network