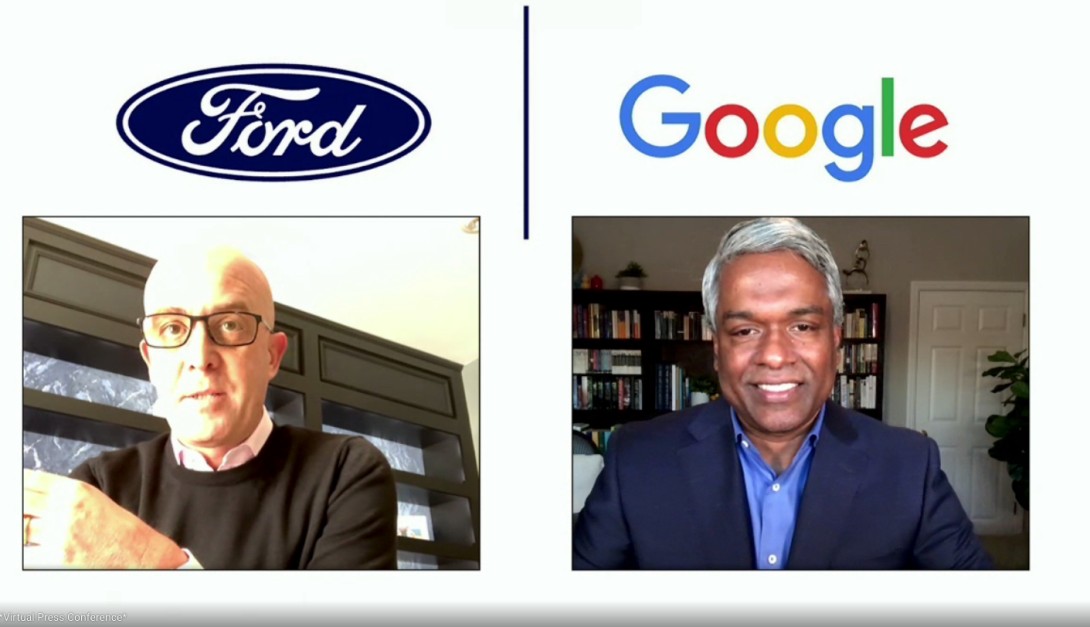 News Analysis: Ford Chooses Google Cloud as Preferred Cloud Provider And Transformation Partner
Google Amps Up Its Vertical Industry Program With Ford Partnership
The Ford Motor Company and Google announced a six-year extensive business and technology partnership.  Ford's VP of Strategy, David McClelland clarified that Ford chose Google for:
Leadership in AI and ML
Robustness of the Android operating system
Strength of Google Assistant for voice technology
Mapping and navigation technology
Thomas Kurian, CEO of Google Cloud noted that Google and Ford will build a co-creation digital transformation team focused on manufacturing, purchasing, and factory floor modernization.  Other potential opportunities include new retail experiences, new ownership offers based on connected vehicle data, and other product development modernization efforts involving AI and data.
Kurian highlighted that the deal will provide Google's capabilities to provide:
Computer vision for AI
Android for Ford and Lincoln vehicles with google apps and services
Google Assistant as built in voice assistant for all Ford and Lincoln vehicles
Google Maps as vehicle's primary navigation
Google Play for music podcasts, and more in vehicle entertainment options
Inspection of equipment
Create new business models with data on real time info on data
Ford was clear that Google was the preferred cloud vendor and other partnerships with Amazon for Alexa and Apple for Car Play would remain as choices for customers.
The Data Driven Digital Network (DDDN) Is At The Heart Of The Partnership
Ford's David McClelland reiterated that the use of data plays a significant role in the partnership.  Ford expects to use data and AI to:
Apply connected data to improve vehicle quality and enhance ownership experience
Improve internal operational analytics
Commercialize the self-driving vehicle business
Exceed customer expectations
Push the boundary of future marketing efforts
McClelland noted that, "This partnership with Google beneifts Ford by allowing our employees to harness the power of data in smarter and innovative ways. Customers will get better and smarter in-vehicle experiences"
The Bottom Line: Ford's Google Partnership Represents The Future of Digital Giants
In my upcoming book Everybody Wants to Rule The World, I discuss how the heart of future partnerships come from the ability to harness the largest number of devices (cars), improve the collection of data to gain signal intelligence, use that data to drive decision velocity, and then build new data driven business models.  These Data Driven Digital Networks (DDDNs) power future businesses and require a long-term mindset.  Given what's been publicly discussed by Google and Ford, this is the beginning of many such partnerships by Google in each strategic industry.  One can expect to see more of these as industries collapsed around value chains and tech partnerships around data and AI improve the competitive landscape.  While very cloud vendor will be a strategic partner, the real question is which industry leaders will build, partner, or be punished in a world of digital giants.
Your POV
Are you curious what the digital giants are doing? Will you build, partner, or perish? Share with me your story on what's happening as the digital giants continue to partner around the world in various industries.
Add your comments to the blog or reach me via email: R (at) ConstellationR (dot) com or R (at) SoftwareInsider (dot) org. Please let us know if you need help with your AI and Digital Business transformation efforts. Here's how we can assist:
Developing your digital business strategy
Connecting with other pioneers
Sharing best practices
Vendor selection
Implementation partner selection
Providing contract negotiations and software licensing support
Demystifying software licensing
Reprints can be purchased through Constellation Research, Inc. To request official reprints in PDF format, please contact Sales.
Disclosures
Although we work closely with many mega software vendors, we want you to trust us. For the full disclosure policy,stay tuned for the full client list on the Constellation Research website. * Not responsible for any factual errors or omissions.  However, happy to correct any errors upon email receipt.
Constellation Research recommends that readers consult a stock professional for their investment guidance. Investors should understand the potential conflicts of interest analysts might face. Constellation does not underwrite or own the securities of the companies the analysts cover. Analysts themselves sometimes own stocks in the companies they cover—either directly or indirectly, such as through employee stock-purchase pools in which they and their colleagues participate. As a general matter, investors should not rely solely on an analyst's recommendation when deciding whether to buy, hold, or sell a stock. Instead, they should also do their own research—such as reading the prospectus for new companies or for public companies, the quarterly and annual reports filed with the SEC—to confirm whether a particular investment is appropriate for them in light of their individual financial circumstances.
Copyright © 2001 – 2021 R Wang and Insider Associates, LLC All rights reserved.
Contact the Sales team to purchase this report on a a la carte basis or join the Constellation Executive Network