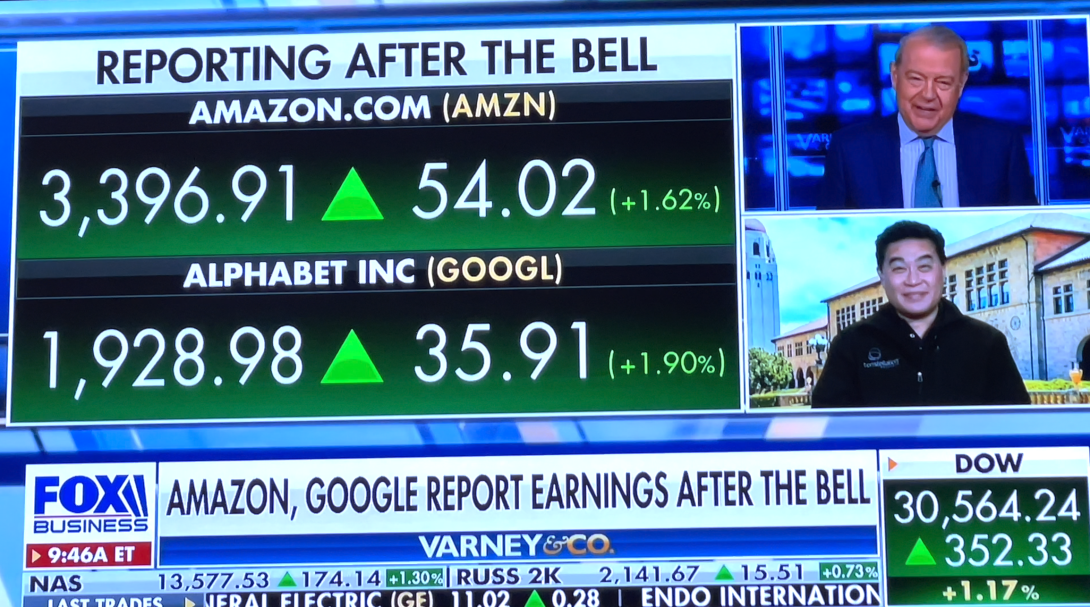 Digital Giants Market Analysis: Amazon | Alphabet Google Q4 2020 Earnings
All Eyes On Digital Giant Earnings
Digital giants Amazon and Google report earnings.  As pandemic winners, both venerable big tech titans have shown the resiliency of their business models and their ability to enter new monetization models.
Amazon Buy $4000
Investment relationship - NO
Individual owned - YES
Family owned - YES
Company owned - NO
All signals point to a blow out 4th quarter.  This could be Amazon's first $100B quarter, joining Apple in this achievement. Between prime day, holiday sales, and the ramping up of 400,000 more workers, Amazon is estimated to have a blockbuster quarter.  Expect higher costs for the holiday season beyond the $10B for workplace precautions.
Highlights most likley will include growth at AWS which has gone from $12B in revenues 5 years ago to a forecasted total of $40 to $45B.  Amazon Prime memberships are expected to grow as streaming services, free shipping, and subscription revenues grow.  One area to watch for future growth will be ad revenues.  Amazon has gone from almost nothing to a forecasted $10 to $13B in ad revenues for 2020. 
Amazon is the gold standard for digital giants and has done the best job at monetizing revenue streams.
Rumors are that Andy Jassy will be the new CEO and Jeff Bezos to be elevated to Executive Chairman in Q3 2021.
Google Buy $2200 
Investment relationship - NO
Individual owned - YES
Family owned - YES
Company owned - NO
With Facebook showing that the digital ad business is back, Google is expected to show similar trends with an expected 18 to 21% growth.  Further, investors can expect continued growth at YouTube with 45 to 50% growth. 
Cloud and autonomous vehicles are the future growth areas for Google.  The Google Cloud unit is doubling down on industries and is expected to show 35 - 40% or growth for the quarter.   The Ford - Google partnership shows the extent Google will go to partner up in key industries.  These industry partnerships will emerge as the norm over the next 24 to 36 months.   Google will be a digital giant and a post pandemic winner.
Your POV
Ready for a crazy 2021 for Big Tech as the reflation trade takes off? What are your hot picks for 2021?
Add your comments to the blog or reach me via email: R (at) ConstellationR (dot) com or R (at) SoftwareInsider (dot) org. Please let us know if you need help with your AI and Digital Business transformation efforts. Here's how we can assist:
Developing your digital business strategy
Connecting with other pioneers
Sharing best practices
Vendor selection
Implementation partner selection
Providing contract negotiations and software licensing support
Demystifying software licensing
Reprints can be purchased through Constellation Research, Inc. To request official reprints in PDF format, please contact Sales.
Disclosures
Although we work closely with many mega software vendors, we want you to trust us. For the full disclosure policy,stay tuned for the full client list on the Constellation Research website. * Not responsible for any factual errors or omissions.  However, happy to correct any errors upon email receipt.
Constellation Research recommends that readers consult a stock professional for their investment guidance. Investors should understand the potential conflicts of interest analysts might face. Constellation does not underwrite or own the securities of the companies the analysts cover. Analysts themselves sometimes own stocks in the companies they cover—either directly or indirectly, such as through employee stock-purchase pools in which they and their colleagues participate. As a general matter, investors should not rely solely on an analyst's recommendation when deciding whether to buy, hold, or sell a stock. Instead, they should also do their own research—such as reading the prospectus for new companies or for public companies, the quarterly and annual reports filed with the SEC—to confirm whether a particular investment is appropriate for them in light of their individual financial circumstances.
Copyright © 2001 – 2021 R Wang and Insider Associates, LLC All rights reserved.
Contact the Sales team to purchase this report on a a la carte basis or join the Constellation Executive Network