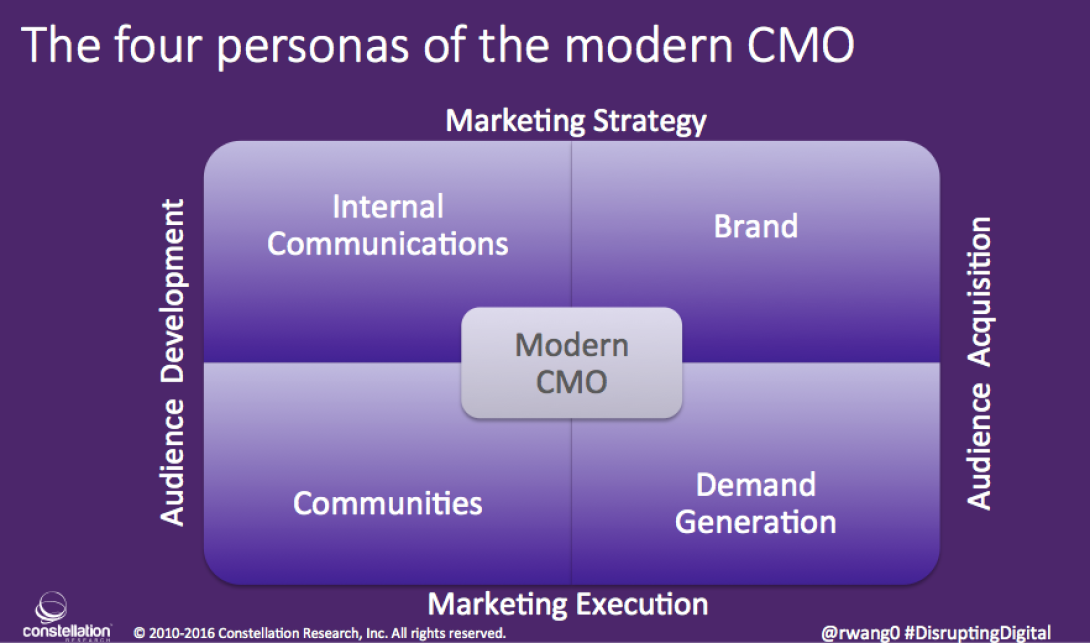 Monday's Musings: The Four Personas Of The Modern CMO In A Digital World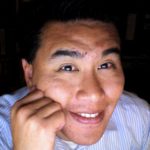 Marketers Face Massive Challenges In Making The Digital Shift
In interviews with over 100 digitally focused, modern CMO's, Constellation identified shared common challenges in the transformation of their roles.  More importantly, with the support of new digital business models, an emerging set of challenges highlight the need to move beyond the classic 4P's.   The top 20 modern marketing challenges (not in order of importance) include:
Delivering on a creative to commerce vision
Improving marketing automation and optimization
Adjusting to fragmentation of channels, segments, and trends
Investing in audience development
Targeting with precision and less false positives
Dealing with data driven approaches
Building for intention driven design in customer experience
Developing in-house ad networks and programmatic strategies
Mastering data and data management platforms
Re positioning the corporate brand for a digital world
Empowering communities and audience development
Attracting and retaining the right skill sets for digital marketing transformation
Identifying new agency and consulting partners to augment efforts
Improving internal employee engagement
Building a culture of behind the brand promise
Creating a P2P model
Aligning marketing strategy with marketing technology
Proving ROI
Crafting compelling contextually relevant content
Getting ahead of the latest disruptive technologies
Modern Marketers Address Four Distinct Personas
As the head marketing role evolves, Constellation identifies archetypes of the modern CMO.  Using an approach that considers marketing strategy versus marketing execution and audience development versus audience acquisition, four distinct personas emerge (see Figure 1):
Figure 1. Four Personas of the modern CMO
Brand marketers focus on share of influence.
Demand gen marketers focus on conversion rate optimization and click-thru-rates
Community marketers focus on active member engagement
Internal communication marketers focus on employee satisfaction and engagement
The Bottom Line: CMO's Must Manage The Priorities Of The Four Personas
While few CMO's can bring all four personas to the table, modern CMO's bring on lieutenants to balance out their weaknesses.  Given each of the personas must perform to a different set of metrics, CMO's must identify which areas they need to prioritize.  For those prioritizing on audience acquisition, brand and demand generation tend to gain focus.  For those focusing on audience development, communities and internal communication  projects are prioritized.  The modern CMO role will require he or she to manage the portfolio against changing business models and the digital transformation ahead.
Your POV.
Are you ready to transform marketing? How will you develop the four personas of the modern CMO.  Add your comments to the blog or reach me via email: R (at) ConstellationR (dot) com or R (at) SoftwareInsider (dot) org.
Please let us know if you need help with your Digital Business transformation efforts. Here's how we can assist:
Developing your digital business strategy
Connecting with other pioneers
Sharing best practices
Vendor selection
Implementation partner selection
Providing contract negotiations and software licensing support
Demystifying software licensing
Resources
Reprints can be purchased through Constellation Research, Inc. To request official reprints in PDF format, please contact Sales .
Disclosure
Although we work closely with many mega software vendors, we want you to trust us. For the full disclosure policy,stay tuned for the full client list on the Constellation Research website. * Not responsible for any factual errors or omissions.  However, happy to correct any errors upon email receipt.
Copyright © 2001 - 2016 R Wang and Insider Associates, LLC All rights reserved.
Contact the Sales team to purchase this report on a a la carte basis or join the Constellation Customer Experience