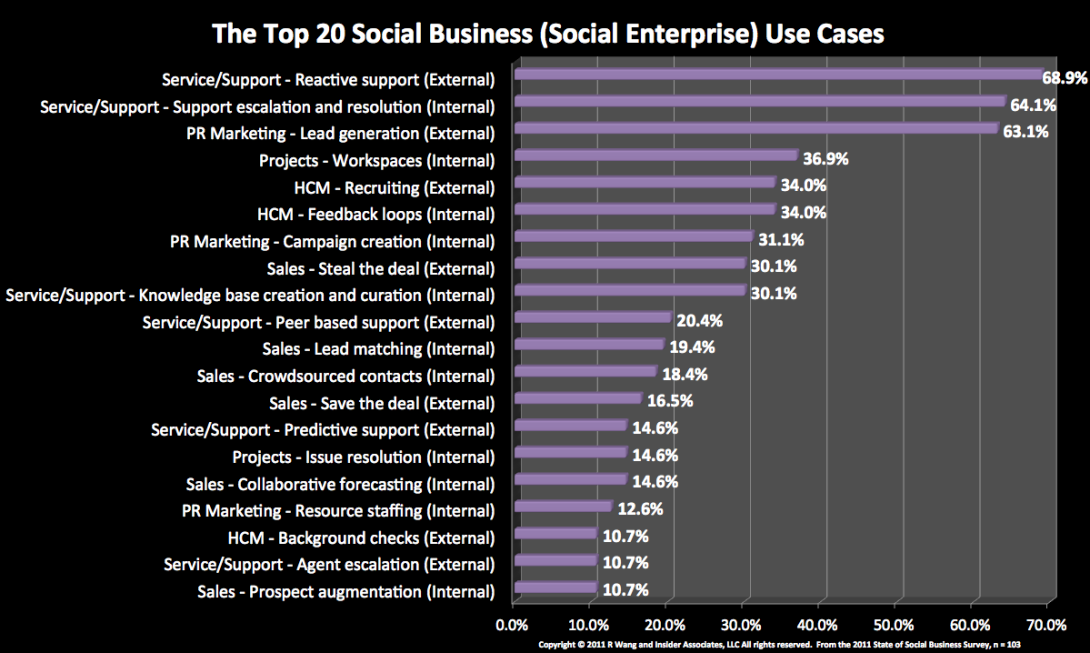 Research Summary: Introducing The 43 Use Cases For Social Business (Social Enterprise)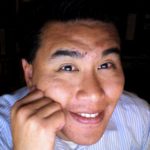 The Social Business (Social Enterprise) Moves Beyond The 18 Use Cases Of Social CRM
As social media adoption continues to move from mainstream to pervasive ubiquity, enterprises will begin to benefit from these advancements in the consumerization of IT (CoIT).  Just 18 months ago, early adopters identified 18 Use Cases for Social CRM (SCRM).  These ground breaking use cases showed enterprises how to bring social into existing CRM processes.
Consequently, the market has moved on beyond just marketing, service, and support use cases.  In the latest Software Insider "State of Social Business" survey, 103 respondents identified 25 additional use cases that spanned across key enterprise business processes that impact eight key functional areas, from external facing to internal facing (see Figure 1):
Public relations/ marketing (PR/MA).  Key impacted business process: Campaign to lead
Sales (SFA).  Key impacted business process: Lead to deal
Service and support (CSS).  Key impacted business process: Incident to resolution
Projects (PBS).  Key impacted business process: Kickoff to delivery
Innovation/ product life cycle management (PLM). Key impacted business process: Concept to production
Supply chain (SCM). Key impacted business process: Sourcing to acceptance
Human capital management (HCM). Key impacted business process: Hire to retire
Finance. Key impacted business process: Invoice to payment
Figure 1. Constellation Defines 43 Social Business/ Social Enterprise Use Cases and 24 Key Analytics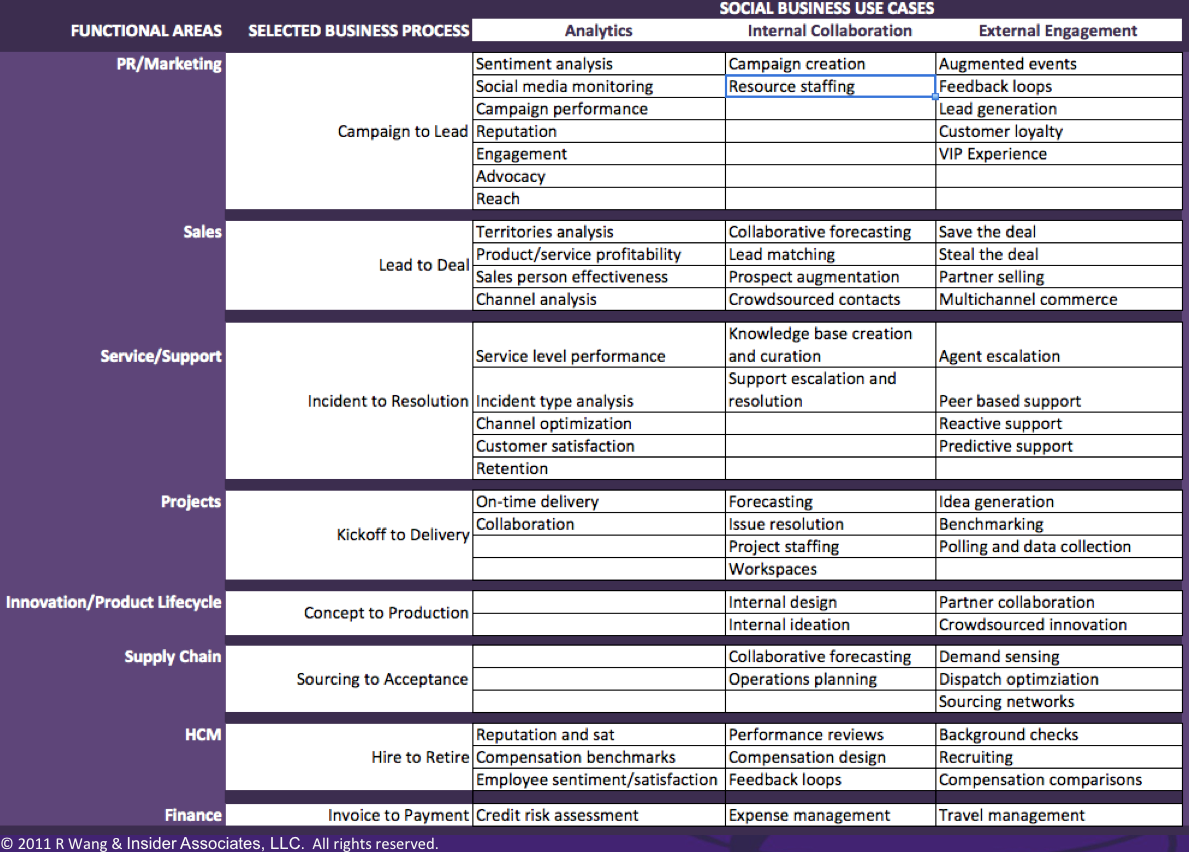 (Hint: right click to expand and view the full image)
Early Adopters Identify HCM And Projects As The Next Growth Area For Social Business
Survey respondents chose their top 3 internal collaboration and external engagement social business use cases (see Figure 2).  Not surprisingly, service/support use cases led the pack with Reactive support-External (68.9%) and Support escalation and resolution - External (64.1%).  Lead generation - External in the PR Marketing category rounded out the top 3 at (63.1%).  Meanwhile, Projects and HCM gain traction among the top 5 use cases. Respondents report an increase in adoption of Projects Workspaces- Internal (36.9%) such as wiki's and similar internal collaboration tools.  Meanwhile, HCM Recruiting - External (34.0%) emerged as the fifth most utilized use case.
Other general trends include:
Use cases split mostly evenly between internal collaboration (9) and external engagement (11)
Service/support (6) and Sales (6) dominate the top use cases followed by HCM (3),  PR/Marketing (3), Projects (2)
Respondents identified new use cases for areas such as supply chain, finance, and innovation/PLM
 
Figure 2. The Top 20 Social Business (Social Enterprise) Use Cases For 103 Early Adopters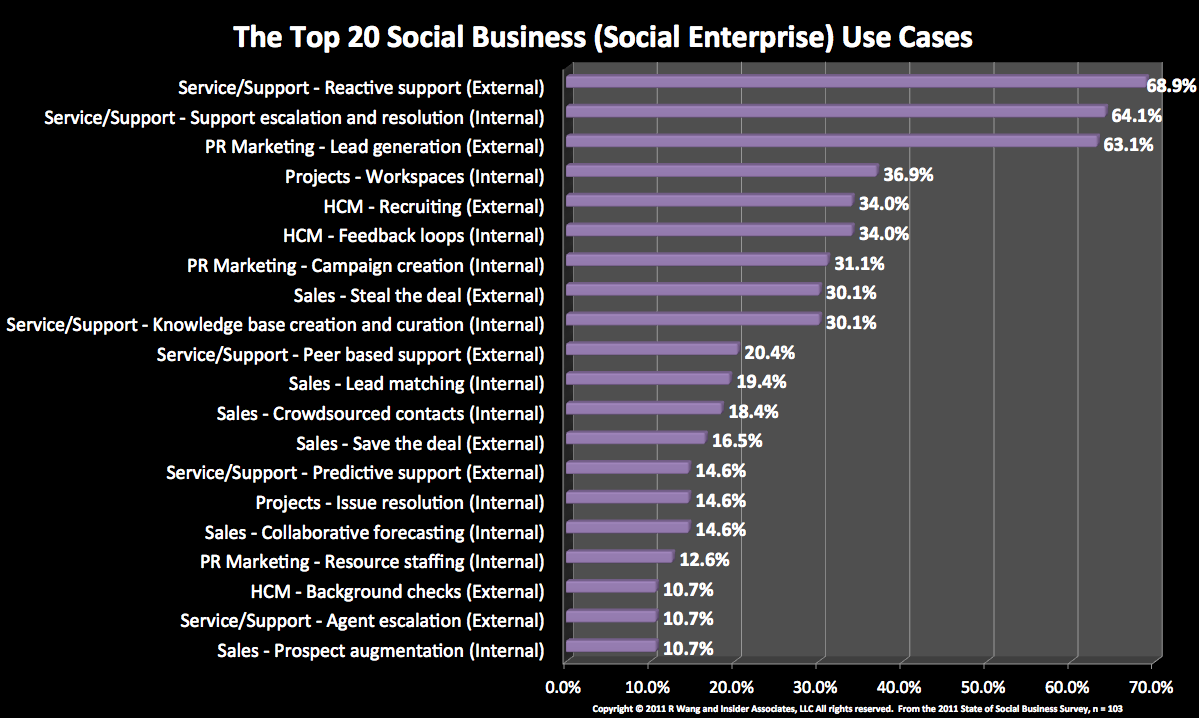 (Hint: right click to expand and view the full image)
Recommendations: Apply Constellation's DEEPR Disruptive Adoption Framework For Social Business (Social Enterprise)

The DEEPR framework shows users where they fit in the five levels of disruptive technology adoption (see Figure 3). The framework applies to social business and provides the basis used in early adoption surveys such as Constellation latest report, "Lesson Learned From 100 Early Social Business Adopters".
Discovery. A few individuals begin the process of discovering new tools. As these individuals identify consumer tech innovations that impact enterprise business processes, leaders must discern hype from reality and garner executive support. Teams should take the time to understand the target audience and what challenges/gaps a social solution will help them solve. Solutions should focus on business value at the outset.
Experimentation. As small teams experiment with new tools they often fail fast on experiments, learn, and move on. Leaders must foster a safe environment for experimentation. From there, they can encourage internal collaboration and begin the process of selecting a short list of appropriate tools.
Evangelization. In this level, small department leaders seek repeatable processes and begin test pilots of technology. Momentum begins to build for projects. Leaders incorporate social into business models and track meaningful business metrics
Pervasiveness. Successful evangelization leads to enterprise wide acceptance. Processes become repeatable and predictable. Leaders scale to match demand and ensure long term-funding.
Realization. With a successful project at hand, the enterprise seeks to expand the usage to ecosystem stakeholders. Suppliers, partners, and customers are brought into the fold. Leaders anticipate convergence and develop social business governance plans.
Figure 3.  Inside Constellation's DEEPR Disruptive Adoption Framework For Social Business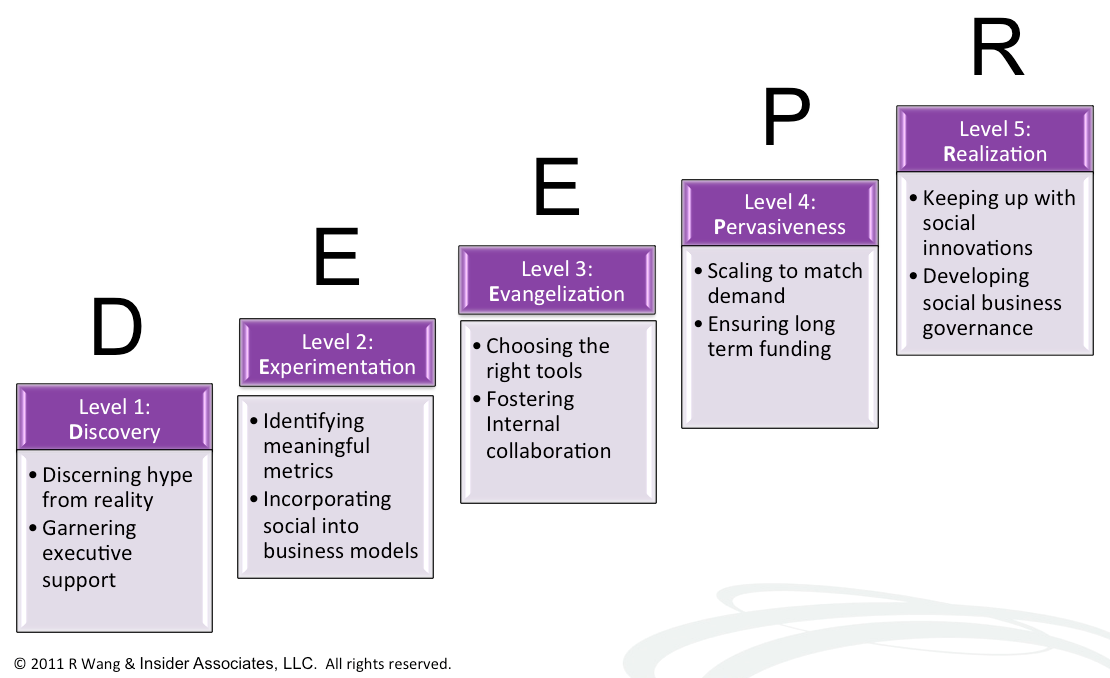 (Hint: right click to expand and view the full image)
The Bottom Line: More Use Cases Will Emerge
While areas such as social marketing may have peaked, other innovative use cases will emerge beyond the 43 social business (social enterprise) use cases.  Why? Social media continues to permeate into and across key enterprise business processes.  With the rapid consumerization of IT , buyers should seek advice and assistance from those who understand enterprise class issues.
In fact, buyers can expect many pseudo research based consulting firms and social media pundits to quickly shift gears as they try to enter the enterprise space.  However, buyer beware - many will fail their clients because of a lack of understanding about complex business processes and the constraints of legacy IT.
Your POV.
As part of our ongoing research, we are seeking new case studies from both early adopters and vendors.  Send us a new case study (see Figure 1) and in return we'll send you a copy of the latest Constellation Report, "Lessons Learned From 100 Early Social Business Adopters" (a $2000 value)
What's your use case?  Did we miss one? Let us know!  Got a question?  Add your comments to the blog or reach me via email: R (at) ConstellationRG (dot) com or R (at) SoftwareInsider (dot) com.
Please let us know if you need help with your Social CRM/ Social Business efforts.  Here's how we can assist:
Assessing social business/social CRM readiness
Developing your social business/ social CRM  strategy
Vendor selection
Implementation partner selection
Connecting with other pioneers
Sharing best practices
Designing a next gen apps strategy
Providing contract negotiations and software licensing support
Demystifying software licensing
Related Research:
Reprints
Reprints can be purchased through Constellation Research, Inc. To request official reprints in PDF format, please contact sales (at) ConstellationRG (dot) com.
Disclosure
Although we work closely with many mega software vendors, we want you to trust us. For the full disclosure policy, see the full client list on the Constellation Research website.
Copyright © 2011 R Wang and Insider Associates, LLC All rights reserved.