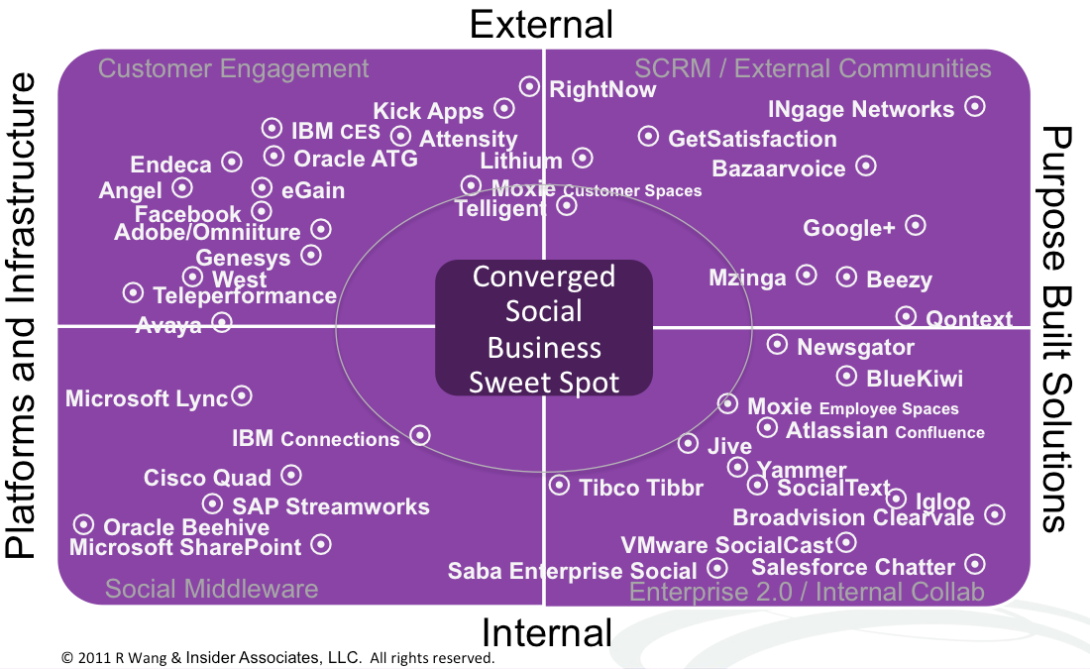 Monday's Musings: A Working Vendor Landscape For Social Business


Confusion Persists In The Social Business Market
As with any new disruptive technology, the social business solution landscape faces a dynamic, confusing, and converging market. As vendors seek to grab mind share and market share, customers and prospects remain confused as to what are the right business problems to address with social business. However, rampant confusion among users hampers efforts to solve business issues. Three key factors accelerate this level of confusion:
Early adopter market. Constantly changing conditions force customers to alter original plans as executive sponsorship fluctuates from intense to pensive and back to intense in short cycles. Projects remain secretive for competitive advantage reasons. Consequently, prospects lack strong case studies to build off of despite peer groups, adoption networks. Prospects seek metrics that matter and relevant use cases.
Consumerization of IT. With increased social media penetration, success in consumer grade products highlight the potential for enterprise adoption. However, most enterprise class products remain one to two generations behind in achieving similar capabilities. As business users gravitate towards simple, scalable, and sexy attributes; IT departments seek to rein in shadow IT efforts with safety, security, and sustainability requirements.
Marketing mayhem. Fast paced markets always generate hype in marketing messages. Hence, legacy collaboration, community platform, CRM, unified communications, integration platform, and office productivity vendors seek to reposition themselves and address the emerging and trendy social business use cases customers seek.
Social Business Vendors Converge Towards Business Value Sweet Spot
The vendor landscape for social business market represents a diverse and broad collection of solutions.  Vendors approach the market from multiple heritage points, technologies, and markets.  Four key criteria cut across two axes (see Figure 1):
External facing vs internal facing.  External facing includes customers, partners, and suppliers.  Internal facing include employees and trusted networks within the corporate firewall.
Platforms and infrastructure vs purpose built solutions.  Platforms and infrastructure referred to core technology solutions.  Purpose built solutions address specific applications.
Figure 1. Social Business Vendors Converge Towards Business Value Sweet Spot (Working Draft)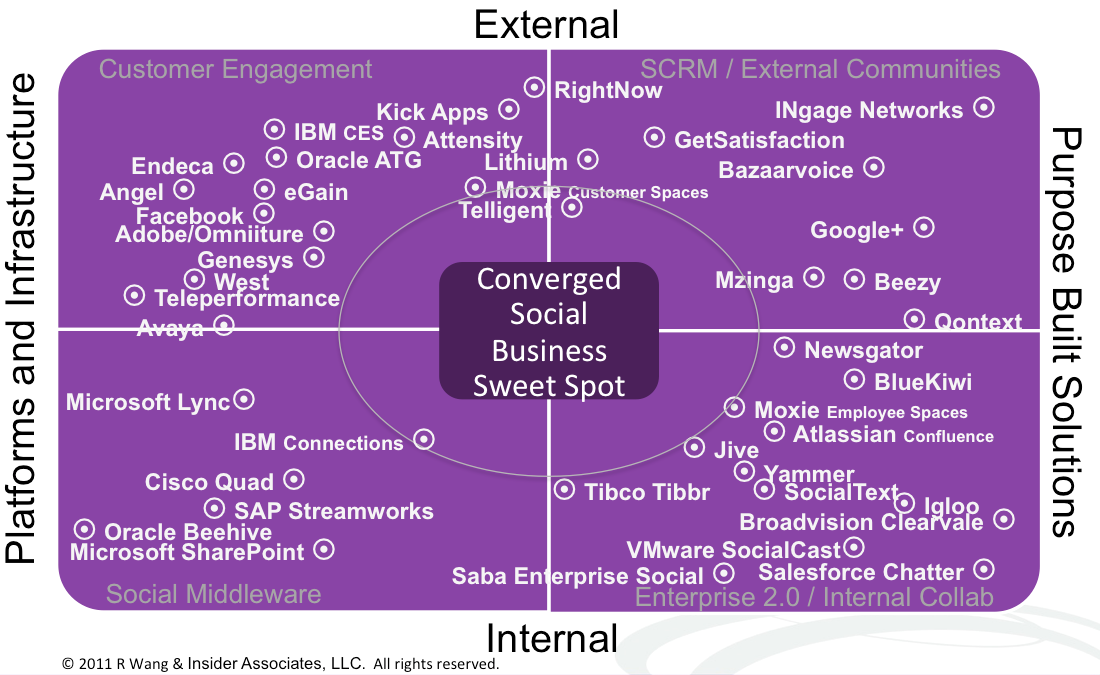 (Hint: right-click to see full image, special thanks to @ekolsky et al. for input)
Vendor Categories Reflect Legacy Heritage

Based on the model, four distinct categories of Social Business vendors emerge: Social Middleware, Enterprise 2.0/Internal Collaboration, Customer Engagement, and Social CRM/ External Communities.  While many solutions could span across the four categories, placement is based on the most common use cases.  The goal - achieve a balance among the four criteria.  As this is working draft, current key vendors in each category include:
Social Middleware. Avaya, Microsoft Lync, Microsoft SharePoint, Oracle Beehive, IBM Connections,  SAP Streamworks, and Tibco Tibbr

Enterprise 2.0/Internal Collaboration. Broadvision Clearvale, Jive, Newsgator, Salesforce Chatter, SocialText, VMware SocialCast, and Yammer

Customer Engagement. Adobe Omniture, Angel, Attensity, Cisco Quad, eGain, Endeca, Facebook, Genesys, KickApps, Oracle ATG, RightNow, Teleperformance, and West

Social CRM/ External Communities. Bazaarvoice, GetSatisfaction, Google+, INgage Networks, Lithium, Moxie, Mzinga, and Telligent.
The Bottom Line: Focus On The Non-Technical Aspects
The train has left. Organizations must put together a social business strategy that meets their business objectives, matches their organizational culture, and provides the right level of technological support. Expect reference architectures for social business to emerge that incorporate design thinking, innovative user experience models, business API's, and deeper vertical focus. Not all organizations can and will adopt social business. Leaders can start by:
Beginning with the end in mind. Start with the metrics that matter. Agree on what to measure in current state and future state.
Aligning with existing business processes. Take the metrics and map back to business processes. For example, identify where social CRM processes meet traditional CRM.
Planning for change management. Map out where processes tie back to individuals and departments. Determine how to connect individuals to processes. Break down functional fiefdom .
Building the future state. Focus design on customer experience business cases. Identify opportunities to ensure agility and flexibility.
Your POV.
Did we miss a vendor?  Do you think we should place a vendor in a different position?  Want to share lessons learned from your Social business initiative.  Got a question?  Add your comments to the blog or reach me via email: R (at) ConstellationRG (dot) com or R (at) SoftwareInsider (dot) com.
Please let us know if you need help with your Social CRM/ Social Business efforts.  Here's how we can assist:
Assessing social business/social CRM readiness
Developing your social business/ social CRM  strategy
Vendor selection
Implementation partner selection
Connecting with other pioneers
Sharing best practices
Designing a next gen apps strategy
Providing contract negotiations and software licensing support
Demystifying software licensing
Related Research:
Reprints
Reprints can be purchased through Constellation Research, Inc. To request official reprints in PDF format, please contact sales (at) ConstellationRG (dot) com.
Disclosure
Although we work closely with many mega software vendors, we want you to trust us. For the full disclosure policy, see the full client list on the Constellation Research website.
Copyright © 2011 R Wang and Insider Associates, LLC All rights reserved.